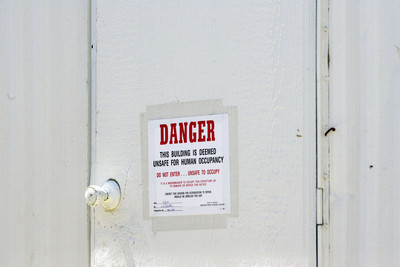 By Thursday afternoon, the dilapidated College Inn Mobile Home Park on east Lake Mead Boulevard looked like a ghost town: dusty and abandoned.
The Clark County Fire Department had on Wednesday shut down the 79-unit trailer park, citing hazardous electrical wiring, lack of fire hydrants, unsafe structures and other problems at the property near Lamb Boulevard.
Social service workers relocated 85 residents, the county said, with the help of several nonprofit groups, including HELP of Southern Nevada and the Salvation Army.
The mobile home park was identified as a problem and inspected last week by the Community Multi-Agency Response Team, which identifies blighted properties and addresses public health and safety issues.
Six units at the time were declared uninhabitable due to exposed wiring. Then a fire broke out on the property over the weekend, leading to the closure of additional units.
On Wednesday, Las Vegas police officers, Fire Department officials and volunteers descended on the property to help with relocation efforts.
Tenants who had not already found alternate places to live were transferred to short-term housing until more permanent arrangements can be made, the county said.
Officials had posted "DANGER" signs on the doors of rundown trailers, and a pair of security guards kept members of the media away.
The property owner must repair or demolish the units that are not in compliance before being allowed to reopen the trailer park.
The property is owned by Diversified Capital Investment Corp., according to Clark County Assessor's records.
The Nevada Secretary of State's office lists David DiMarco of Henderson as the company's president. He could not be reached on Thursday.
DiMarco also was the owner of the Sky Vue mobile home park on Owens Avenue, which was condemned in 2004 after inspectors found exposed wiring, a lack of fire hydrants, sewage leaks and drinking water lines sitting in sewage. The mobile homes were razed.