LV police expand Offender Watch
September 25, 2007 - 9:00 pm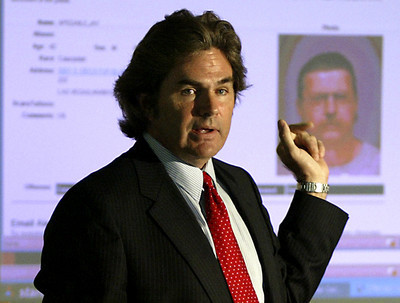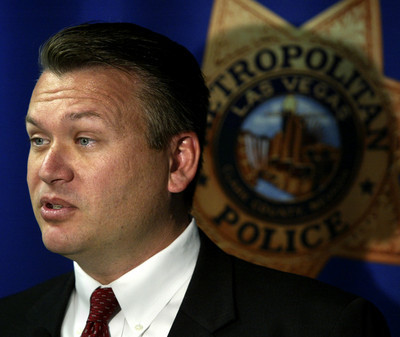 Finding sex offenders living near you is now as easy as checking your e-mail.
Las Vegas and North Las Vegas police on Monday unveiled their new sex offender tracking system that allows residents of those cities and residents of unincorporated Clark County to find registered sex offenders living within a one-mile radius of their homes or any other address in those jurisdictions.
"I think it will give some people a peace of mind," said Sheriff Doug Gillespie of the Metropolitan Police Department.
The sex offender information can be viewed at www.lvmpd.com. Getting the information is simply a matter of clicking on the Web site's section called Offender Watch. When the Web page is loaded, you click on the icon that reads either "search your area" or "find an offender." Once that page is loaded, you can type in an address or an offender's name.
It provides photographs, addresses and other basic information about the offenders, such as the types of crimes they were convicted of.
There is also an option to sign up to be notified by e-mail whenever registered sex offenders move near any particular address.
The Web site provides information on level two and level three sex offenders. Those are the people who have been convicted of more serious crimes such as sexual assault or rape and are the most likely to reoffend, police said. Lesser offenders, such as those convicted of gross misdemeanors, likely wouldn't be put on the site, police said.
Sgt. Troy Barrett of the Las Vegas police's Sex Offender Apprehension Program cautioned the public not to depend completely on the Web site. The site only provides information on offenders who actually register with law enforcement, Barrett said. Not all sex offenders comply. Each week, police arrest about 40 sex offenders who haven't registered their addresses with authorities, Barrett said.
"You're relying upon the offender to cooperate with the laws," he said.
Not everyone is a fan of the newly available sex offender information. Because of recent changes in state law, people who previously may not have been placed on a sex offender notification system, such as people who were 14 when they were tried and convicted as adults for a sexual offense, can now be part of the system, said Maggie McLetchie, staff attorney with the American Civil Liberties Union of Nevada.
Previously, people who were younger than 18 when they committed sexual offenses but were convicted in the adult court system were placed into Nevada's public registry of sex offenders only if they were deemed likely to reoffend.
McLetchie said placing information about people into a public registry based on the crime they committed rather than the likelihood that they will reoffend "probably doesn't further public safety."
There are about 5,700 sex offenders registered in the Las Vegas Valley, according to police in Las Vegas, North Las Vegas and Henderson. About one-third of those are level two or three sex offenders.
Las Vegas and unincorporated Clark County have a total of about 5,000 registered sex offenders and about 3,900 currently living in the area. The remaining could be in prison, tourists or living out of state.
Sex offenders visiting Nevada must register with law enforcement if they are here for more than 48 hours.
North Las Vegas has about 400 while Henderson has about 300, authorities said.
The sex offender information on the Las Vegas and North Las Vegas police Web sites is being hosted by WatchSystems, a Covington, La.-based company that provides the software for the sex offender data for 29 states and about 350 police agencies, said Mark Wilson, vice president for sales and marketing for the company.
He said the company is in a year-to-year contract with the Las Vegas police. The first year the Las Vegas police will pay WatchSystems $7,000 to use the software for the Web site; each additional year is $14,000, Wilson said. The police are using federal grant to cover the costs, Wilson said.
North Las Vegas pays a $500 annual service fee to be tied in.
Henderson police have been using their own system since 2005.
Keith Paul, spokesman for the Henderson police, said online sex offender information is a tool the public can use to try to protect children and keep informed about neighbors, but it should not create hysteria.
"Just because there is a sex offender living in your neighborhood doesn't mean your neighborhood is dangerous," said Paul. "People shouldn't look at this information to become scared."
For Sandra Rivera, a Las Vegas mother of a 15-year-old boy and 14-year-old girl, the new features of the Las Vegas police Web site sounded useful. She said she planned to check out the Web site as soon as possible to see if there is anyone she should be aware of in her Las Vegas neighborhood.
"It's nice that we now have a chance to know where they (sex offenders) are," she said.
ON THE WEB Metropolitan Police Department