LV shopper's motto: 'You can't be afraid'
December 6, 2007 - 10:00 pm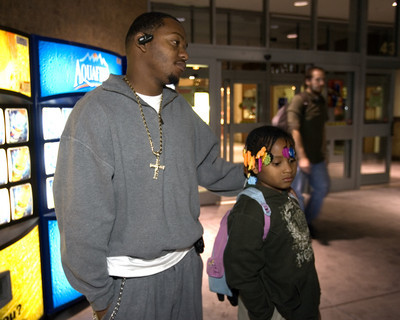 Nothing was going to keep Janice Wright and her 16-year-old daughter from shopping Wednesday evening, not even news reports of a massacre at a Nebraska mall.
"You can't be afraid every time something happens; otherwise, you will never get out of the house," she said as the two entered the Meadows mall.
Wright, like other shoppers at the mall near U.S. Highway 95 and Valley View Boulevard, hoped that what happened in Nebraska was an isolated incident and additional mall security during the holiday season would keep shoppers safe.
Las Vegas police have stepped up their patrols during the busy shopping season, said Officer Bill Cassell, spokesman for the Metropolitan Police Department.
The department has been conducting its annual Holiday Robbery Initiative for two weeks, sending more plainclothes and uniformed officers to shopping centers, he said. After Wednesday's tragedy, the number of officers participating in the holiday initiative was increased, he said.
The Henderson Police Department has a dozen or so armed officers at the Galleria at Sunset mall on a regular basis. The department operates a store front in the Galleria to provide information to citizens. Although the objective of the officers at the mall is not security, they are trained to respond in the case of an emergency, said Todd Rasmussen, department spokesman.
Despite the increased security and presence of law enforcement at public places during the holidays, people have some responsibility to keep themselves safe, said Las Vegas police Deputy Chief Gary Schofield.
"You have to be aware of your surroundings and notify authorities if something appears unusual … so you don't become a victim," he said. "It's better to be safe than sorry."
While more uniformed and undercover police officers at shopping malls will deter criminals, it's not going to prevent deaths, said Andrew Turner of Las Vegas.
"All the security in the world can be in place, but it still just matters how determined that person — the shooter — is at the time," he said after leaving the Meadows with his 8-year-old daughter. "If a guy wants to shoot, he's gonna shoot. It's how (police officers and security) respond that's gonna keep people from getting hurt. That many people shouldn't have been shot at that mall" in Omaha.
An appropriate response to a gunman opening fire in a public place is high on the agenda of local law enforcement, Rasmussen said. Since the Columbine massacre there has been a push to provide officers with "active shooter training," which teaches officers to "move directly and immediately to a threat and neutralize that threat as soon as possible," he said.
Officers are trained to move quickly to the target and stop the shooter as soon as possible, he said. Even if an officer is shot, they will still move forward, Rasmussen said.
In the past, officers waited for SWAT teams to arrive or a building to be cleared, but while officers were waiting, people were dying, he said.
Ginny Attlsani, general manager of downtown's Las Vegas Premium Outlets, said random acts similar to what happened in Omaha can strike anywhere. It is challenging for retailers to prevent violence and difficult to deal with it when it occurs, she said.
Large public venues need to provide uniformed and undercover guards and maintain close relationships with law enforcement to keep the public safe, she said.
Fatihimia Crockett, who was shopping with her family at the Meadows, said it's difficult to find the solution to random violence in public places.
"Maybe they should have metal detectors at the door," she said. "I guess that's the only real solution I can see working, but to me that's crazy. It's scary it has come to that."
Contact reporter Beth Walton at bwalton@reviewjournal.com or (702) 383-0279.
RECENT SHOPPING CENTER SHOOTINGS • Nov. 27: A man kills a woman, then commits suicide, as she opens a store in the Greenspoint Mall in Houston. April 29: A 51-year-old man kills two people in a parking lot and in the Ward Parkway Center in Kansas City, Mo., before dying in a police shootout. April 3: A 39-year-old man is accused of killing his ex-girlfriend at the CNN Center in Atlanta. Feb. 12: An 18-year-old man kills five and wounds four at the Trolley Square mall in Salt Lake City, then dies in a police shootout. Nov. 18, 2006: An 18-year-old man wounds a 16-year-old and a Secret Service agent at the Westfield Annapolis mall in Maryland. Nov. 20, 2005: A 22-year-old man wounds seven people and takes four others hostage in Washington state's Tacoma Mall. Feb. 13, 2005: A 25-year-old man wounds two people at a Best Buy at the Hudson Valley Mall outside Hudson, N.Y. Jan. 3, 2000: A 17-year-old is killed and an 8-year-old boy is wounded at the Galleria mall in White Plains, N.Y. Dec. 27, 1999: A 36-year-old man walks into a Lazarus store in Ohio's Dayton Mall, points two handguns at shoppers, then kills himself. Aug. 5, 1996: A 28-year-old man kills two teenagers in a robbery attempt at the Deptford Mall in New Jersey before dying in a shootout. THE ASSOCIATED PRESS