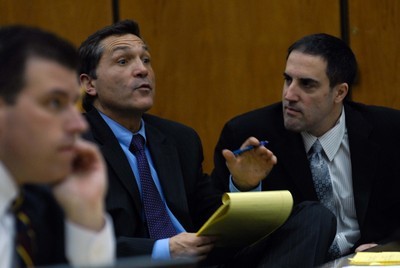 RENO — A one-time Nevada pawnshop owner trying to withdraw his pleas in the killing of his wife and shooting of the judge who handled their divorce turned the tables on his former lawyers Tuesday, claiming they coerced him into a plea bargain that abruptly ended his trial in November.
Darren Mack's previous defense lawyers, David Chesnoff and Scott Freeman, were among the witnesses expected to be called during the hearing, scheduled to last two days or longer.
Chesnoff — a Las Vegas lawyer who has represented accused mobsters, boxer Mike Tyson, magician David Copperfield, Hells Angels and chief executives — has not commented on the evolving legal case, saying only that he would save his remarks for the witness stand.
District Judge Douglas Herndon said Chesnoff was scheduled to testify today. On Tuesday, Chesnoff filed a motion seeking to quash a subpoena sent by Mack's new attorneys ordering him to produce documents.
"I know there's a lot of animosity," the judge remarked at one point in the hearing Tuesday, noting tension between Mack and his new lawyers and the former defense attorneys.
Mack, 46, wants to withdraw his pleas to killing his wife, Charla, in June 2006, and the sniper-style shooting of Family Court Judge Chuck Weller.
Mack and his lawyers argued early on that Mack killed his wife in self-defense, and he pleaded not guilty to murder. He pleaded not guilty by reason of insanity to shooting and wounding Weller, who has since recovered and returned to the bench.
The case generated intense media interest, and Mack's trial was moved from Reno to Las Vegas after a judge determined that an unbiased jury could not be found in Washoe County.
But it came to a surprise end Nov. 5, when Mack pleaded guilty to murdering his wife. He pleaded the Nevada equivalent of no contest to attempted murder in shooting Weller. Mack did not admit guilt, but acknowledged prosecutors had enough evidence to convict him.
Mack fired his attorneys a month later, hired Reno lawyers William Routsis and Bruce Lindsay in their place, and is now seeking to withdraw his pleas and take the case to trial.
In a court declaration, Mack claimed Freeman and Chesnoff told him for more than a year that he would be acquitted, then did an about-face and pressed him to plead after Mack's family paid the final installment of a $1.25 million legal fee.
Additionally, Mack said he told Freeman where he had thrown out the knife used in the attack on Charla Mack, along with a gun Mack claims misfired when his estranged wife tried to shoot him.
According to the declaration, Mack said Freeman refused to look for the weapons, despite Mack's contention the gun would have Charla Mack's fingerprints on it and show evidence of a misfire, supporting his argument that he was defending himself.