Magician to make rubles in Moscow
April 23, 2010 - 11:00 pm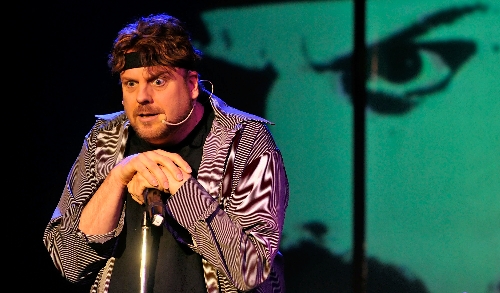 Las Vegas headliner The Amazing Johnathan is heading to Russia for some love, in the form of rubles.
Call it the Moscow one-night stand-sky.
After a 14-hour flight to the Russian metropolis on May 2, Johnathan and his sidekick Psychic Tanya and crew will do a 20-minute set and fly back the next day.
"A very rich dude there has seen us on YouTube doing a German Comedy Festival TV special that was taped about 10 years ago and wants us to perform at his birthday party," the magician wrote in an e-mail.
It's going to be jet lag hell, but it was an offer he couldn't refuse.
"When anyone asks for a performance for a special birthday celebration they are usually stunned at how much I charge because I HATE doing them so I try to make the price fairly ridiculous so they decline, but he didn't. He jumped at it," said Johnathan, who performs at the Harmon Theater, also known as Krave nightclub.
It's only happened one other time, he said. About two years ago the owner of Tag Heuer and McLaren Racing Team "had a shindig in the south of France and he flew myself and my crew there for a half- hour show. It was fantastic. First class all the way for all of us."
He makes no apologies about taking capitalism to the former capital of communism.
"I guess you can say MONEY is the driving force here," he said.
THE SCENE AND HEARD
Garth Brooks' better half, Trisha Yearwood, has another hot-selling cookbook out. "Home Cooking With Trisha Yearwood," a collaboration with her mother, Gwen, and sister Beth is the second cookbook by the Yearwood clan to debut on the New York Times bestseller List, starting at No. 2 on the Advice/How To list that features cookbooks, self-help and do-it-yourself books. Brooks and Yearwood are in Denver today where he's the featured entertainer for the 150th anniversary of Denver Health hospital. …
Best tweet of the NFL draft Thursday, from sports columnist Jason Whitlock of FoxSports.com and KCStar.com: "Tim Tebow the most talked about white bronco since OJ and AC."…
Most of Usher's newest album, "Raymond v Raymond," which debuted at No. 1 on the Billboard Top 200 this week, was recorded at the Studio at the Palms.
SIGHTINGS
Talk-show host Tyra Banks, with two male companions and a bodyguard, touring "Titanic: The Artifact Exhibition" (Luxor) on Friday. … Kareem Abdul-Jabbar, one of the most uncooperative athletes when it came to autographs and photos, hasn't mellowed with old age. He was accosted at McCarran International Airport the other day by a couple of guys who wanted a picture with him. An eyewitness said he "put his head down and walked away."
THE PUNCH LINE
"President Obama is here in New York City to announce his peace initiative for Larry King and his wife." — David Letterman
Norm Clarke can be reached at (702) 383-0244 or norm@reviewjournal.com. Find additional sightings and more online at www.normclarke.com.