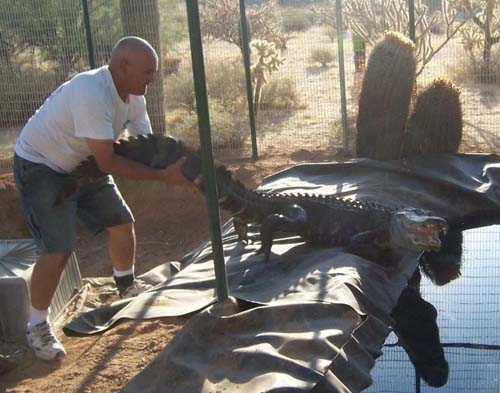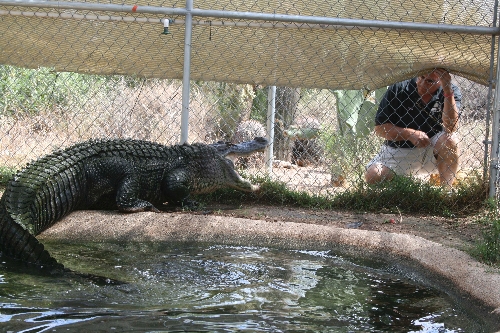 KINGMAN, Ariz. — An alligator just 16 inches long when released into the wild in northwest Arizona three decades ago has grown to more than 400 pounds in captivity and could gain hundreds more during its 70-year life expectancy.
Named after the man who brought him to the Southwest from Alabama in 1987, "Clem" is healthy, though maybe not so happy in his private pen at the Phoenix Herpetological Society.
The sanctuary in Scottsdale is home to a menagerie of animals including 18 other alligators, a crocodile and a caiman.
"They all have different personalities and Clem is by far the grouchiest alligator at our facility," said on-site curator Daniel Marchand. "He would definitely have you for dinner if you made a mistake."
Rancher Charles Simmons turned little Clem loose some 23 years ago in a series of man-made ponds that made for some marshy conditions in the middle of the desert in the Arizona Strip, north of the Grand Canyon. He had received the alligator as a gift.
Simmons occasionally fed Clem jackrabbits and chickens over the years to supplant his primary diet of fish .
Simmons sold his 270-acre spread about 100 miles east of Las Vegas to the federal Bureau of Land Management in 2002. Employees of the agency determined the gator needed to be captured and removed after some encounters in the field.
An unsuccessful hunt in June 2005 led to a second expedition the next month that produced Clem's capture on July 12.
"He was 8-foot, 3-inches when we caught him but he was only about 130 pounds," said Herpetological Society President Russ Johnson. "He was basically malnourished."
Clem was transported to the facility in Scottsdale where his legend grows with every bite he takes. "He's huuuuuge," said society Vice President Debbie Gibson.
"He is a giant," Johnson said. "At this time he's about 10 feet long and he's in excess of 450-pounds."
Johnson said Clem is cranky and always recognizes him as the man who caught him at Pakoon Springs.
"He still remembers my bald head because he tries to open a can of 'whup-ass' every time I walk in there (Clem's pen)," Johnson said.
Marchand said Clem eats up to 20 pounds of meat, mostly whole chickens and fish, every three days.
Herpetological Society staff think Clem might easily reach 14 feet and 800 pounds, which would make him one of the largest alligators in the U.S.
"We always say every time he gains 10 pounds, he gains 20 pounds of attitude," Marchand said.
"When people come to visit, Clem always gives out a big hiss and grumble and he lets them know that you're close to his pen and he doesn't want anybody around. Everyone gets scared when he roars and hisses, but, yet again, they always love him because of his amazing size and temperament."
Marchand said it's unlikely that the Herpetological Society will place Clem at a zoo or another facility as it does with some of its other reptilian tenants. That's because he has become sort of a mascot and marketing asset.