Man arrested after police standoff faces murder charge in Wetlands shooting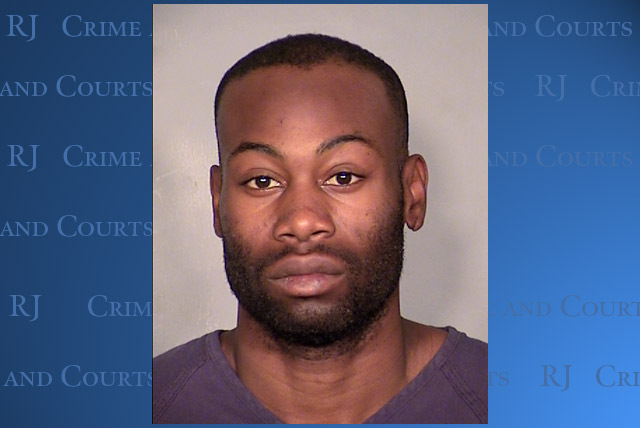 The 27-year-old man who pinned down several officers in a lengthy standoff last week was also a suspect in the Wetlands Park homicide, Las Vegas police said Monday.
Robert Williams was arrested late Wednesday night after a long standoff with police at an apartment complex in the 400 block of East Twain Avenue. Williams pinned down several officers from an apartment that he had broken into, according to police, firing dozens of shots and striking at least one patrol vehicle.
The previous day, Chester Cullen, 32, was shot to death in the park, according to police.
Witnesses told police that they had seen a man riding away through the desert on a red BMX bicycle shortly after they heard the gunshots.
According to two arrest reports released Monday afternoon, Williams, prior to the homicide, broke into a house near the park and stole several items, including a pistol, a 250-count box of ammunition and two 10-round pistol magazines. He also took several electronics, including tablet computers and a PlayStation, police said.
After discovering the burglary, the homeowner drove around the neighborhood looking for the burglar, and asked Cullen if he had seen anything suspicious, according to the report. A neighbor told police he has seen a man riding a red bicycle away from the home.
Many of the stolen items were found strewn just south of Cullen's body, including some of the ammunition and the PlayStation, the report said.
Wednesday afternoon, police were called to the apartment complex on East Twain Avenue after neighbors reported hearing several gunshots.
Arriving officers were met with a shower of bullets coming from a barricaded apartment. The officers took cover, including one behind a palm tree, and were stuck as Williams continued to shoot in all directions from the apartment. A patrol car's rear window and tire were hit by the gunfire, according to the report.
SWAT officers soon arrived on scene and were able to help the pinned-down officers to safety.
After hours of negotiations, Williams exited the apartment and was taken into custody about 10:30 p.m., about four hours after police responded.
The gun found inside the apartment after Williams' arrest was the same gun that had been stolen during the burglary and used to kill Cullen, police said.
Williams has four prior convictions in Nevada that include statutory sexual seduction, pandering and possession of drugs with intent to sell.
During an interview with police, Williams said that he had no memory of the standoff and that someone else was there instead, according to the report.
Williams was booked into the Clark County Detention Center on several charges, including murder, burglary and assaulting a police officer.
Contact reporter Colton Lochhead at clochhead@reviewjournal.com or 702-383-4638. Follow him on Twitter @ColtonLochhead