Man arrested at Trump rally tried to disarm Metro officer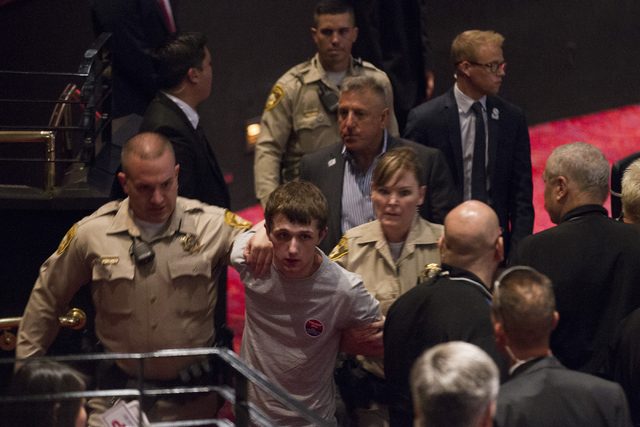 Man arrested at Trump rally tried to disarm officer
The man arrested at a rally for Republican presidential hopeful Donald Trump was taken into custody after he tried to disarm a police officer, the Metropolitan Police Department said.
Michael Sandford, 19, approached a uniformed Metro officer at the TI rally, 3300 Las Vegas Blvd. South, police said. "Sandford began a conversation with the officer under the pretense that he was seeking an autograph," Metro said. Sandford then tried to disarm the officer, the department said.
Rog Xavier contacted the Review-Journal and said he saw a man reach for an officer's gun before the arrest at the rally.
"The officers assigned to the event were able to quickly take Sandford into custody with little further disruption at the venue," Metro said.
"Custody of Sandford has since been handed over to the United States Secret Service, where he will face formal charges."
No further details were immediately available.
Christian Bertolaccini/The Las Vegas Review-Journal