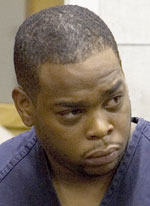 Another violent, sordid chapter in the history of the Palomino Club is drawing to a close.
Five years ago this month, the lifeless body of Timothy "T.J." Hadland, a doorman at the all-nude strip club in North Las Vegas, was discovered in the middle of an isolated road near Lake Mead.
On Tuesday, the man who orchestrated the 2005 hit on Hadland, a 44-year-old father of four, was found guilty of murder.
The same Clark County District Court jury that convicted Deangelo Carroll, 29, will decide next week whether he deserves the death penalty for his role in the slaying.
Carroll was convicted of first-degree murder with use of a deadly weapon and conspiracy to commit murder after a six-day trial.
Hadland, who had been shot in the head, was found on May 19, 2005. Fliers for the strip club, located on Las Vegas Boulevard near Lake Mead Boulevard, were scattered around his body.
Authorities said then-club owner Luis Hidalgo Jr. had put out a $6,000 contract on Hadland's life after he bad-mouthed the strip club and its owner to cabdrivers, costing the business thousands of dollars in lost revenue.
Carroll recruited the men who participated in the hit, including gunman Kenneth Counts, authorities said.
On the night of the slaying, Carroll, Counts and two club employees drove to Lake Mead and met Hadland on an isolated road, according to court testimony.
Prosecutors said during the trial that Carroll lured Hadland to the location by asking his help in buying some marijuana. Hadland, who was camping with his girlfriend at the lake, was friends with Carroll and agreed to meet him.
Once at the site, Counts snuck out of a minivan and shot Hadland twice in the head with a .357-caliber handgun, according to testimony.
Defense attorneys argued during the trial that Carroll had only wanted Hadland to be beaten up.
The jury heard testimony from a multitude of witnesses, including Rontae Zone, who was with Carroll and Counts the night of the slaying. Zone was never charged because he did not want to participate in the killing and has testified against Carroll and his co-defendants.
Jurors heard a recorded confession Carroll made to investigators and a recording of Carroll discussing the slaying with the club owner's son, Luis Hidalgo III, and Anabel Espindola, Hidalgo Jr.'s ex-girlfriend, several days after Hadland's death.
That conversation was recorded by a police wire Carroll had offered to wear in an attempt to cooperate with detectives.
All of Carroll's co-defendants in the case have already gone to trial or have taken plea deals.
Counts, the 34-year-old man accused of shooting Hadland, was acquitted of first-degree murder charges but was convicted of conspiracy to commit murder. He is serving an eight- to 20-year prison sentence.
Hidalgo Jr. and his son were sentenced to 20 years to life in prison after they were convicted of second-degree murder last year.
The other man who accompanied Carroll and Counts the night of the slaying, Jayson Taoipu, cooperated with authorities and pleaded guilty to conspiracy and voluntary manslaughter. He was sentenced to five years' probation.
Espindola took a deal in exchange for her testimony and pleaded guilty to voluntary manslaughter with a deadly weapon.
The penalty phase for Carroll is scheduled to begin June 2.
The case is not the first time the Palomino has figured prominently in a homicide.
In 2000, Jack Perry, son of then-owner Paul Perry, shot and killed the club manager who wanted to buy the club. Perry pleaded guilty to second-degree murder and is serving a sentence of life with the possibility of parole after 14 years.
In 2009, defense attorney Dominic Gentile took control of the club as compensation for representing Hidalgo Jr. in his murder case.
The Palomino Club is the only all-nude club in Clark County that legally serves alcohol. The Palomino's license to serve alcohol and feature nude dancers doesn't expire until 2019. North Las Vegas banned alcohol in establishments with nude dancing in 1999 but the Palomino was allowed to continue doing so under a grandfather clause.
Contact reporter Francis McCabe at fmccabe@reviewjournal.com or 702-380-1039.