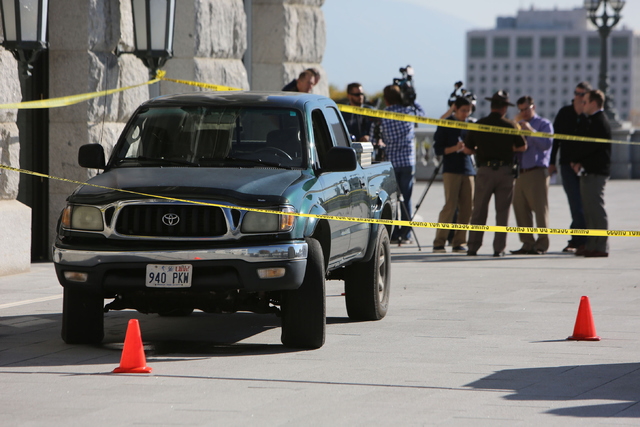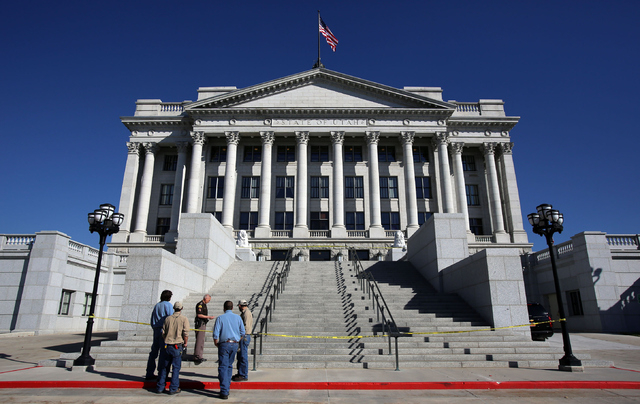 SALT LAKE CITY — Troopers used a stun gun and a punch to the face to subdue a man who drove his pickup truck up the west steps of the state Capitol building Tuesday afternoon, authorities said.
Utah Highway Patrol Capt. Barton Blair told The Salt Lake Tribune that state troopers watching security cameras saw 36-year-old Gerald Weston Green climb about two dozen of the granite steps in his truck and park outside the building.
The unarmed Green then left his car and attempted to enter a ceremonial Supreme Court room on the third floor, which was locked and is not regularly used by the court.
Green said he had the right to be there and said the Capitol was his home, Blair said. Officials say a Taser failed to subdue Green, so an officer punched him.
One officer injured his hand while arresting the man.
Officials say Green was taken to the hospital for injuries to his mouth and for a mental evaluation.
Tyler Davis, who works for a law firm and was at the Capitol for business Tuesday, said he watched the event unfold from the second floor, which offers a view of the Supreme Court doors.
Davis said he heard Green yelling, "Let me in the Supreme Court!" as two officers tried to calm him down.
"He wanted to get in there," Davis told the AP. "He said, 'Grab the keys, let me in!'"