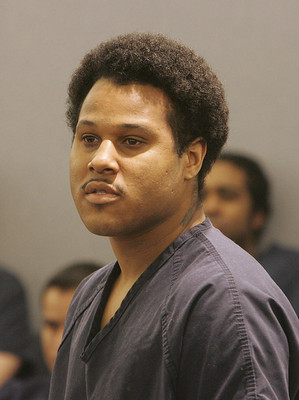 A jury Wednesday sentenced a 29-year-old man convicted of killing a Kansas City, Mo., rapper and his friend to spend the rest of his life behind bars.
The Clark County jury sentenced Jason Mathis to two life sentences without the chance of parole for the 2005 Las Vegas killings of Anthony "Fat Tone" Watkins, 24, and Jermaine Akins, 22.
District Judge Stewart Bell will formally sentence Mathis on Sept. 24.
Before he was sentenced, Mathis told the jury that he didn't feel remorse for the killings because he claimed he was innocent and didn't personally know the victims.
He said he wanted to spend his time working on an appeal and didn't expect to be in prison for the rest of his life.
"I'm not going to put on no facade for nobody. I'm not going to do no 40 years," Mathis said. The jury could have allowed Mathis to be eligible for parole after 40 years.
But Mathis said he didn't consider 40 years to life any different than a life sentence.
"You give me life without parole, my mentality gonna be like (expletive) it, excuse me. You give me 40 to life, my mentality is gonna be the exact same way," he said.
The jury convicted Mathis on Tuesday in District Court.
A jury also convicted Andre "Mac Minister" Dow of first-degree murder in a separate trial involving the same slayings.
Prosecutors said Dow and Mathis worked together to kill the victims.
The jury in Dow's case also sentenced him to life without the possibility of parole.