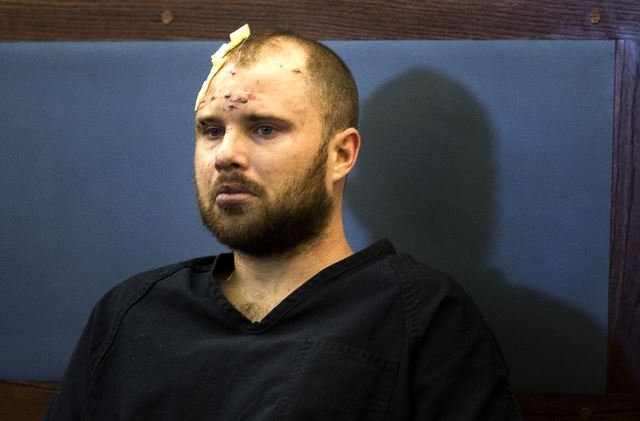 A 29-year-old man pleaded not guilty to charges he killed a California highway patrolman and another man after a carjacking on the Strip.
James Montgomery faces multiple charges, including two counts of murder and kidnapping, for the August crash that killed patrolman Jesus Magdaleno Jr., 33, and his brother-in-law, Felix Brandon Cruz III, 31.
A trial date was set for June 2.
Montgomery is being held without bail at the Clark County Detention Center.
Prosecutors say Montgomery was drinking Jack Daniels and Coke prior to the alleged carjacking and had a blood-alcohol level of 0.197 percent, more than twice the legal limit.
Montgomery, who worked as a team leader at a Whole Foods market in Tustin, Calif., was visiting Las Vegas with his girlfriend at the time of the incident.
Early Aug. 18, Cruz and Magdaleno were loading luggage into the bed of a white Ford F-150 pickup at the east valet area at the Flamingo Las Vegas when Montgomery stole it, Las Vegas police said.
Authorities released a photo of the pickup as it sped on Flamingo Road at the intersection of Las Vegas Boulevard. The photo shows one of the men with his hands in the air, as if seeking help.
Montgomery ran through three red lights on Flamingo before crashing into an SUV near Valley View Boulevard, outside the Rio, police said.
Magdaleno and Cruz were thrown from the bed of the truck.
Magdaleno died at the scene. Cruz died a day later at University Medical Center.
The residents of Visalia, Calif., were in Las Vegas to celebrate Magdaleno's bachelor party before his September wedding.
Orange County court records show Montgomery has had a couple of minor traffic violations.
Contact reporter Francis McCabe at fmccabe@reviewjournal.com or 702-380-1039.