Man says Las Vegas police think he's a suspect in ex-wife's disappearance
March 20, 2014 - 10:23 pm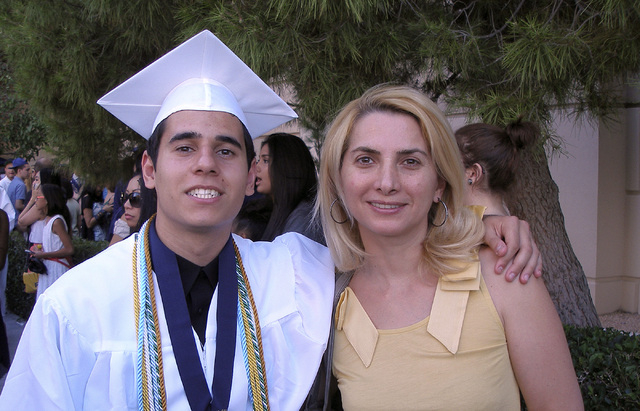 She has a soft spot for Snickers bars. She admires conservatives like U.S. Sen. Rand Paul of Kentucky and former President Ronald Reagan. And she embraces the philosophy that "It's not about being the best; it's about being better than yesterday."
At least that is what Irma Mkrtchyan, a Las Vegas woman who has been missing for two months, wrote on her Facebook page for all to see. It's full of photographs, of nature, of the typical inspiring quotes. It's also full of comments from friends who are worried about her and have turned to social media to help find her by posting her photograph, over and over and over again.
"This is not a joke," one friend wrote. "I worked with her."
And it's not being treated like a joke.
This week, Las Vegas police announced the disappearance of Mkrtchyan, 45, a Farmer's Insurance agent, is now considered a homicide.
And yet in the same news release, and in a follow-up telephone call, Metro's public information office offered few details, failing to mention even what she was last wearing, as is typical when police seek a missing person or a crime suspect.
Police will say only she was last seen in the vicinity of South Durango Drive and Desert Inn Road in the third week of January.
A SUSPECT
Mkrtchayan was living with her ex-husband, Ara Marutyan, 47, when she vanished. He said he last saw her at 7:30 p.m. on Jan. 19, when she left their house in The Lakes to meet an insurance client. She never came back.
The next day, he said, she sent him a text saying she was going to California on business. In a separate text to her boss, she said she was going to miss work to go to a funeral in Los Angeles, he said.
Marutyan said detectives now think that he had something to do with the disappearance. In mid-February, he said, he failed a polygraph test, though he insists he didn't lie when asked whether he ever hurt anybody or whether he ever lied for personal gain.
"I told them the truth, that I've hurt people, and that I've lied," he said. "I told them I hurt people when I was in the Army, that I hurt people enough that they bled; and I told them that I've lied all the time, like everybody else, to get a job or to keep a job.
"But then they said, 'No, no, no, did you ever kill anybody or lie to the point where you went to jail?' And then they told me to say, 'No.' Everything was controlled."
Police searched his home in the 8900 block of Coast Walk Circle. They seized his laptop, his cellphone and $74,600 in cash he kept in "a secret compartment" known only to his family.
He said the money was his savings, withdrawn from his bank during the recession in the fall of 2008.
"They took my money, but it looked like they were going after a letter I wrote to the children in case I died," said Marutyan, a former limousine driver who said he expects to be arrested soon. "It's like they're following some sort of protocol, and they're building this case against me, but they're not questioning anybody else.
"It's like I'm automatically guilty because I'm the ex."
Mkrtchyan's older brother, David Mkrtchyan, 50, said he believes his former brother-in-law has something to do with his sister's disappearance, and he even went as far as sending a letter to Sen. Harry Reid, D-Nev., to ask for help. The Senate majority leader's office responded that the matter would best be handled by police.
"She was last seen with him," Mkrtchyan said in an interview from New York City.
The ex-husband said he thinks the letter to Reid may have prompted police to act quickly.
He also said he would never harm Irma. The two married in 1991 and moved from New York to Las Vegas in 2002. They bought a house in The Lakes and raised their children, both of whom graduated from Spring Valley High School. He said their 2007 divorce was amicable, so much so that they still live together.
What's baffling, he said, is that she simply left.
"It's not like her to take off like this," he said.
A JAUNT TO MEXICO?
On Monday Marutyan's daughter, Diana Marutyan, 20, flew home from Illinois, where she attends college. Police met her at the airport, seized her laptop computer and invited her to answer a few questions downtown at police headquarters.
"They asked me where my mother's body was, and I told them I didn't know because it's true. I don't know," she said in an interview at her father's side. "I don't know what happened to her or where she is."
Police also seized a cellphone and laptop belonging to Arthur Marutyan, 18, a UNLV student who moved back home since his mother's disappearance. He thinks his mother may have gone to Baja California with a love interest.
He and his father both said she had been talking about Mexico before her disappearance.
They said they didn't tell police that because they feared the FBI would take over the case and police would stop looking for her in Las Vegas.
But now they feel it's something they should disclose.
The father and son also said they believe that Mkrtchyan recently was communicating online with a mysterious pastor and that she had been texting him and calling him with what they described as "her own phone," not one used by the family.
"But police have written him off as a suspect," the son said.
"I can't find her passport anywhere," he said.
NOT ENOUGH GRIEF?
He said that he, too, became a suspect when he moved home from the dorm at the University of Nevada, Las Vegas.
"They think I was trying to get rid of suspicious things, and clean things up," he said. "But I really just wanted to be with my father during this tough time."
Then they started asking him why, unlike his sister, he wasn't constantly calling his mother's cellphone. And, he said, they wanted to know why he wasn't he grieving.
"People grieve in different ways," he said. "What — do they want me to create this shrine for her? I wasn't calling her because I kept getting her voice mail; then I finally gave up."
He said that he called his aunt in Los Angeles to see if his mother was at a funeral there and was told she was.
But the aunt called back the following day and said she hadn't seen Mkrtchyan at all.
Contact reporter Tom Ragan at tragan@reviewjournal.com or 702-224-5512.