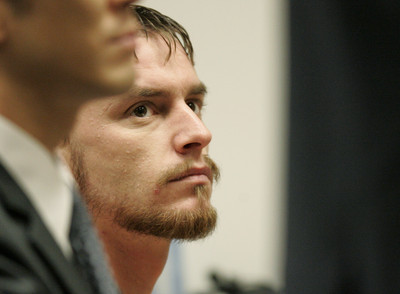 PAHRUMP — Darrin Tuck was strung out on methamphetamine and might not remember exactly when he found a videotape that depicts the rape of a little girl in a leopard print nightgown, but he shouldn't be prosecuted for turning it over to the authorities, his lawyer argued Tuesday.
Attorney Chris Rasmussen said his client had just entered a drug treatment program and was trying to straighten out his life when he surrendered the tape to the Nye County Sheriff's Office on Sept. 8.
"He was a tweaker. He was messed up," Rasmussen said during Tuck's preliminary hearing in Pahrump Justice Court. "He cleans up. He turns the tape in. He saves this girl's life. He does what we would expect him to do."
The one-hour hearing concluded with Pahrump Justice of the Peace Tina Brisebill ordering Tuck to stand trial for possession of child pornography.
The videotape triggered a nationwide manhunt that ended Oct. 15, when Chester Arthur Stiles, 37, was arrested during a routine traffic stop in Henderson.
Authorities identified Stiles as the man seen abusing the girl in the video.
The girl, now 7, was found safe in Las Vegas on Sept. 28. An attorney representing the girl's mother said the girl is healthy and has no memory of the incident, which occurred when she was about 3 years old.
Stiles is scheduled for a Nov. 19 preliminary hearing in Las Vegas on 23 felony charges stemming from the videotape and the unrelated molestation of a 6-year-old girl in 2003.
He also faces federal prosecution for the production of child pornography.
According to testimony Tuesday, Tuck told police he found the half-hour tape in the desert and watched the first 10-15 minutes before stashing it away.
He initially claimed that he found the tape a few days before he turned it in, but a friend of his testified that Tuck might have been in possession of the video as early as May.
After the hearing, Rasmussen said drug abuse had left his client "hazy" about when he found the tape.
The attorney went on to accuse police and prosecutors in Nye County of turning the case into a "circus" by making the rounds on national talk shows and spreading misinformation about his client.
Rasmussen sought to question Nye County Sheriff Tony DeMeo during Tuesday's hearing, but DeMeo did not show up and Brisebill declined to summon him because she didn't see the relevance of his potential testimony.
After the hearing, Rasmussen said that despite allegations to the contrary Tuck had no connection to Stiles and no involvement in the production of the tape.
The only person his client showed the video to was his girlfriend, the attorney said.
Tuck, who recently turned 27 while behind bars, is scheduled for arraignment in Nye County district court on Dec. 3.
Rasmussen said his client would plead not guilty and press for a speedy trial.
Tuck's father, Darrin Tuck Sr., expects his son to be exonerated.
Though fear and drug abuse kept Tuck from acting right away, he did the right thing in the end, his father said.
"He could have thrown that tape away. A lot of people would have thrown that tape away," the elder Tuck said. "I think my son is a hero for what he did. A dangerous criminal is off the street because of what he did."