Mansions built to host the perfect Vegas party — PHOTOS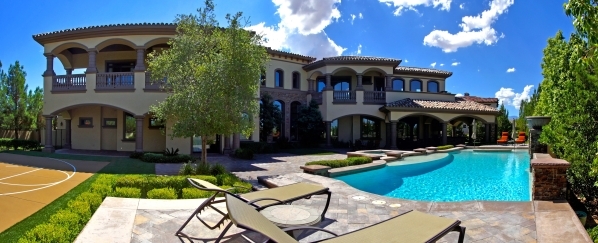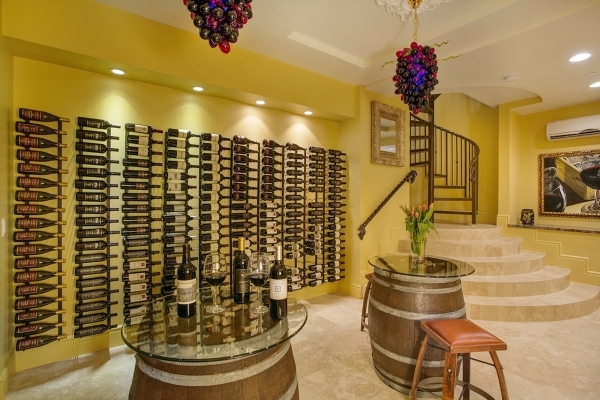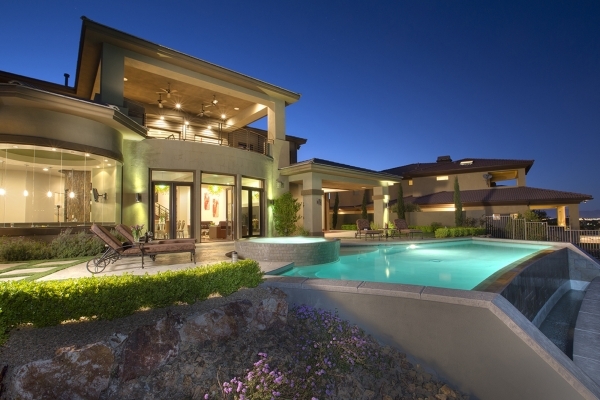 To crib a famous hit song refrain, Las Vegas "knows how to party."€
Entertainment is entwined in the Mojave metropolis'€™ civic DNA. This spreads far beyond the Strip and downtown shows, restaurants, bars and clubs. Entertaining guests at home is second nature for locals from Henderson to Summerlin.
And when upscale Las Vegas entertains at home, it entertains large.
This means top-notch homebuilders have installed the best amenities in party-tastic places with luxurious aplomb.
Rob Jensen, owner of Rob Jensen Co., is a local broker with an eagle'€™s eye view on the entertainment-based infrastructure trends in the local marketplace.
"€œWhat I'€™ve seen, it'€™s really the next level of what'€™s been around. For example, home theaters have continued to grow in popularity,"€ Jensen said. "€œPeople are building custom rooms with tiered seating, no windows and built-in surround sound."€
"€œI have clients with literally half-million-dollar theater systems,"€ he said.
Broker Lisa S. Sutton of Sutton & Chase, an affiliate of Synergy Sotheby's International Realty, represents a pair of properties that take entertainment to the nth degree.
They both offer cinematic experiences.
Astride the gentle suburban slopes of Henderson'€™s Southern Highlands, a 13,489-square-foot mansion boasts a $1 million home theater extravaganza, including state-of-the-art electronics and striking stained glass decorations. Guests can take in films from the comfort of reclining leather chairs. There'€™s also a large game room complete with that competitive party classic, billiards.
The home also has an enormous swimming area for enjoying the great outdoors.
"€œIt has a beautiful custom pool and a grotto," Sutton said.
And, as the property is located along the 11th hole at exclusive Southern Highlands Golf Club, it has its own private putting green that is adjacent to a custom bar and cigar lounge.
It is listed at $12.5 million.
Vertical to this horizontal Henderson mansion, but hand-in-hand with entertaining exuberance, is the pinnacle of Palms Place. While a 59th-floor residence is deluxe to begin with just for the view, there'€™s also a 20-person whirlpool.
The loft is lined inside and out with 26 HDTV screens. It also has a 30-foot-wide outdoor projection screen.
"€œIt'€™s been used for football parties, watching fights and even just movie nights with friends,"€ Sutton said.
And, as this is Las Vegas, there'€™s a custom DJ booth.
"€œSome of the biggest headliner DJs have spun there,"€ she said.
Known as the Founder'€™s Penthouse, not only is it the tallest residence in Nevada, it is one of the loftiest listings at $29 million.
If these entertainment extravaganza properties sounds like Super Vegas, they definitely are. The Maloof brothers, Gavin and Phil, are the former residents of the mansion on the links and the swanky pad in the sky, respectively.
As Nevada's second largest city, there'€™s no surprise Henderson has homes stocked with entertainment.
Cristine Lefkowitz Jensen, of Synergy Sotheby'€™s International, describes a $3.99 million listing in the beautiful Anthem as a "€œgorgeous estate."
It has its own movie theater with a bathroom designed like a vintage movie star'€™s dressing rooms, so guests can have a completely glamorous experience.
For sociable drinks with visitors, the home has a fantastic circular bar, complete with Swarovski crystal lights and a view of the picturesque McCullough Range. There is also an eye-catching wine tower for displaying the finest of vintages to oenophiles, as well as numerous rooms dedicated dining to imbibing. Gatherings can spread out on this property.
Lake Las Vegas, the gorgeous, water-filled development in northeast Henderson near Lake Mead National Recreation Area, is filled with entertainment-packed upscale homes.
Zar Zanganeh, a broker with Luxe Estate & Lifestyles, points to a five-bedroom, $2.37 million residence in the exclusive SouthShores neighborhood. It is perched on a hillside next to a golf course designed by Jack Nicklaus.
"€œIt has a view of the entire Lake Las Vegas,"€ Zanganeh said.
The home'€™s pool area is hotel-sized and stunning with waterfalls and foot bridges. There also is an entrancing koi pond. It is a hit for guests looking for a quiet moment during parties.
"€œIt wraps around the house like a river,"€ he said.
Also in SouthShore, a 5,868-square-foot, five-bedroom residence participates in a growing aspect of entertainment-forward homes: It fully embraces the outdoors. The home'€™s interior is united with the Mojave Desert climate during parties with retractable floor-to-ceiling walls that allow for complete access to the patio and terrace areas.
"The wall goes all the way back in the great room and the kitchen," said broker Reba St. Clair. "€œWhen you'€™re entertaining, people can just flow through the house."
It is going for $2.475 million.
The southwest quadrant of the Las Vegas Valley entertains with style, too. At a Southern Highlands home represented by Joel Sangerman of IBuyRealEstate.com, a sizable loft holds a full bar, media area and a billiards table.
"€œIt'€™s an absolutely elegant space,"€ Sangerman said.
It also has an amazing backdrop.
"You get a bird'€™s-eye view of the Las Vegas Strip,"€ he said.
The outside pool area is breathtaking and looks like it could be in Hollywood. There'€™s also a half-court basketball lot for pool party pick up games.
Sangerman notes that it would be ideal for a C-level executive who hosts business meetings and retreats at home.
It is on the market for $4.19 million.
Incredible entertainment is not just for custom homes. Planned developments like the Premier Collection at Sterling Ridge in Summerlin'€™s mountainside The Ridges village are focused on socializing, too.
Being built by William Lyon Homes, the sleek, contemporary residences feature central gathering rooms with fireplaces that flow into open kitchens. Just outside, covered verandas make it easy for cocktail parties to enjoy the evening air.
"They'€™re built around entertainment,"€ said William Lyon Homes'€™ Leah Karp.
Prices are in the $1 million range.
Finally, if all these homes are just not '€œentertaining'€ enough, consider the one-of-a-kind edifice known as Cavu. The gargantuan, 13,225-square-foot house in The Ridges has extreme flourishes like two bowling lanes, a 15-foot-long bar and a wine cellar that can store more than 1,800 bottles.
Add in a zero-edge pool, fire pit, outdoor kitchen with a wood-burning pizza oven for good measure. This is all just a sliver of what Cavu contains.
It also has its own impressive website, cavulasvegas.com,€" and is going for $12.5 million.