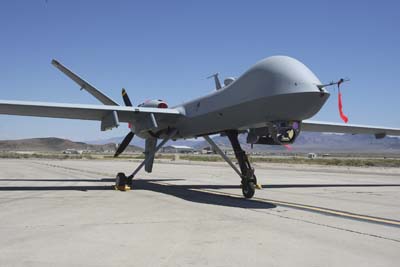 Air Force investigators are probing the crash of an unmanned MQ-9 Reaper spy plane assigned to Creech Air Force Base that went down March 20 during a training mission over Fort Irwin, Calif., an Air Combat Command spokeswoman confirmed Tuesday.
"It did crash. Until the investigation is closed there's not much we can say," said the spokeswoman, Capt. Jennifer Ferrau, at command headquarters in Langley Air Force Base, Va.
She said a preliminary cause of the crash and a damage estimate were unavailable Tuesday.
The mishap had not been posted as a Class A accident on the Air Force's Accident Investigation Board Web site. Class A accidents include those that result in a fatality or loss of an aircraft, or when property damage totals $1 million or more.
Each MQ-9 unmanned aircraft system consists of a package of four vehicles with sensors that combined are valued at $53.5 million.
Capt. Brooke Brander, spokeswoman for the 432nd Wing at the Creech base, said the Reaper was flying a training sortie controlled via satellite link by a pilot and sensor operator in a ground station at Holloman Air Force Base, N.M. The aircraft crashed about 3:30 p.m. at Fort Irwin, where the Army's National Training Center is located in California's northern San Bernardino County.
"Other than the aircraft itself, there was no property damage and no military personnel or civilians were in the area at the time of the impact," Brander said.
She said the Reaper had launched from Creech Air Force Base, 45 miles northwest of Las Vegas.
The crash was the second in a five-day span for military aircraft in Southern California. An F-22 Raptor fighter jet crashed March 25 in the Mojave Desert, 35 miles northeast of Edwards Air Force Base, killing Lockheed Martin Corp. test pilot David Cooley.
The March 20 crash of the MQ-9 Reaper is one of the first for Reapers, the so-called big brother of the MQ-1 Predator.
An MQ-9 Reaper operated by the U.S. Customs and Border Protection crashed April 26, 2006 along the U.S.-Mexico border near Nogales, Ariz.
Ferrau said Air Combat Command are checking records to see if the March 20 crash is the first for a Reaper operated by the Air Force.
The Reaper can fly higher and faster and carry more weapons than the MQ-1 Predator. Both can track targets with high-tech video and infrared cameras, and both can fire laser-guided Hellfire missiles. But the Reaper can also be armed with 500-pound bombs and is better suited for the job in Afghanistan, although the Predator has been in high demand by ground commanders in Iraq and Afghanistan.
Contact reporter Keith Rogers at krogers@reviewjournal.com or 702-383-0308.