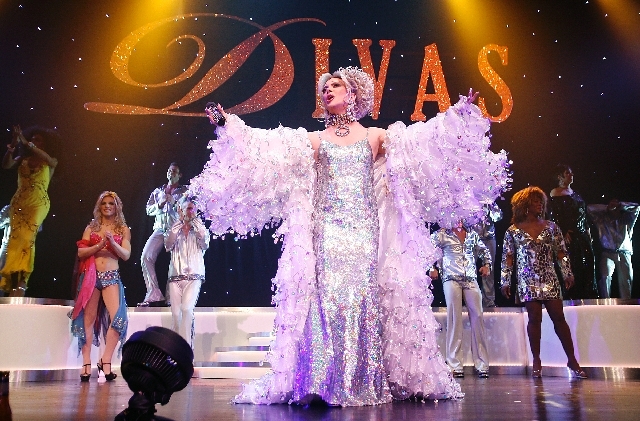 Liberace fan Frank Marino was bedazzled.
During a Tuesday interview, the Las Vegas drag queen couldn't stop repeating "amazing" to describe the acting performances in HBO's "Behind the Candelabra," which premiered Sunday.
"Michael Douglas (as Liberace) was right on," said Marino, "and I've met Scott (Thorson), and Matt Damon's portrayal was amazing."
Marino wasn't alone in offering rave reviews.
Philadelphia Inquirer TV critic David Hiltbrand called it "one of the strangest and strongest TV movies in memory."
Douglas delivered "a wonderful performance, from the smarmy stage mannerisms right down to the mincing adenoidal voice," Hiltbrand wrote.
He added, "the hair, the costumes, the jewelry — even Liberace's tchotchkes — are all exquisite. It's like being trapped in the world's most lavish Turkish prison movie."
Directed by Oscar winner Steven Soderbergh, "Candelabra" put up some impressive numbers: 2.4 million viewers. That was the cable network's biggest audience since the 2004 movie "Something the Lord Made."
More than impressive, considering the history of ratings slippage on Sundays during Memorial Day weekend, according to reports.
For Marino, a Las Vegas drag institution since 1984, the show provided many "surreal" flashbacks.
"Liberace was the first celebrity I met in Las Vegas," Marino said. "He came to my opening night show. He invited me backstage every time he had a concert.
"He's why I wear all the fancy gowns in my show. Because he was an inspiration.
"To this day all of my fur coats are done by Anna Nateece, who was Liberace's costume designer, dear friend and confidante.
"I have a confession," Marino said. "Whenever I was in her studio, she would let me sneak in to the vault and try on his costumes."
Years later, "I did a photo shoot in his bathroom at the Las Vegas Hilton, in the original Elvis suite. Ten thousand square feet of it.
"I have booked the Elvis suite for my 50th birthday party on Nov. 22. That's the first and last time I will admit my age.
"After Elvis had the suite, all the entertainers would stay there when they performed. That's why I want to continue the tradition and throw my birthday party there.
"He was always a gentleman," Marino said of Liberace, "and a really, really nice friend and a big supporter of our drag show."
SIGHTINGS
Caesars Palace headliner Shania Twain in the crowd at Penn & Teller (Rio) on Monday night. … The celebrity-filled Memorial Day weekend included a big turnout of sports stars at the Palms. Among them: boxing champion Floyd Mayweather Jr., Terrell Suggs of the Super Bowl champion Baltimore Ravens, Philadelphia Eagles quarterback Michael Vick and teammates DeSean Jackson and LeSean McCoy, Denver Nuggets star guard Ty Lawson, and Matt Barnes and Maalik Wayns of the Los Angeles Clippers, and Trent Richardson of the Cleveland Browns. … Metta World Peace of the Los Angeles Lakers jumped on the DJ stage at Encore Beach Club at Wynn Las Vegas, and Asante Samuel of the Atlanta Falcons with friends waved Miami flags at Tao nightclub. … Poker star Antonio Esfandiari, doing magic tricks at UFC 160 on Saturday for Mike Tyson, Larry Fitzgerald and Lil Jon . … At Travie McCoy's performance at Chateau nightclub (Paris Las Vegas): St. Louis Rams team members Rodger Saffold, Lance Kendricks, Jared Cook, Jake Long and Chris Long. … Brazilian fighter Junior dos Santos, fueling up on protein at Brazilian meat emporium Fogo de Chao the night before his UFC 160 win over Mark Hunt at the MGM Grand Garden arena on Saturday.
THE PUNCH LINE
"Time magazine just released a picture of a 17-year-old President Obama with his prom date. They would've published a picture of Joe Biden with his prom date, but his mom didn't want to be photographed." — Jimmy Fallon
Norm Clarke's column appears Sunday, Wednesday and Friday. He can be reached at 702-383-0244 or email him at norm@reviewjournal.com. Find more online at www.normclarke.com. Follow Norm on Twitter @Norm_Clarke. "Norm Clarke's Vegas," airs Thursdays on the "Morning Blend" on KTNV-TV, Channel 13.