Markets could spur symptoms of gold fever
February 14, 2009 - 10:00 pm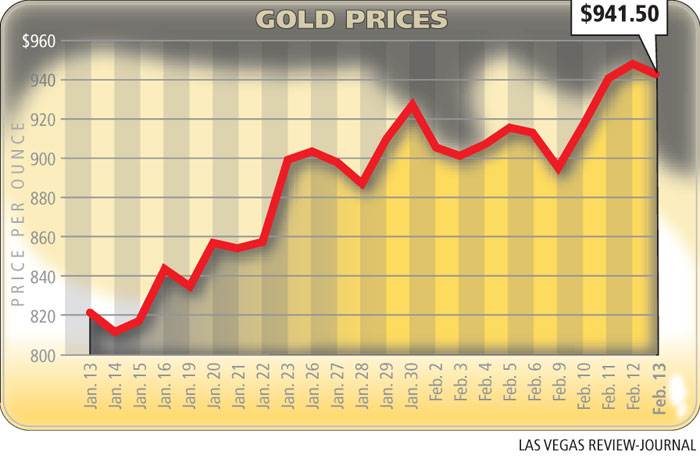 With frazzled investors looking for assurance someplace — anyplace — gold might seem like shiny safety.
To recap, the stock market lost 41 percent of its value between Sept. 30, 2007, and Dec. 31, 2008, causing retirement account balances to fall $2.8 trillion (yes, that's a "t"). And the Dow Jones industrial average is still prone to scary dips (witness Tuesday's 381-point drop). With doubts lingering about the bank bailout and President Barack Obama's stimulus plan, equities might not be done falling.
Gold, meanwhile, is rising. On Thursday, gold for February delivery rose $4.70 to close at $948.50 an ounce on the New York Mercantile Exchange's Comex division, the highest close for a front-month contract since July.
As gold prices have risen, Wall Street has taken a shine. Last week, Forbes noted, UBS upgraded the gold mining industry, putting a $1,000 per ounce target price on spot gold. The financial services company had "buy" ratings on miners Goldcorp, Barrick Gold Corp., Newmont Mining Corp., Agnico-Eagle Mines Ltd. and Eldorado Gold Corp.
The prices of those five companies and Anglogold Ashanti Ltd. have all surged by at least 44 percent since November. Share prices for Barrick Gold, which operates the Barrick Goldstrike mine in Carlin, are up 58.3 percent since Nov. 7.
"If you're asking why gold prices are going up while other things are falling," University of Nevada, Reno economics professor John Dobra said, "my standard answer is 'fear.' "
Dobra acknowledged that investors might like gold given the steep drops in stocks and home values.
But he also thinks fallout from the bank bailout might stoke inflation and make gold investors look presciently prudent.
To fund the Troubled Asset Relief Program, Dobra reasoned, the Federal Reserve will have to sell billions of dollars in bonds.
Selling the bonds would flood the market with money, and inflation comes when too much money chases too few goods.
The gold-price run-up, and its profit potential, probably quickened pulses in Nevada, which faces a projected $2 billion revenue shortfall.
But the price surge won't be of immediate help to state government's coffers; Nevada mines pay a 5 percent net proceeds of the minerals tax.
The state Economic Forum, a group of five businesspeople who determine how much tax revenue the state has to spend, estimated in December that Nevada would receive $33.5 million in net proceeds taxes during the current fiscal year.
That is slightly more than 1 percent of total state tax revenue.
But the forum also predicted net proceeds revenue would decrease to $28 million in 2009-10 fiscal year and drop to $26.5 million in 2010-11 fiscal year.
The Economic Forum could increase those estimates when it meets May 1.
Nevada Mining Association President Tim Crowley was more upbeat on the effects of the increase in gold prices.
"When the price of gold goes up, we invest in new equipment, we pay more sales taxes, we explore more, we hire geologists and drillers," Crowley said. "If we find new ore bodies, then that sustains the mining industry for a longer period of time in Nevada."
Although only about 12,000 people are directly employed in Nevada mining, Crowley said the industry has an indirect positive economic effect on 100,000 people, mostly in rural Nevada, but also in Las Vegas and Reno, where they buy equipment and supplies.
Miners on average earn more than $70,000 a year, the highest-paid industry in the state.
He added that the mining industry pays about $200 million a year in total taxes, including sales taxes. The sales tax revenue especially benefits rural Nevada mining counties, which have fared better during the recession than urban Nevada.
Crowley said he couldn't tell whether gold prices would keep climbing, but said UBS' $1,000 figure might be overheated.
He said he had seen predictions of a drop to $800 an ounce in coming months.
Figuring where the price of gold will land can be maddening. Four weeks ago, he said, gold prices averaged $810 an ounce. In March they topped $1,000 an ounce.
On Friday, gold for February delivery fell $7 to $941.50.
"In the last year," he said, "the price has been up and down and all over."
Emotions might be all over for individual investors who are too afraid to open 401(k) statements and thirsty for safety.
Nevertheless, said Bob Kasner, a managing director for BNY Mellon Wealth Management in Henderson, they probably shouldn't suddenly overweight their portfolios with gold.
Given price volatility, gold has been unreliable as a buy-and-hold investment over the past 20 years, he said.
Kasner said he understood the impulse to see rising prices and grab gold. But he added that trading on emotions is seldom wise.
"Although people like to look at the market and react, we ask whether their goals and objectives have changed; usually the answer is 'no,' " he said. "If that's the answer, they shouldn't change their portfolios.
"Investors should change because their objectives are changing, not because the market is changing,"
Review-Journal Capital Bureau Chief Ed Vogel contributed to this report. Contact reporter Matthew Crowley at mcrowley@ reviewjournal.com or 702-383-0304.