Mayer, 'Pawn Star' meet over drinks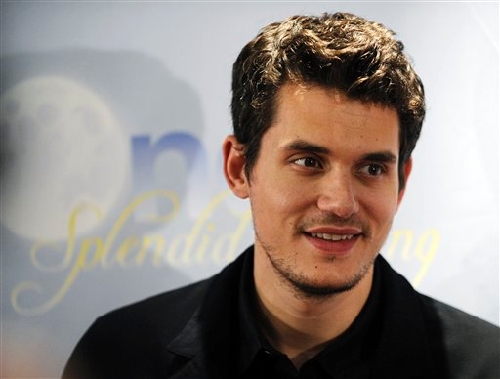 Rick Harrison of the hit "Pawn Stars" reality show got a surprise request via text message last week from a fan: Grammy-winning singer John Mayer.
Explaining that he was a fan of the show, Mayer wanted to know if Harrison had time to meet and discuss rare watches.
They got together over drinks — sangria for Harrison and margaritas for Mayer — at noon Saturday at Botero restaurant at Encore.
"We b.s.'d about watches for an hour. He's a huge collector," said Harrison, who runs the family's Gold and Silver pawn shop.
Mayer, 32, reportedly has a $20 million watch collection, mostly Rolexes. He also owns an oversized Panerai, made by the Florence, Italy watchmaking company that dates back to 1860.
Mayer isn't the first celebrity who requested face time with Harrison.
"American Chopper" star Paul "Paulie" Teutul Jr., recently "came in to b.s.," said Harrison, and Dallas Cowboys Hall of Famer Ed "Too Tall" Jones was in over the weekend.
Jones, who owns three Super Bowl rings, wanted to see sports rings.
"I told him he has more Super Bowl rings that I do."
THE SCENE AND HEARD
Las Vegans will get the first look at John Wall, the NBA's No. 1 overall pick, in a Washington Wizards uniform July 11 in the NBA Summer League. The Wizards are among 22 teams in action from July 9-18 at the Thomas & Mack Center and Cox Pavilion .
SIGHTINGS
Los Angeles Lakers star Derek Fisher, celebrating his fifth NBA title with a trophy-shaped cake from Tao on Saturday. Fisher was with his wife, Candace. … Among the celebrities on the Daytime Emmys red carpet at the Las Vegas Hilton on Sunday: Anthony Crivello, who plays the Phantom in "Phantom: The Las Vegas Spectacular." He began his TV career in 1968, playing Johnny D in "One Life to Live." … Linda Gray from the hit TV show "Dallas" at Ferraro's Italian Restaurant & Wine Bar on Friday and Saturday. … At Botero (Encore) on Saturday: Ryan Seacrest and Regis Philbin, John Mayer, drinking Krug 1985 with his shortribs; and music icon Dick Clark, with friends. … California Gov. Arnold Schwarzenegger, with first lady Maria Shriver and family at Strip House (Planet Hollywood Resort) on Saturday after taking in the Cher show. They received a private tour of Cher memorabilia at Julien's auction. … At the Wynn chapel for the wedding of CNN's senior White House correspondent Ed Henry and Shirley Hung: Former HBO spokesman Craig Minassian, who now works for former President Bill Clinton; Jim Manley, senior spokesman for U.S. Senate Majority Leader Harry Reid; Tim Warner, longtime aide to U.S. Sen. Max Baucus; Fox News White House correspondent Mike Emanuel, Mayor Oscar Goodman (who toasted the newlyweds), Rao's co-owner Frank Pellegrino and Rao's maitre d' Robert "Bubbles" Ubriaco. … UNLV basketball coach Lon Kruger at "Jersey Boys" (Palazzo) on Saturday. … At Koi (Planet Hollywood Resort) on Saturday: Kelly Monaco and Shanna Moakler, in town for the Daytime Emmy Awards show, which was held Sunday at the Hilton. … Attendees at the official pre-party of the 2010 Daytime Emmy Awards at Mix Lounge at The Hotel at Mandalay Bay on Saturday: Kissy Simmons, Jelani Remy, and Bugi from "The Lion King," and Nadia Bjorlin , the Emmy-nominated Molly Burnett and Casey Deidrick from "Days of Our Lives." Burnett served as guest disc jockey ; Terri Colombino and Austin Peck from "As the World Turns," Marcy Rylan from "The Young and the Restless" with boyfriend Don Money, Alexandra Chando from "As the World Turns" and Stephanie Gatschet from "All My Children," Denise Vasi from "All My Children," Cady McClain and Jon Lindstrom from "As the World Turns."
THE PUNCH LINE
"Scientists in Geneva say that by smashing subatomic particles together, they can come very close to replicating the Big Bang that created the universe. Well, what could go wrong there?" — Jay Leno
Norm Clarke can be reached at 702-383-0244 or norm@reviewjournal.com. Find additional sightings and more online at www.normclarke.com.