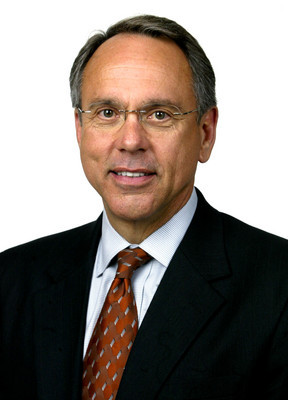 Henderson Mayor Jim Gibson acknowledged the storm clouds but focused on the sunshine as he delivered his final State of the City address Thursday.
In a mostly upbeat, 30-minute speech, Gibson touted what he described as the city's conservative approach to its prosperity and its measured response to the economic crisis.
Faced with a budget shortfall of $53 million, the city offered voluntary buyouts to its employees, delayed some pending projects, and adopted an array of cuts that have, so far, stemmed the need for layoffs.
Gibson compared the deepening downturn to the raging forest fire that scorched Yellowstone National Park in the late 1980s. And like Yellowstone did, Henderson will bounce back, even flourish in the aftermath, he said.
"We can't see anything good in the fire itself. But as nature takes its course, there is hope for a recovery and that what will emerge will be even better than before," he said.
The luncheon fare belied the tough economic times. A group of about 850 business leaders and city officials dined on steak, shrimp and asparagus, with creme brulée for dessert.
The event in the Grand Events Center at Green Valley Ranch Resort was paid for by the Henderson Chamber of Commerce, its members and sponsor St. Rose Dominican Hospitals.
Gibson, who was first elected mayor in 1997, is barred by term limits from seeking re-election this year.
He reflected on his three terms in office, noting to the amusement of the crowd that his first State of the City address took place before a group of 60 to 70 people at the Railroad Pass Casino on U.S. Highway 95.
Henderson's population has nearly doubled during Gibson's time as mayor. The city now ranks as Nevada's second most populous behind Las Vegas.
"In another 12 years, given our past record of success and the stable foundation we've worked to establish, I can only imagine the incredible community we'll see for our children and grandchildren," he said.
After the speech, Gibson said he hasn't decided what he will do after he leaves office in June or possibly sooner if someone wins his seat outright in the April 7 primary election. For now, he said, he is concentrating on the work ahead as he finishes out his term.
Asked if he plans to endorse a candidate in the mayoral race, which includes attorney Richard Charles Sipan, former Councilwoman Amanda Cyphers and current Councilmen Andy Hafen and Steve Kirk, Gibson didn't completely rule it out.
"It's not likely," he said.
Contact reporter Henry Brean at hbrean@reviewjournal.com or 702-383-0350.