Mayoral candidates state their case during debate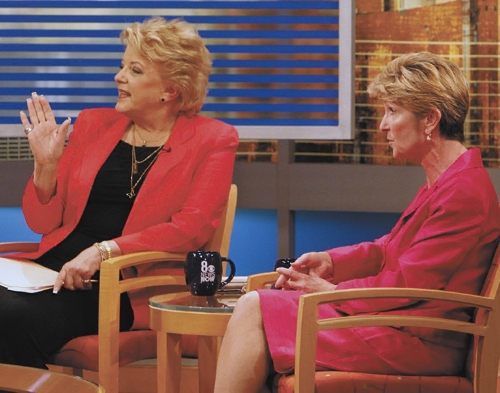 The two Las Vegas mayoral candidates racing toward early voting sought to outdistance each other Sunday during a televised debate that covered downtown parking, proposed sports arenas and negotiations with public employee unions.
Chris Giunchigliani and Carolyn Goodman appeared on KLAS-TV, Channel 8, for an hourlong session with just three weeks left in the campaign. Early voting begins Saturday, and Election Day is June 7.
Giunchigliani, a Clark County commissioner, highlighted the towing of 100 cars last week during First Friday as an argument that downtown development hasn't been co­ordinated.
There should be more free parking, more pedestrian-friendly areas and free Wi-Fi throughout downtown, she said.
"We really haven't had an integrated plan," Giunchigliani said. "That's still missing."
Goodman, wife of current Mayor Oscar Goodman and founder of the Meadows School, said a more useful way to look at downtown is from a "glass half-full" perspective, instead of "nit-picky" areas where problems pop up.
"It's the excitement of what is happening," Goodman said.
The city already is looking at parking options, she said, because one goal is to have more people live downtown.
The candidates made their cases in the wake of recently released polls that paint starkly different pictures of the mayoral contest.
Giunchigliani's camp characterizes the race as a dead heat. Its latest poll of 400 likely voters put Goodman at 45 percent to Giunchigliani's 43 percent. The margin of error for the poll, conducted by Benenson Strategy Group, was plus or minus 4.9 percentage points.
Goodman's latest poll of 1,248 likely voters showed her leading with 53.4 percent to Giunchigliani's 31 percent. Undecided voters accounted for 15.6 percent. The margin of error in the poll, conducted by Magellan Research, was less than plus or minus 3 percentage points, campaign manager Bradley Mayer said.
The two candidates also tackled the issue of a sports arena during the debate.
Las Vegas is negotiating to have an arena downtown, but both candidates expressed support for a proposal that would build a football stadium and ancillary development at the University of Nevada, Las Vegas.
"I think the UNLV one has the most merit," Giunchigliani said.
A proposal that has resurfaced recently for three arenas, this time on land near Mandalay Bay, raised concerns because of the project's apparent lack of funding, Giunchigliani said.
Goodman expressed hope that UNLV can secure an arena, although she added that downtown is a "great location" for a professional basketball, hockey or soccer team.
Both candidates said that any arena should be built without a public subsidy.
The candidates previously have split on the topic of binding arbitration, and they were asked about a proposal in the Legislature that would remove arbitration in disputes with public-employee unions and give the decision-making power to elected officials.
"I think elected officials should be in this position," Goodman said.
Subsequently, though, she said perhaps there should be some combination with arbitration, because an elected official might not be as neutral as an arbitrator.
Giunchigliani said binding arbitration should be kept, because it helps keep parties at the bargaining table. If they stop negotiating and leave it to arbitration, she said, they're leaving the decision over a labor contract in someone else's hands.
Contact reporter Alan Choate at
achoate@reviewjournal.com or 702-229-6435.