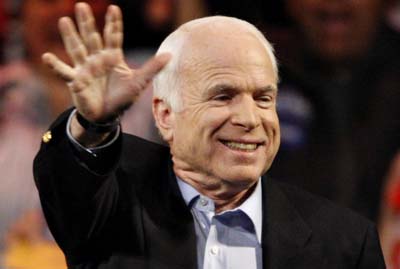 A defiant John McCain stood before a giant banner reading "VICTORY IN NEVADA" in Henderson Monday night, amping up a wildly cheering crowd with the promise of a come-from-behind victory as he headed into Election Day.
"This momentum, this enthusiasm convinces me we're going to win tomorrow," the Republican presidential nominee said, his wife Cindy and daughter Meghan at his side.
"A lot of the pundits have written us off, just like they've done before," he added. "My opponent is measuring the drapes of the White House. They may not know it, but the Mac is back, and we're going to win this election."
McCain spoke at the Henderson Pavilion, near the intersection of Green Valley Parkway and Interstate 215, around 8:30 p.m. The crowd of supporters was estimated at more than 10,000, according to Dianne Mizelle, the pavilion's operations coordinator.
It was McCain's last stop on a seven-state Election eve sprint before going home to Arizona. Prior to arriving in Nevada, he stumped in Florida, Tennessee, Pennsylvania, Indiana and New Mexico.
The rally in Southern Nevada was McCain's first visit to this battleground state since early August and the only time over the course of the campaign when he has held a public rally in Southern Nevada. His running mate, Sarah Palin, also was in Nevada Monday night, with stops in Reno and Elko.
With the exception of Pennsylvania, all the states McCain visited were won by President Bush four years ago, a sign of the uphill battle he is thought to face against his Democratic rival, Barack Obama.
But McCain, in a 17-minute speech, cast himself as a fighter who can't be knocked down, saying, "We're going to show the country and the world, and it's going to happen here."
McCain asserted that his Democratic rival, Barack Obama, would raise taxes and kill jobs, while he would cut spending and fix the housing market.
"Senator Obama's tax increases will kill jobs and make a bad economy worse," he said. "I'm not going to let that happen … I'm going to make government live on a budget, just like you do."
McCain promised to lower the cost of energy by exploiting every possible source, including "safe nuclear power." He didn't mention his support for the proposed nuclear waste repository at Yucca Mountain.
No McCain speech would have been complete without a reference to Joe the Plumber, the would-be small business owner in Ohio whose pointed question to Obama prompted the Democrat to opine that wealth ought to be spread around, not concentrated in the hands of a lucky few.
The crowd booed with gusto at the mention of that notion. "My friends, Joe the Plumber represents small business all over America," McCain said.
"It's clear that what Senator Obama wants to do is take money from one group of Americans and give it to another," he said. "He's running to be redistributionist in chief; I'm running to be commander in chief. Senator Obama is running to spread the wealth; I'm running to create more wealth. Senator Obama is running to punish the successful; I'm running to make everyone in this nation successful."
Though McCain has regularly bashed Democratic congressional leaders on the trail, his criticism of Senate Majority Leader Harry Reid, D-Nev., had special weight on Reid's home turf, and was enthusiastically received.
Reid and McCain do not have a relationship of senatorial collegiality. Since McCain became the GOP nominee, Reid has regularly questioned his temperament and even said he "can't stand" the Arizonan.
"Senator Obama has never taken on Harry Reid. I have," McCain said. "This is the same Harry Reid who in April of 2007 said, 'The war is lost,'" McCain reminded the crowd. "We're winning, Harry."
McCain also sought to exploit recent comments by Obama's gaffe-prone running mate, Joe Biden, whom McCain termed "the gift that keeps on giving." Biden warned of a "generated crisis" by which the world would test Obama's mettle, and predicted Obama would be up to the challenge.
"I've been tested, and I've passed that test," McCain proclaimed. "Senator Obama hasn't."
A spokeswoman for Obama's campaign answered his criticism of the Democrat by saying it was Obama who would fix the economy.
"John McCain is clearly out of touch with the needs of our country and the needs of Nevada," Kirsten Searer said. "Under John McCain, the middle class will watch wealth get favored over work, jobs will get shipped overseas, and the cost of health care and college will go through the roof. That's not acceptable."
As he neared the end of his remarks, McCain pivoted momentarily to a reflective tone. He thanked the crowd "from the bottom of my heart," adding, "It means a great deal. I know you're worried tonight. America is a great country, but we're at a moment of national crisis that will determine our future."
In a rousing crescendo, McCain said he would make sure America emerges stronger, not weaker.
"Yes, we will lead. Yes, we will prosper. Yes, we will be safer," he said. "Yes, we will pass on to our children a stronger, better country. I am an American. I choose to fight. Be strong and fight."
Audience member Kira Meadows, 22, was amazed by McCain's zeal, knowing the long day he'd had.
"He was so energetic. He came out so strong," said Meadows, a student who attended the rally with her parents, sister and two friends, arriving at 3 p.m. to get good seats.
Meadows said she plans to vote for McCain today because "he's the only candidate who has ever fought for our country, the only one."
What's at stake in this election, she said, is nothing less than the future of democracy. "It's whether we go to socialism or not," she said. "Whether we'll be a free country. Whether we'll ever get to vote in another election."
Meadows said she believed the pep talks of the local Republican candidates who spoke before McCain. State Sen. Bob Beers, R-Las Vegas, argued that because Democrats turned out in higher numbers in early voting, there are fewer of them left to vote, and the Democratic Party will "run out of voters."
Husband and wife Daman and Cristin Barron brought their 5-year-old daughter and 18-month-old son to the rally and stood at the back of the crowd on the cool, dark lawn behind the packed seating area.
"For me, I really think that John McCain has captured the real essence of what it means to be an American: our freedom, the free market, letting us make our own way rather than paving it for us," said Cristin Barron, 27, a homemaker and college student. "That's what America was founded on."
Daman Barron, 29, said it's not easy being a young Republican — "maybe 1 percent of our age group agrees with us" — but the Henderson couple believe strongly in their moral values.
"This is for my kids," Daman Barron said. "I want them to see history."
Contact reporter Molly Ball at mball@reviewjournal.com or 702-387-2919.
Slideshow