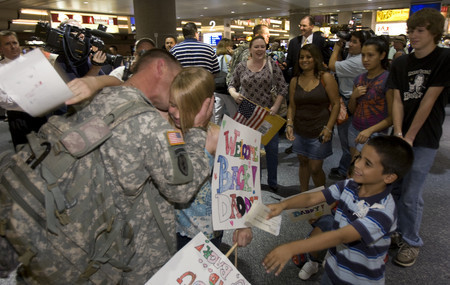 McCarran International Airport will get a USO lounge for military personnel after years of stalled attempts.
USO leaders announced plans today to open a $1.5 million airport "hospitality center" where members of the military can congregate, wash up and rest. They said their goal was to finish it by summer.
"We're really eager to get this done," USO spokesman John Hanson said. "We know a lot of troops and families use that airport."
Critics have said that McCarran is the only major airport in the country with no designated rest area for military personnel, including those en route to war zones.
The nonprofit USO had rejected earlier requests for a lounge from veterans' groups and local leaders.
Hanson said the USO finished its centers in Afghanistan, Iraq and Kuwait as well as at several bases where troops deploy. After that, Las Vegas was high on the list of prospective sites, he said.
USO chief executive Sloan Gibson and Sen. Harry Reid, D-Nev., trumpeted the future lounge at a news conference today in Washington D.C.
"I think it is not fair to these people in uniform that they have no place to go while they have a layover in Las Vegas," Reid said.
Nevada is a busy military hub, Reid said, calling McCarran a nexus for military personnel coming in and out of the state.
Democratic Reps. Shelley Berkley and Dina Titus, who were also involved in trying to establish a military lounge, cheered the turn of events. Both said the hospitality center was much needed for the men and women serving their country.
A couple of veterans' advocates greeted the news with a mixture of celebration and cynicism.
Chuck Lombardo, who has pushed for a lounge since 2004, said he was elated that it was materializing but irked that it took so long.
"This should've been done years back," Lombardo said. "Our troops don't deserve the treatment they've gotten in Nevada."
Steve Sanson Sr., president of Veterans in Politics, said it's no coincidence that the project suddenly gained steam in an election year. USO officials told him a year ago that they wouldn't open a lounge here because of legalized gambling, he said.
"Sen. Reid is down in the polls and this is an opportunity to get the veterans' vote," Sanson said. "I don't think the politicians should take any credit for this."
More than 250,000 military travelers came through Nevada in 2009, so a hospitality center would be welcome, Sanson said. But he said he'll believe the lounge is real when the first service members walk through the doors.
The lounge will have a big-screen television, a large refrigerator, computers, easy chairs to nap in, a play area for children and maybe a kitchenette and showers, depending on the space, Hanson said.
USO will staff it with one or two people, he said. As with all USO centers, the local community must come through with volunteers and donations.
It's unclear whether the group will use a former U.S. Airways suite or a defunct fitness center or a new space that would be built in Terminal 3, said County Commissioner Steve Sisolak.
Sisolak brought together veterans' advocates and politicians in November to make a concerted effort at developing the lounge. He agreed it didn't hurt that Reid is in an election year.
"It shows you how much the majority leader of the Senate can get done," Sisolak said. "But there were a lot of people on the ground working on this … and they deserve credit too."
Contact reporter Scott Wyland at swyland@reviewjournal.com or 702-455-4519. �