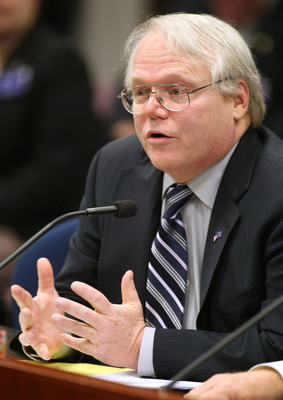 CARSON CITY — A Reno judge wounded by a man who was going through a divorce and had just killed his estranged wife asked lawmakers on Friday to support a measure extending additional privacy and protections to judges.
Critics of AB99, debated in an Assembly Judiciary Committee hearing, raised concerns that it could create an "elite class" of citizens with more rights than others.
The bill seeks enhanced penalties for crimes committed against judges and many others involved in the judicial process, including prosecutors, public defenders, witnesses and jurors.
AB99 also allows judges to list phony addresses when they apply for documents such as a driver's license or when they file for re-election, and makes it a crime to file false lien claims against judges.
Washoe County Family Court Judge Chuck Weller, who urged approval of the measure, said he started focusing on court security issues after being hit in June 2006 by a bullet fired through the window of his chambers by Darren Mack.
Weller, who handled the divorce of Mack and his estranged wife, Charla, said the number of threats against judges nationwide grew from 200 in 1997 to 1,400 in 2008.
"We had a defense attorney that was stabbed in a courtroom in Reno last week, and it's not an uncommon occurrence for judges to receive death threats," he said.
Critics of the proposal included Jason Frierson, a deputy Clark County public defender.
"I, as a public servant, sit next to people charged with crimes every day. And I do that voluntarily because that's my job and I chose to do it," Frierson said. "I don't believe that that entitles me to any greater protection than any other person walking down the street."
After the hearing, Barry Smith, director of the Nevada Press Association, said he opposes the idea of judges using bogus addresses.
"Once it starts, who knows where it would stop," Smith said. "It's a state-authorized lie. And that's not something I think our justice system should be asking for or participating in."
During the Judiciary hearing, Assemblyman William Horne, D-Las Vegas, said the bill was too broad and probably would not be an effective deterrent.
"When we're talking in particular about Family Court, these are impassioned instances, where I don't think these deterrents go through these guys' mind," Horne said.
Lawmakers also questioned the logic of effectively making it a worse crime to threaten or harm a judge than any other person because there already are penalties for those crimes.
"What is absent from the statute today, that would not be imposed upon him, that this bill would fill?" Horne asked. "Are our laws so lacking that we're going to have the risk of having them count again? Or is that already there, and are we piling on?"
Horne also raised concern about the precedent such an expansion could set.
"Would we extend that to the legislative process? If one of us were threatened or hurt because we voted for a tax increase, or put forth cuts to the higher education system" Horne said, "that logic could extend to that."
"I think that logic does go there," Weller relied. "That process should be protected."
Weller also said the proposal incorporates provisions passed by Congress and enacted into federal law in January under the Court Security Improvement Act of 2007.
The bill originally expanded circumstances in murder cases that can lead to a death sentence, but drafters agreed to drop that provision after it drew opposition from the American Civil Liberties Union of Nevada.