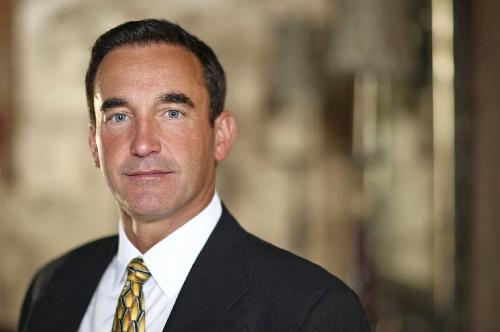 The Chicago lawyer who ignited an international firestorm of Internet chatter — about a brief but almost daily reflection problem at the Vdara Hotel on the Strip — says he's not quite sure why the topic is so hot.
William Pintas of Chicago — whose hair got slightly singed while sunning at the Vdara's pool midday in mid-September — told the Las Vegas Review-Journal he has fielded queries from England's BBC radio, the ABC and CBS news organizations, and WGN-TV, which is a Chicago station that via cable television has a national reach.
Pintas attributes his proverbial moment in the sun principally to the novelty of the term "death ray," which, as first reported in Saturday's Review-Journal, is what Vdara pool employees nicknamed the reflection.
Pintas' Vdara photograph has made the media rounds. It shows a plastic shopping bag partly melted by the reflection. The melted portion spelled out the word "Vdara" because holes were created where the name had been stamped in black ink.
"I'm not taking away from (Pintas), but we have no other complaints that are similar to what he has told you," Gordon Absher said after checking with risk-management staff. Absher is a spokesman for MGM Resorts International, which owns CityCenter, the development that includes the Vdara. A check of Clark County District Court turned up no Vdara lawsuits related to sun exposure.
"The media's had great fun with this. And we've been good sports about it," he said Tuesday, noting "Inside Edition" and British newspapers have contacted CityCenter. Since then, National Public Radio and the "Today" show have jumped on the story, too.
Absher repeated that MGM is working on further reducing the sun rays that bounce back onto the pool deck, an uncomfortable phenomenon that shifts spots and disappears as the sun moves across the sky.
The Vdara reflection — also called a solar convergence — varies by season as well.
Light-scattering film already is adhered to the southern-facing wall of the hotel tower, whose curvature concentrates the rays.
But the Vdara isn't the only spot in Las Vegas with a solar convergence. At the Alexander Dawson private school in the Las Vegas Valley, pupils have dubbed their spot "the bakery" and enjoy watching plastic melt there in high sun, according to one MGM official who knows a child who attends Dawson.
Even in Kentucky — which is far from the hot desert — solar convergence has melted vinyl siding on houses, said Erby Crofutt, who is with a home-inspection business called B4U Close.
One anonymous reader phoned the Review-Journal to complain in foul language that "idiot reporters" were crimping Las Vegas tourism by writing about Pintas' incident at the Vdara.
But some Vdara guests have suggested the hotel market the reflection as an attraction, said Alan Feldman, who is senior vice president of public affairs for MGM Resorts.
Michael LaTour , a UNLV professor who studies consumer behavior, said the humor to Pintas' incident can be turned to the resort's advantage if CityCenter management clearly conveys that "this somewhat fluke-ish situation is something they're dialed into, and they're going to remedy it 'asap.' "
Hunter Clayton and J.F. Finn, who are principals with Gensler, the firm that was the executive architect for CityCenter, told the Review-Journal that design calculations and pre-construction studies go only so far. A building's final test comes only after it's built, as the sun reacts with specific surfaces.
George Loisos of Alameda, Calif., is the solar convergence consultant who studied the Vdara plans in 2008 and set the construction specifications to minimize reflection.
"People have tried to deliberately do this, and failed," he said of the Vdara's now-notorious solar convergence.
According to Loisos, solar furnaces — some exist in Spain — are high-tech structures designed to create power by exploiting a solar convergence. It is rare for a commercial building, such as Vdara, to achieve such an effect.
Contact reporter Joan Whitely at jwhitely@reviewjournal.com or 702-383-0268