Medicare open enrollment: What are your options for financially stable retirement?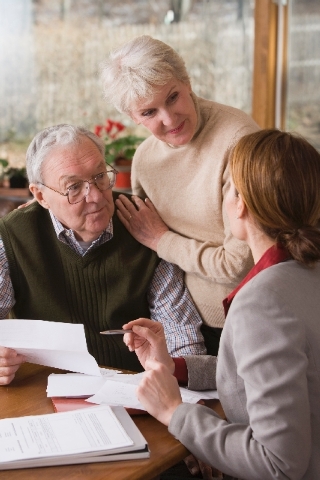 Choosing health care plans is challenging enough for young employees uncertain about which program is best suited for their future medical needs.
The health care soup becomes a bit murkier when people approach the age of 65 and begin to examine their options that will allow them to live their retirement years in comfort. At that point, they are presented with a flurry of new choices — Medicare's primary parts A, B, C and D.
Dr. Katy Votava, president of Goodcare.com, advises all health care enrollees, regardless of their age, to consult with a financial expert before choosing a plan. And her strong recommendation is backed by other specialists in the field, and becomes even more important when workers are planning for their future without employment.
Just as it is with health plans throughout one's working years, choosing a Medicare option or options depends on the person, his or her financial status and health.
The enrollment period for Medicare patients is three months before a person turns 65 years old and three months after. So, according to Cheryl Randolph, a spokeswoman for UnitedHealthcare, it's important to begin researching options early.
Part A
The first part of the Medicare program, Part A, is the simplest to understand. Workers have paid fees toward Social Security throughout their years of employment and, because of that, as long as they have paid into the system for a decade or more, they are immediately eligible for Part A at no cost. Employees who have not paid into the Social Security program for a decade, will be charged monthly premiums that are based on their annual income.
Thomas Hartnett, a Pennsylvania-based health insurance agent licensed in Nevada, explained the first part of Medicare like this: "Part A is the bricks and mortar of your coverage; it pays for your facilities, home health care, skilled nursing and hospice."
As we go higher into the alphabet, the coverage becomes more cloudy and a bit more confusing.
Some employees enroll in Part A and continue working, receiving insurance coverage from their employer. Those who reach 65 years of age and decide to retire can elect to enroll in Part B.
Part B
"Part B is what I call the nuts and bolts coverage; it pays for the moving parts like doctors and surgical procedures," Hartnett said.
To gain the benefits of Part B, employees will be charged a monthly premium of about $105 if their income is less than $85,000. There is also a deductible of about $150 associated with the plan. Employees whose salaries exceed $85,000 will have a higher premium depending on their income.
Part C
Part C is hardly a no-brainer. It is referred to as the Medicare Advantage Plan. Although you need Parts A and B to be eligible for the third part, the plan provides your hospital insurance and covers medical costs through private companies to which it pays a fixed monthly fee. The benefits might also include additional coverage such as vision, hearing, health and wellness programs and dental procedures.
Medicare dictates how these companies treat the patients , for example, whether they need referrals to visit a specialist or seek nonurgent care. Most important, however, is that it also oversees how much the company can charge a patient out of pocket. That caveat is key because the guidelines can change with time.
Part D
Part D is the Medicare Prescription Drug Plan, which will be addressed in a moment.
If your head is already spinning, you are not alone. That is why it is important to do research on your circumstances — Medicare.gov has plenty of information — or seek expert advice.
"My recommendation is No. 1, meet with a professional," Hartnett said. "It's really critical. No normal human being is digesting it on their own, it's just not happening. Don't look at monthly premium, look at overall need and budget."
This is a valid point made by several health officials. People enrolling in Medicare need to be aware of their current financial situation and how it will look in the future.
Part C of the Medicare program might appear enticing when those considering this option see a premium that is less than $100 a month. But that premium could be misleading in the long run.
For example, the patient might pay a lower monthly amount, but could be stuck with exorbitant out-of-pocket expenses when struck with an unexpected health issue.
Medigap
Harnett said he strongly suggests his clients purchase a private supplemental insurance plan, better known as Medigap, rather than solely relying on Medicare coverage. Nine out of 10 people should enroll in a Medigap program, Hartnett said, to supplement the Medicare plan because of their health situation and the medical history of their family.
In fact, he said, he feels so strongly in the need for Medigap, that if a potential client who has health issues or a family history and would rather go only with Medicare plans A, B and C — you must have the first two to become eligible for the latter — he will walk out the door.
And here's why: Part A of Medicare coverage only takes care of 80 percent of medical costs, which could leave the patient with a hefty hospital bill. Although a Medigap plan will cover the difference and potentially save patients their life savings, the Advantage Plan could leave the patient with overwhelming expense. And, to reiterate, the out-of-pocket costs that Medicare allows Advantage Plan companies to charge can change.
Medigap insurance companies are standardized and regulated by the federal government. They are designed to pick up where Medicare coverage leaves off. The stumbling block with some people is they sign up for the Advantage Plan, Part C, because it seems less costly on paper.
The problem is those who sign up for the Advantage Plan initially will not be accepted by a private supplemental insurance company, Medigap, later on and they will be left with out-of-pocket costs not covered by Medicare.
That, according to Hartnett and other specialists, is why it is crucial to think hard about Medigap options.
"The only out-of-pocket you'll see is the Plan B deductible, which is $145; that's it, you're done," Hartnett said of Medigap coverage. "You might have to pay $180 a month rather than $80 a month, but when those unknown things happen to you, you don't have to worry about selling the house to pay for it."
Those who tend to bypass supplemental care are typically people who rarely go to the doctor and have a bankroll to pay for unseen medical catastrophes.
"If you have the money and bank the savings, then do it (bypass medicare coverage), but understand the risk when you are doing it," Hartnett said.
Randolph, said because the different programs are confusing and vary so greatly, it is important for clients to do their research.
"It just depends on what your needs are," she said. "If you have chronic conditions, see a lot of specialists or if you think you're going to be under a doctor's care for a long period of time, you have to look at what's affordable. There are premiums attached to some of these plans and the benefits vary. There are different plans available."
Some clients fail to remember the smaller concerns, such as preven tive measures or so-called health maintenance to avoid a major health scare.
"There are a lot of choices as you consider retiring," she said. "You need to look at what your needs. Are preven tives like mammograms and colonoscopies covered? Is there a co-pay? If unexpected things come up, if I have to be at the hospital, what's going to be my cost?"
Prescription Drug Plans
And then, of course, there is the rising cost of prescription drugs. Although most drugs offer a generic alternative, that is not the case for some of the most expensive medications. Patients have the option to bypass the Advantage Plan and enroll in the parts that cover hospitalization and procedures, then skip Part C and simply sign up for Part D, the Medicare Prescription Drug Plan.
Although many drugs offer generic brands, not all do and that could become costly without the proper coverage. Most Medigap programs cover prescription costs and that is another reason why it could be important to select this coverage at the outset of retirement.
However, Part D of the Medicare plan is likely to cover a wider range of medications.
If a patient is diagnosed with diabetes, for example, there is no generic insulin and the cost is extremely high — anywhere from $500 to $1,200 a month. Hartnett said that there are few private insurance companies that will underwrite people who want to switch coverage when they have been diagnosed with a serious disease.
That would leave the patient with the high costs at least for a year.
"Would you want to be stuck in your plan and suck it up the remaining of the year?" he said, noting even then you are not guaranteed coverage.
Employees are eligible to sign up for Medicare three months before they turned 65 years old and three months after. People can also sign up for a General Open Enrollment Plan, which is between Oct. 15 and Dec. 7 each year. At that point, patients can switch from the original Medicare parts to the Advantage Plan, or vice versa, or opt to enroll in the Medicare Prescription Drug Plan.