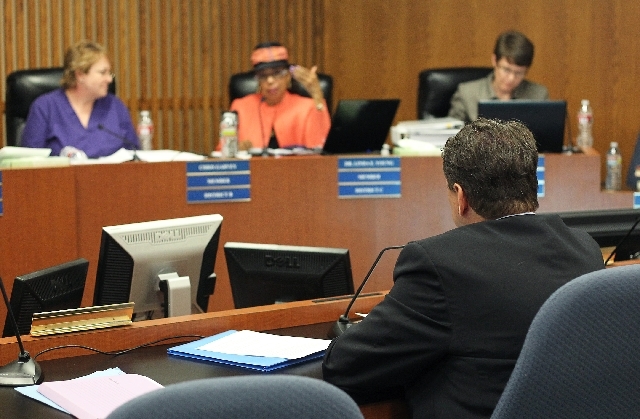 Let's dispense with the introductions and proceed directly to the apologies, shall we?
The Clark County School Board embarrassed itself and its choice for district superintendent when it rushed to appoint veteran administrator Pat Skorkowsky to the job Dwight Jones abandoned in March.
Jones, of course, owes the entire community an apology, but let's not hold our breath.
As for the board, it should first apologize to Skorkowsky, a dedicated professional, for casting a shadow over his selection by failing to openly communicate its intentions.
It should also apologize to members of the business community and others who for years have taken a keen interest in improving public education in Nevada. They deserved better.
The largest apology should be shouted across the valley. At a time parents and students were still processing the great Jones vanishing act, the board appeared to pull Skorkowsky out of its hat.
The board initially showed an interest in looking outside the county in March when it started talks with a national search firm. By April, the negotiations ended. The search was called off and replaced with a slate of town hall meetings.
Town hall meetings make for great political cover because they appear to be fundamentally democratic. They're most often used to buy time and take the public's temperature on an issue before an elected body goes ahead and does what it wants, anyway.
Then the board made itself appear in even more of a hurry when it voted to appoint Skorkowsky from what appeared to be an applicant pool of one. Not only did its members decide against a national search, but some appeared satisfied with no search at all.
Thanks to Review-Journal reporter Trevon Milliard, the hasty action resulted in an embarrassing news story. And that led to a revote, not an open process with a lot of troublesome winnowing of finalists. Just a revote.
Not surprisingly, "Skorkowsky, Take II" was unanimous. The square-shooting School Board President Carolyn Edwards put a smiley face and gold stars on its weak research paper.
In an official announcement on June 4, she offered, "Sometimes things happen that are beyond our control." After enthusing about the importance of "more academic rigor," unity and improved morale, she added, "you want someone who will hit the ground running for our students."
"Sometimes you have to look high and low to find that person, and sometimes that person is right under your nose. We have found that person in someone who started right here in our district 25 years ago."
You're also much more likely to find that special person nearby when you decide not to search beyond your nose.
With that, the mortifying Jones era officially ended with the board's selection of Skorkowsky. Or as I like to call him, the Pat of least resistance.
On Tuesday, Skorkowsky conducted a group interview at the Review-Journal. And you know something?
He's experienced, well-spoken and dynamic. In the past 25 years, he has taught at elementary schools in disadvantaged and prosperous neighborhoods. He has been an administrator at every level and by all appearances appreciates the importance of the complex English Language Learner issue. His personal education credo is, "Every student in every classroom without exception, without excuses," and it's obvious to me that he has devoted his life to lifting public education in Southern Nevada.
After trying to soften the selection controversy, he said, "I can't control what the board determines, but now that I am their employee, and their sole employee, I will do everything I can to make sure that the agenda is pushed forward and that we are going to see the fruits of our efforts. Is it going to be easy? No. I had a state senator tell me, 'You've got the toughest job in the state right now.' I understand that, but there's going to be no lack of effort on my part to ensure that every employee and every community member is satisfied with what we are going to be doing over the next few years."
Now that the introductions and apologies have ended, Skorkowsky's real work begins.
John L. Smith's column appears Sunday, Tuesday, Wednesday and Friday. E-mail him at jsmith@reviewjournal.com or call (702) 383-0295.