Men honored for rescue attempt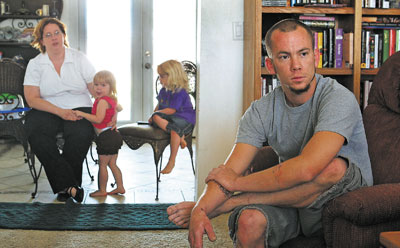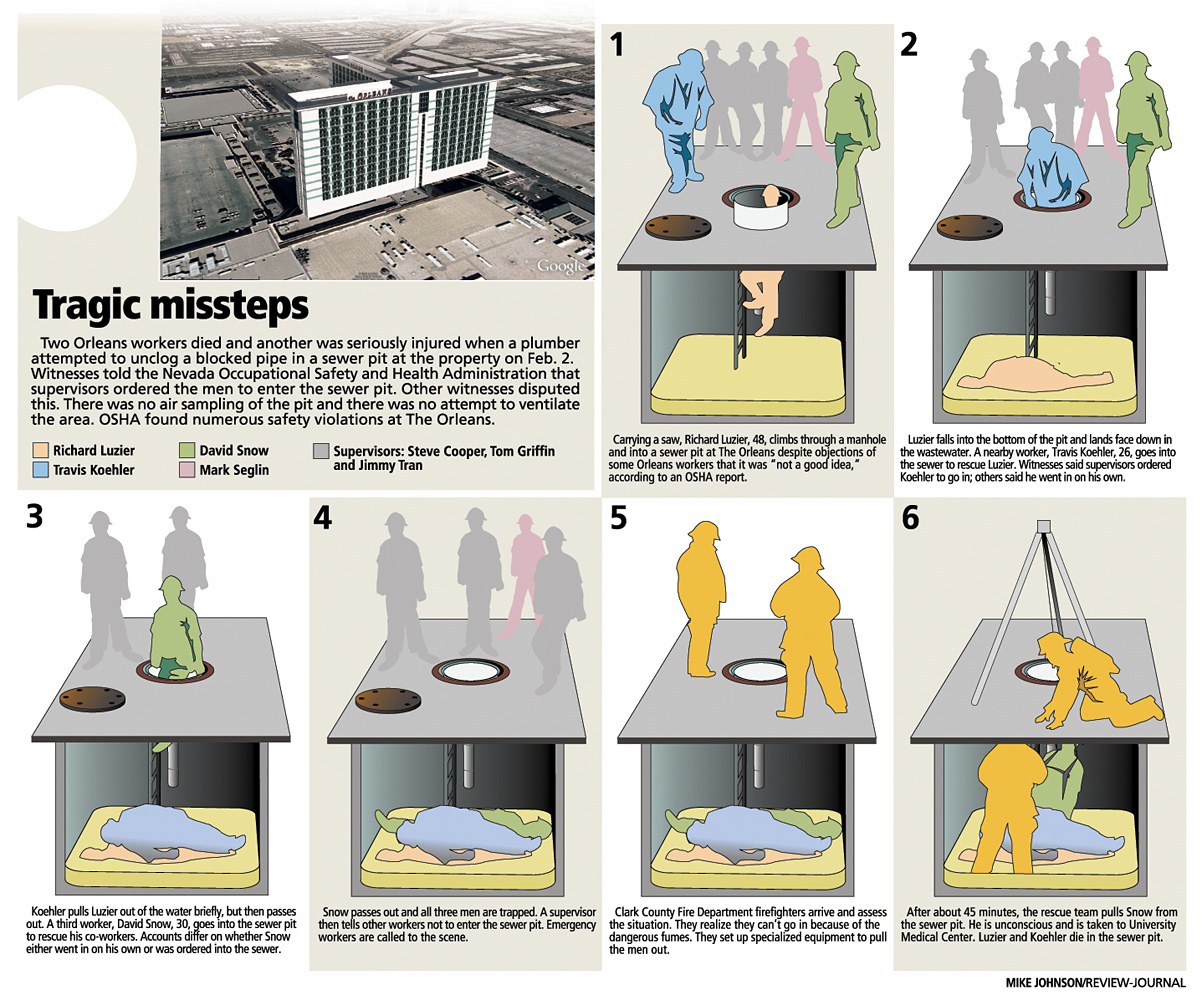 Travis Koehler and David Snow weren't thinking about medals and accolades when they jumped into a sewer pit to save a co-worker.
Fifteen months after that fateful day, that's exactly what they got.
The two men were honored Wednesday by the prestigious Carnegie Hero Fund, a national organization that recognizes ordinary people for extraordinary acts of heroism.
"It just confirms what we already knew. That Travis was a hero, and now the world knows it," said Debi Koehler-Fergen, Koehler's mother.
Koehler and Snow, who worked at The Orleans, risked their lives by entering an underground sewer pipe filled with noxious gases in a rescue attempt of a co-worker who had fallen unconscious.
Koehler, 26, and the 48-year-old co-worker, Richard Luzier, died after being overcome by the gases. Snow also succumbed to the atmosphere but survived — barely.
Doctors gave him a 10 percent chance to live, and he had to be revived five times during his nine-week stay in the hospital.
Snow received $6,000 with the award, which includes a bronze medal featuring Andrew Carnegie, the steel magnate who created the award in 1904 to honor the "heroes of civilization."
Snow and Koehler were the 16th and 17th Southern Nevadans to receive the award.
Snow, who is married with 4- and 2-year-old daughters, put the money in a savings account. The 31-year-old said he survived so he could keep telling the story of what happened Feb. 2, 2007.
"The true hero in this is Travis because he gave his life for it," Snow said. "I'm still alive because I get to advocate for those guys."
Koehler-Fergen said she would put her son's money in a long-term investment for Koehler's two nephews. Koehler had no children; he was engaged to be married next month.
A spokesman for Boyd Gaming, which owns The Orleans, congratulated Koehler and Snow for the recognition.
"As we've said before, their actions that day were selfless and heroic and are deserving of the highest recognition," Rob Stillwell said.
Snow, who suffered damage to his lungs, liver and other major organs, returned to work at Sam's Town, another Boyd Gaming property. But he said he thinks supervisors there are intentionally hostile to him and are trying to force him out because he continues to talk publicly about the incident.
"I feel that they have got it out for me," he said.
He once was suspended for fighting with a security guard, though he was just defending himself, he said. Company officials did not talk to his supporters during their investigation, he said.
He said he was suspended last week for a state OSHA safety violation involving a specialized lock used during electrical work.
Snow said he was having a bad reaction to a new medication when he put the special lock on his personal locker. Company officials called it a major safety violation and suspended him for three days, he said.
Stillwell said he could not comment on personnel issues.
Meanwhile, the federal Occupational Safety and Health Administration was reviewing the state's investigation of the fatal incident.
Nevada OSHA's investigation found several serious safety violations, including a lack of training and equipment for hotel maintenance workers, and the investigation led to a $185,000 fine, one of the largest in state history.
But many, including the chief OSHA investigator, believed the company should have faced willful violations, which carry larger fines and open the door to civil litigation.
Snow, Koehler-Fergen and other critics think high-ranking state officials linked to the governor's office influenced the OSHA investigation and pushed for reduced penalties.
An OSHA spokeswoman denied any interference from the governor's office.
Both Snow and Koehler-Fergen said they're still pursuing legal options related to the incident, but the state's worker's compensation laws, which bar lawsuits in worker deaths, will be a major hurdle.
Snow said he won't give up.
"I will go to the umpteenth degree to make sure justice has not died," he said.
Contact reporter Brian Haynes at bhaynes@reviewjournal.com or 702-383-0281.