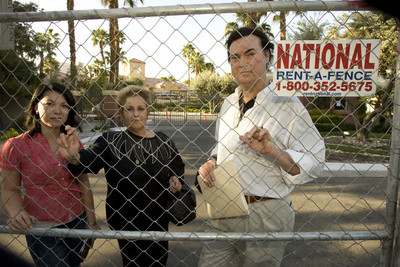 A chain-link fence — definitely low-rent in appearance — blocks the main driveway to the upscale but financially troubled Meridian condominium property just east of the Strip.
An Illinois-based company, which owns the tiny parcel on which the Meridian driveway sits, erected the blockade on Thursday because it hasn't received rent for almost a year, a spokesman said. Upset condo owners say they learned just several weeks ago that the Meridian, at 270 E. Flamingo Road, doesn't legally own its own driveway.
"We cannot catch a break," Sally FitzHenry, an officer of the Meridian homeowners association, said Thursday. The association swiftly appealed the blockade, on safety grounds, she added.
But Clark County Fire Department officials told her their largest firetrucks could still squeeze through a smaller entrance off Koval Lane.
The Meridian has been embroiled in litigation since the summer, when the county shut down an illegal hotel operation at the property.
Most units have absentee owners who purchased to receive rental income that was guaranteed in writing; but that income ceased in June.
The association's present officers, including FitzHenry, were elected in the summer on a platform of openness, claiming prior officers had concealed vital facts about the property's finances.
"When all of us owners purchased … you assume you purchase ingress and egress to the property," said FitzHenry. She and several other owners say their sales agreements and related documents never mentioned that the Flamingo driveway is a separate parcel of land, owned by a separate party.
John Gross, a representative for the Meridian driveway's owner, said Thursday by telephone from Illinois that the lease for the driveway property was known to the original leadership of the homeowners association.
"Nobody's volunteered to come up with the back rent," said Gross on behalf of FC Income Properties, the driveway owner.
Gross said the last payment came almost a year ago, in April 2008. Rent owed for the driveway amounts to $22,000, according to FitzHenry, who learned of the lease's existence when she recently acquired copies of old, previously missing paperwork, as she was reconstructing the property's financial history.
A group called Koval Flamingo had signed the driveway lease with FC, according to Gross. He described Koval Flamingo as "an operating entity" of American Invsco, the Illinois company that converted the Meridian from apartments to condos.
In September a group of Meridian owners sued American Invsco, several related entities and a number of individuals for damages they allege were caused by fraud.
In October, defendants moved the case to federal court, where plaintiff attorneys Michael Mushkin and William Gamage are seeking to certify their clients as a class.
They now have more than 200 clients in the case, Mushkin said Thursday.
On Wednesday, Rick O'Bringer, a Meridian owner and plaintiff, went with Gamage to the Las Vegas office of the FBI.
They delivered a packet of information outlining what O'Bringer contends is a pattern of multi-state fraud by American Invsco at the Meridian here, as well as at American Invsco projects in Florida and Illinois.
O'Bringer, who works as a physician's assistant, also owns a unit at American Invsco's Plantation Park Private Residences in Orlando, Fla. He said the FBI intake agent told him the material would go to the mortgage fraud unit in the local office.
The small subset of Meridian plaintiffs who prepared the packet allege mortgage fraud, in the form of inflated appraisals and loans for real estate that were deliberately mischaracterized as primary residences, instead of investment properties.
They also allege corruption in the Meridian homeowner association, that former president Michael Mackenzie, for example, improperly used association funds to pay $400,000 for extra security to run the illegal hotel operation. They also allege violations of federal securities law because Meridian sales agents guaranteed a set return on the real-estate investments.
FitzHenry sees one bright spot at the Meridian in the current dismal economy.
Thirty units have sold at the 670-unit property since the start of 2009.
Buyers are paying cash for units at bargain-basement prices, she said. Some two-bedroom condos that originally sold for more than $800,000 are now going for $100,00 to $120,000.
Contact reporter Joan Whitely at jwhitely@reviewjournal.com or 702-383-0268.