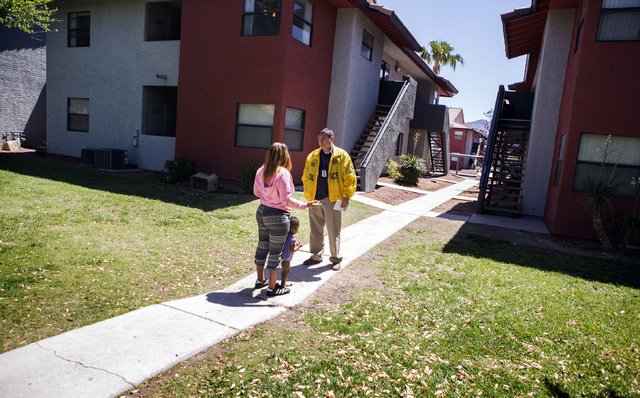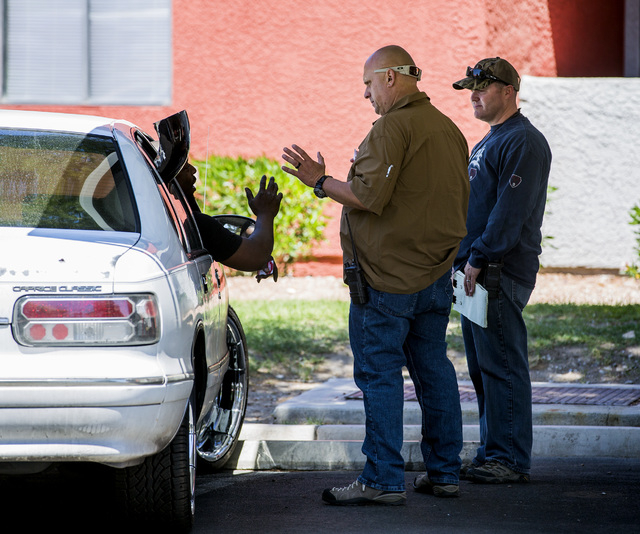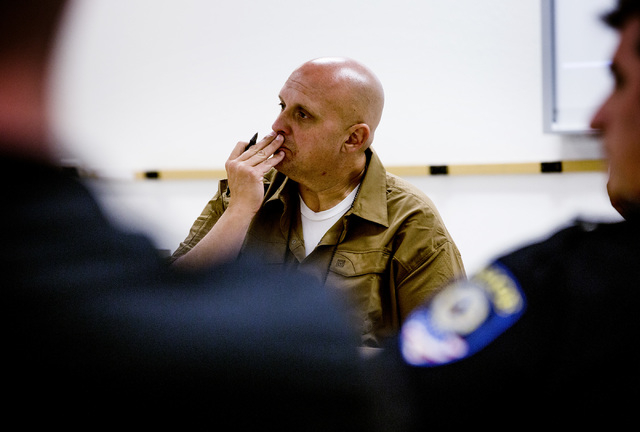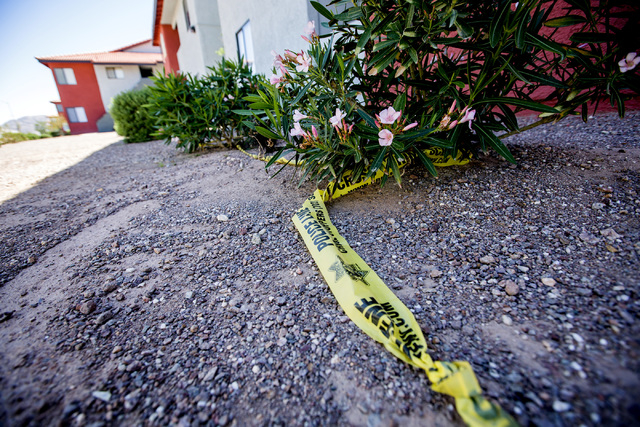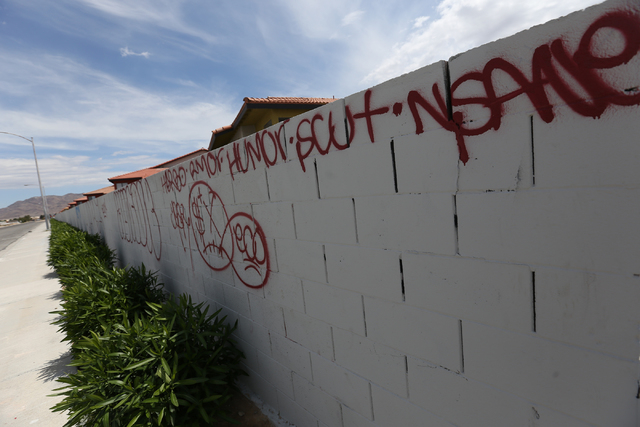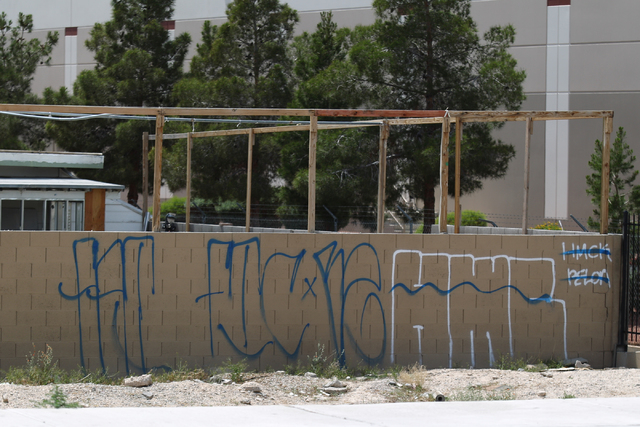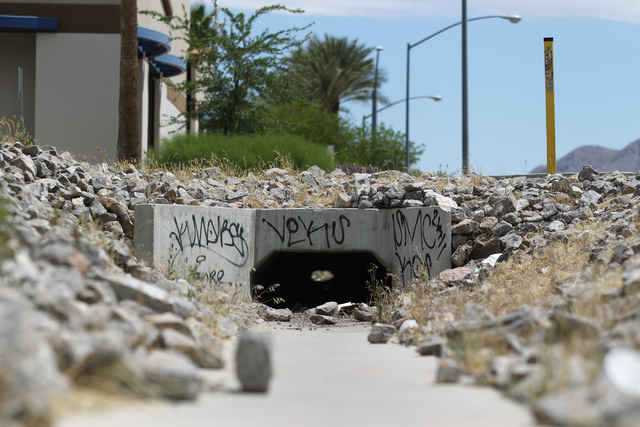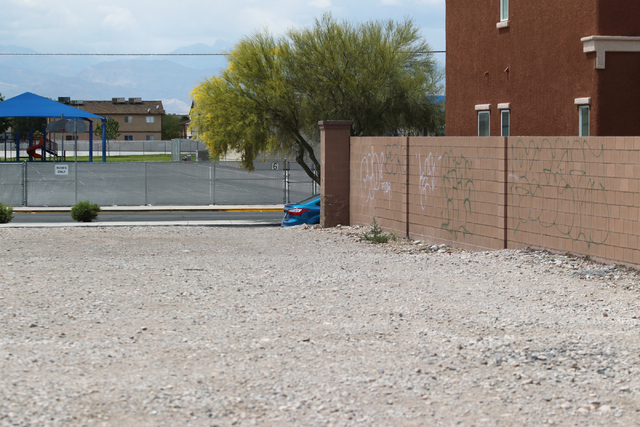 Las Vegas police Sgt. Jose Hernandez is feeling the pressure.
He's running out of time.
He wants to engage east valley high school students about gangs. This year. During end-of-year testing.
With all the bureaucracy involved in getting access to the students, Hernandez was slightly worried he wouldn't get the program launched this year. Nonetheless, Hernandez and officer Damian Wilbur, a graffiti and gang specialist, made their pitch Tuesday morning to about 15 Clark County School District police officers, sitting in desks in a small room at Eldorado High School.
A wave of violent crime has rocked the valley this year — as of late Friday, April alone had 27 homicides, an average of almost one killing per day. Hernandez, a sergeant in the northeast valley, and his colleagues from the area's graffiti and community-oriented policing units, want to address the issue of youth gang violence.
"Anything we can do to work together and stem the tide of violence and get the word out," school police Sgt. Bryan Zinc told the Metro officers at the meeting.
After a recent shooting at a nearby recreation center that left a 15-year-old boy dead, the participants in Tuesday's meeting were eager to get involved.
The victim, Angelo Barboza, was killed about 3:30 a.m. April 23 when a brawl escalated between two groups of youths at the Hollywood Recreation Center, 1650 S. Hollywood Blvd. One teenager was stabbed in the neck, and four others were wounded in a hail of more than 50 bullets.
Police recovered casings from a shotgun, a .45-caliber handgun, a .40-caliber handgun and a 9 mm pistol.
Afterward officers responded to related calls about gunshot wounds in the 5700 block of Pavot Court, near East Vegas Valley Drive, and the 8500 block of Pacific Shores Drive, just a few blocks away. One juvenile was taken into custody to face a murder charge. Some of those involved were younger than 15, police said.
Police said some of the teens implicated in the shootout attend a handful of east valley high schools, including Eldorado.
Wilbur talked to the school police officers about the youth gang problem and the best ways to address it with students. He emphasized the importance of connecting with the students on a personal level, bringing up his own troubled upbringing as an example.
"Some of these kids that join a gang, they're doing it because they want a way out," he said. "If you can reach out and touch a kid in a positive way, that to me is perfect.
"We've got to stop this," he said.
He showed an emotional video of a mother who lost her son to youth gang violence. The officers discussed possible strategies such as targeting the students in behavioral programs and setting up shop in elective classes. They talked about ways to share information better.
The gravity of the issue hung over all the officers like a sword — not only do they want to prevent any retaliatory violence, but police also are trying to piece together what happened at the recreation center.
"We'd like to be able to get to these kids this week," Hernandez said. "We already had one 15-year-old who got killed. We don't want any more."
A school police officer responded: "These kids need heroes. These kids have 'Scarface' on their T-shirts."
"We obviously need community champions," Wilbur said.
YOUTH AND GANG VIOLENCE
Statistics show just how deadly the year has been so far. Homicides are up over 100 percent in Metro's jurisdiction compared with the same period last year.
Clark County Sheriff Joe Lombardo told reporters Wednesday that 50 percent of his department's homicides this year were gang-related. He also said the perpetrators seem to be getting younger and using more guns.
A Las Vegas Review-Journal analysis of April's homicides identified some other trends.
Of the 27 valley homicides in April, 17 happened east of Interstate 15 and north of Sunset Road.
The majority of those killed — 24 of the 27 — were male, and just over half were 30 or younger.
Of the 27 who died, 16 were from Las Vegas and two were from North Las Vegas, according to the Clark County coroner's office. One was an inmate at High Desert State Prison. Three were from the California cities of Pasadena, Escondido and San Diego. The home cities of five were undetermined.
Angelo was the youngest victim killed last month, but not the only teenager.
Ethan Walker, 17, was killed in a domestic violence-related incident on April 7.
Benjamin Andre Soley, 17, was shot multiple times and killed in the early morning hours of April 24 — three days after his birthday. He was in a car with friends when three men approached. An argument ensued.
The oldest person killed was 55-year-old Kevin Michael Hockar, who was shot to death outside a home in the 1000 block of Aspen Avenue. Hockar owned a painting business, and estranged former employee Rene Alfaro, 33, was arrested in connection with that shooting.
At least 11 of the 27 victims had a criminal history, with charges that ranged from misdemeanor drug offenses to felony burglary. Five victims had no local criminal history, and the backgrounds of the remaining 11 were unknown.
At least two homicides in April, including the killing of Walker, were related to domestic violence. One case involved an apparent murder-suicide.
As of Friday, police had confirmed that arrests were made in at least nine of the April homicides.
However, experts caution against drawing too many conclusions from such a short period.
"Whenever homicides are up over a period of time, it's always a cause for concern," UNLV criminology professor Bill Sousa said.
But Sousa said a spike over a short period doesn't mean a community is spiraling out of control.
"From a research perspective, a few months or a year or two is not a very long time to determine if increases are indicative of a long-term trend," he said.
The sheriff attributed the sharp increase in homicides to a recent rise in gang-related violence across the valley. But Sousa questions whether the gang ties have any bearing on the killings themselves.
"Is it gangs who are fighting each other over drug turf, or is it gang members engaging in serious crimes but over relatively trivial matters?"
Most of the time it's the latter, Sousa said, and "that's what's driving the violence."
"It doesn't necessarily mean it's gang warfare," he said.
Sousa said gang-related killings tend to follow the unpredictable nature of most homicides, which start as a dispute or fight. In homicides triggered by an argument, he said, the suspect and the victim usually know each other. Such killings often are crimes of passion and occur away from the public view, making them difficult to predict, he added.
COMMUNITY RESPONSE
After the meeting at Eldorado High School on Tuesday, Hernandez drove to his next mission: community outreach at an east valley apartment complex rattled by a shootout two days earlier.
Damion Dwain Thomas, 27, of Pasadena was one of two men who were shot about 2 p.m. on April 24. Thomas died at University Medical Center, and the other man was critically wounded. Police have said two groups got into an argument before the shootout at the Liberty Village Apartments near North Nellis Boulevard and East Cheyenne Avenue.
Now Hernandez, along with Wilbur and six other officers from the community-oriented policing unit, want the residents there to know that the department is invested in the neighborhood. In fluorescent-yellow windbreakers, the officers walked the complex, building to building, knocking on doors and talking to everyone they encountered.
"We won't be interviewing people, for lack of a better word, just talking to them," Hernandez said.
Just across the street from the complex, Hernandez pointed to a concrete wall. It had been covered in graffiti, crossed out, scribbled over, sandblasted and retagged.
The officers took notes on vacant or dilapidated units, evaluating the "quality of life" indicators that Hernandez said spiral into more serious crimes. They handed out cards for an anonymous hotline for crime tips, and they talked about the recent crime wave.
As they stopped and talked, residents had their own theories about Thomas' death. Most characterized it as a drug deal gone bad.
"They see that we're taking an interest, and then they're not afraid to talk to us," Hernandez said. "Some people want to talk to you, even if it's something you already know. You give them a little bit of closure."
There's a kind of science to community policing, he said.
"That's what I think of community policing — get out and get to know the people who live here," he said. "If they don't trust us, then we're working backwards."
Review-Journal writers Rachel Crosby, Colton Lochhead, Kimber Laux and Alex Corey contributed to this report. Contact Wesley Juhl at wjuhl@reviewjournal.com or 702-383-0391. Find @WesJuhl on Twitter.
RELATED
Liquor store cashier, BMX fan among those killed in April