MGM Mirage profit falls 67 percent
October 29, 2008 - 6:42 am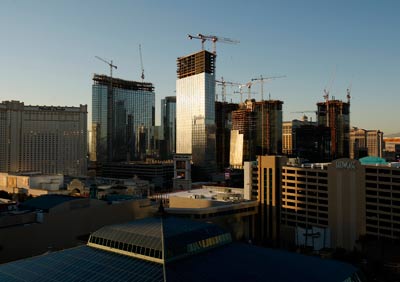 Wall Street wasn't surprised today when casino giant MGM Mirage said its third-quarter profit fell 67 percent from a year ago due to the slowing national economy and reduced customer spending.
What gave investors a lift was the company's reaction to the crisis.
Cost reductions, corporate restructuring and downsizing and other strategic budgetary initiatives enacted over the past few quarters gave the financial community comfort that MGM Mirage, which operates 10 Strip resorts, will successfully manage the ongoing global economic downturn.
The company said it was indefinitely postponing construction of two major resorts in Las Vegas and Atlantic City. At the same time, the company was looking at reducing construction costs at its massive $9.2 billion CityCenter, looking to save some $400 million.
Shares of the company jumped 22 percent on the New York Stock Exchange when the market opened, climbing as high as 40 percent at one point during the day. By the end of trading, MGM Mirage stock closed at $13.75, up 33.11 percent or $3.42. A year ago, MGM Mirage shares were trading for more than $95. More than 21.1 million shares of MGM Mirage were traded Wednesday, four-and-a-half times the average daily volume.
"I remind people that this is not our first dance," MGM Mirage President and COO Jim Murren said following a conference call with analysts. "This isn't our first economic crisis. This management has been around a long time and I think we've put investors' minds at ease that we can weather this storm."
Murren said the company has booked more than $225 million in annual cost reductions through the third quarter, which ended Sept. 30. Also, another $25 million to $27 million in savings in the fourth quarter could turn into an additional $150 million to $200 million in annualized savings.
"We put a comprehensive effort into cost reductions earlier this year, before the crisis really kicked in," Murren said. "It's time consuming, but I think we have shown that we have a handle on our business. We have enduring relationships with financial institutions that provides us with many options."
A significant move in the eyes of Wall Street was halting the design and pre-construction activities at its planned joint-venture resort complex on the southwest corner of the Strip and Sahara Avenue. The resort is a partnership between MGM Mirage, Bahamas developer Kerzner International and Istithmar World Capital, a firm in Dubai.
The company also said it was delaying similar activities for a planned $5 billion resort complex in Atlantic City. Murren said both projects would resume when the market conditions are more favorable.
Stifel Nicolaus gaming analyst Steven Wieczynski said the cost cuts, coupled with the suspension of further development of the two projects, helped MGM Mirage's stock price.
"Any gaming operator that postpones spending and preserves capital in this environment should be rewarded, in our view," Wieczynski said in a note to investors.
Murren said the cost savings from delaying the projects were two-fold: Expenses for design and planning are saved and can be directed into other areas of the company.
MGM Mirage Chairman and CEO Terry Lanni said the company was still committed to Atlantic City.
"We intend to resume development at such time as economic conditions and capital markets are sufficiently improved to enable us to go forward on a reasonable basis," Lanni said.
During the quarter, MGM Mirage said it earned $61 million, or 22 cents a share, down from $184 million, or 62 cents a share in the same period last year. This year's results included a write-down of 7 cents a share related to the Primm Valley Golf Club. Last year, MGM Mirage included in its third quarter income of $135 million, or 30 cents a share, related to insurance proceeds received for Hurricane Katrina.
Analysts polled by Thomson Reuters expected the company to earn 34 cents a share.
MGM Mirage said revenue was $1.95 billion in the quarter, down 6 percent compared with $2.07 billion a year ago. Casino revenues fell 8 percent companywide while room revenues were off 10 percent.
Bellagio, however, reported strong results for the quarter with a 3 percent increase in revenue and an 8 percent increase in cash flow.
Bellagio's average room rate actually increased 1 percent in the quarter.
"Bellagio is a powerful product," said Bobby Baldwin, MGM Mirage chief design and construction officer. He said he's run into customers making their first visits to Las Vegas who are staying at Bellagio because of reasonable rates.
Susquehanna gaming analyst Robert LaFleur said the higher end market is holding up better in Las Vegas than other portions of the business. "While not unexpected, operating results on the Las Vegas Strip under performed," LaFleur said. As for CityCenter, Baldwin said the job application process to fill an expected 12,000 positions will begin in December.
The softening economy has allowed MGM Mirage to reduce some construction costs for materials and labor. With several large construction jobs around Las Vegas either scuttled or on hold, a large pool of workers has been made available, allowing the company to reduce overtime costs.
Baldwin said the CityCenter site currently employs about 8,000 workers and is expected to increase to 9,000 workers by December.
MGM Mirage executives said the company and Dubai World, its 50-50 joint venture partner in CityCenter, had each pledged $1.9 billion to fund any final costs to the project. The partners have secured $1.8 billion of $3 billion needed to complete the project. Murren said another $500 million in bank commitments are in the final process of being secured.
Contact reporter Howard Stutz at hstutz@reviewjournal.com or 702-477-3871.