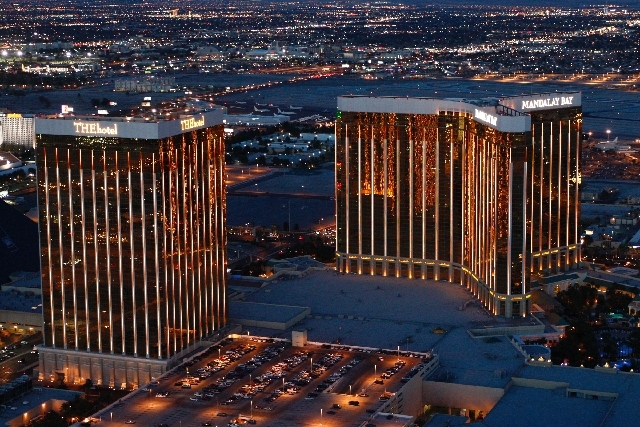 MGM Resorts International has announced plans to turn a Mandalay Bay rooftop into the city's newest hot spot, but don't expect any bottle service.
By next year, the gaming giant hopes to flip the switch on a 6.2 megawatt solar array covering all 20 acres of roof above Mandalay Bay's convention center.
Sen. Harry Reid and Interior Secretary Sally Jewell joined MGM officials to announce the project Tuesday in an air-conditioned conference room at the resort.
"This will be one of the largest continuous, rooftop photovoltaic arrays in the world," said Chuck Bowling, president and CEO of Mandalay Bay. "It's the second-largest rooftop array in the U.S."
The project is still in the design phase, but it is expected to use about 20,000 solar panels to directly supply as much as 70 percent of the electricity used in the resort's conference center — and almost 20 percent of the resort's overall power demand — on a hot summer day.
Reid called the announcement "a good day for Nevada and a good day for the country."
Jewell noted that the federal government has signed off on 13 gigawatts of renewable energy products so far, and "we hope to do more of that" as officials push to implement the Obama Administration's new comprehensive plan to address climate change.
Projects like this one help illustrate that "it's in the interest of business" to invest in green energy, she said. "That's the way it's really going to stick for this country."
MGM is partnering on the project with NRG, a leading renewable energy company currently involved in a 377 megawatt solar power plant nearing completion in California, just across the state line from Primm.
NRG will build and own the privately funded array, and Mandalay Bay will buy power from it.
MGM's chief sustainability officer, Cindy Ortega, said the project will produce the greatest amount of power when it's needed most: In the heat of the summer, when demand peaks.
As a result, the resort will save money by reducing what it pays NV Energy in demand and time-of-day charges.
Ortega could not say how much the project will cost, citing ongoing design work and negotiation of terms with NRG.
She said MGM has been looking for a way to incorporate commercial-scale solar power at one of its resorts for the past seven years, but the projects never made financial sense. The declining cost of panels and the participation of a major solar developer like NRG is what finally made the project possible.
"It's a matter of a company being first and a company wanting to be first," Ortega said.
Once the solar array is online at Mandalay Bay, she said, MGM will "immediately" start looking for other suitable places for similar developments, including the conference center rooftops at Bellagio and MGM Grand.
And she expects their competitors to follow suit. "They always do," she said.
Tuesday's announcement doubled as a promotion for Reid's sixth annual Clean Energy Summit on Aug. 13. The day-long event will be held in the climate-controlled comfort of the Mandalay Bay convention center.