Michael McDonald's loan role looking more clear
August 25, 2015 - 5:58 am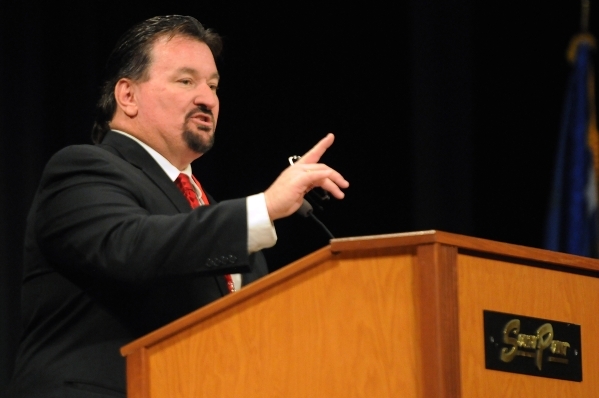 Only days before banking a $2.2 million loan from a local children's charity, on May 7, 2013, Med Lien Management held a partnership meeting.
It began at 10 a.m. in the Rancho Drive office of state Republican Party Chairman Michael McDonald and covered eight items. The record of the meeting is instructive because it begins with a roll call: "Attending the meeting were: Lincoln Lee, Michael McDonald and Brad Esposito."
McDonald held the distinction of not only serving on the board of the Miracle Flights for Kids nonprofit while it was in the process of approving the loan but also of holding a partnership position in the medical lien company. That's right. He helped arrange a loan from which he personally benefited, according to documents now filed in a lawsuit and federal bankruptcy proceeding.
To date McDonald has vehemently denied influencing the loan, which later went into default and now is at the center of a civil suit filed by attorney Peter Christiansen on behalf of the charity. McDonald resigned from Miracle Flights on June 6, 2014, and insists he acted ethically by disclosing his friendship with co-owner Esposito and by abstaining from voting to approve the loan. The loan was given the thumbs up with help from two of McDonald's closest associates on the board.
The minutes of the partnership meeting would appear to thoroughly refute McDonald's denials of having a partnership stake in the company and a financial connection with Med Lien around the time of the loan. At the date of the meeting, the lending agreement had been reached. It was signed on behalf of Miracle Flights by the charity board's chairman, longtime McDonald business associate Larry Scheffler.
Taking care of that business falls under item No. 6 of the meeting's minutes: "Lending Agreement with Miracle Flights: Michael was given a Lending agreement to be signed by Larry Scheffler and returned at the next meeting for MLM's files."
Other items also mentioned McDonald's active role as a partner in the company, including seeking out new clients for Med Lien: "Michael will be talking with Tony Abbatangelo at Glen Lerner's office as well as putting together a list of contacts with which he will be setting appointments."
According to the lending agreement on file with the charity, the deal was signed on April 30 by Scheffler, Lee and Esposito. The loan funded that May, and the business partnership was off and running.
After making several interest payments, Med Lien defaulted on the loan still owing hundreds of thousands of dollars in interest and the original $2.2 million.
And it's gradually becoming more clear McDonald played an integral role in all of it.
Although McDonald has denied holding an ownership stake in the company, he has admitted agreeing to work for it as a government affairs consultant and later became an investor in Med Lien — not an owner. July 2014 ledger entries show McDonald listed as receiving a $140,000 "Shareholder loan," a description the former Las Vegas councilman calls inaccurate.
But the 2013 Schedule K-1 shareholder's statement of income and deductions for the company and McDonald appears to more clearly answer the question of his role in Med Lien. The document recently surfaced in Lee's Chapter 7 bankruptcy case.
At a time McDonald insists he wasn't an owner, the tax document contradicts him. Under "Shareholder's percentage of stock ownership for tax year," McDonald is listed as a 33.3 percent owner.
And he held a one-third ownership stake in the company at the time it was securing a $2.2 million loan from a local children's charity.
The final item from the May 7, 2013, partnership meeting was telling and would appear more than a little ironic in light of current events and the turmoil surrounding the GOP state chairman. It states, "Lincoln discussed the possibility of having a Court Order placed on behalf of the Company prohibiting the deposing of MLM Partners or Officer in any settlement cases with which MLM has an interest. This item will be re-discussed at the next meeting."
It's becoming clear why at least one of Med Lien's partners would want to avoid being deposed under oath.
He appears to be having trouble with his memory.
John L. Smith's column appears Sunday, Tuesday, Wednesday, Friday, and Saturday. Reach him at 702 383-0295, or jsmith@reviewjournal.com. On Twitter: @jlnevadasmith