Military records show Panaca bomber Jones served 11 years in Army and National Guard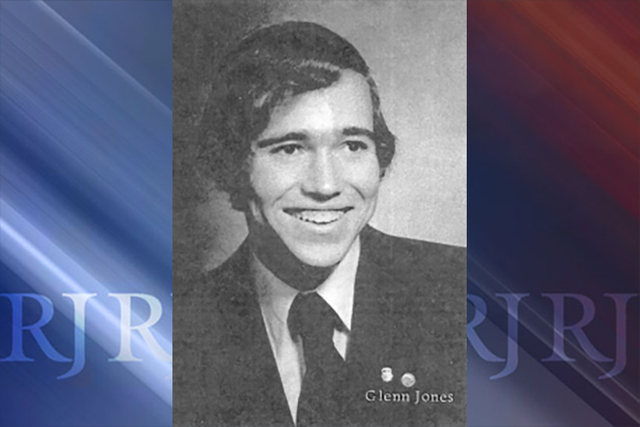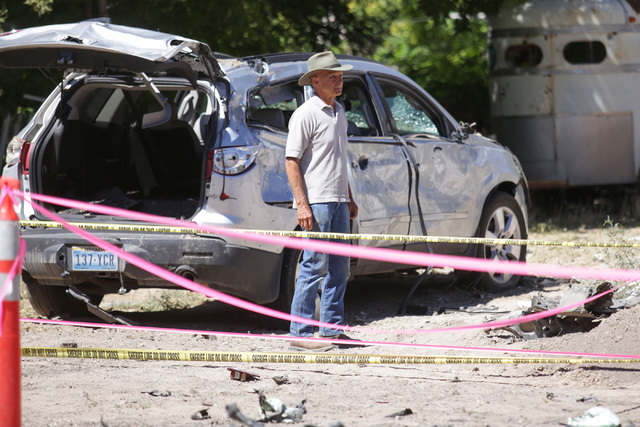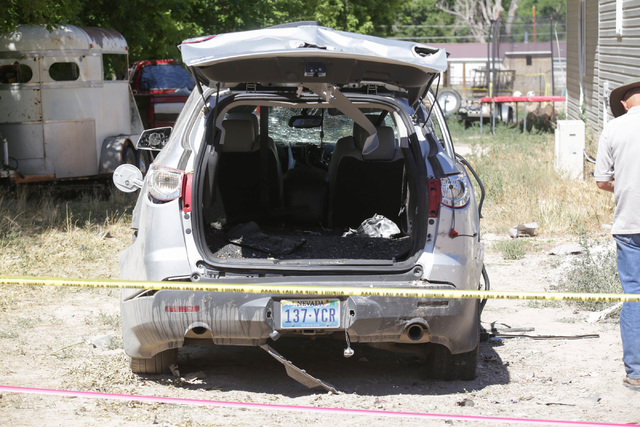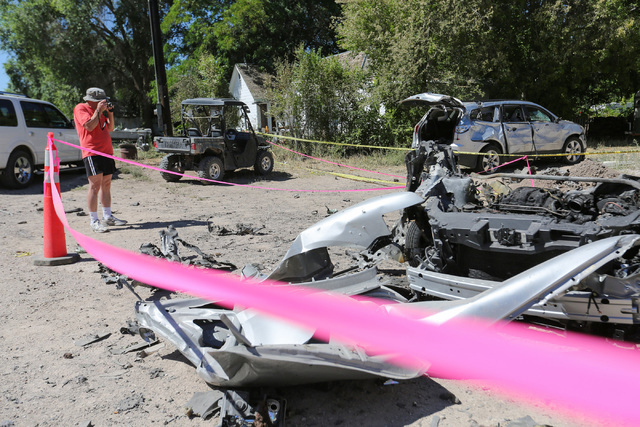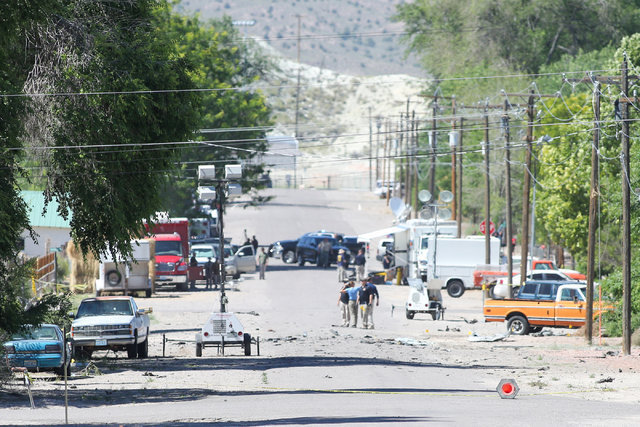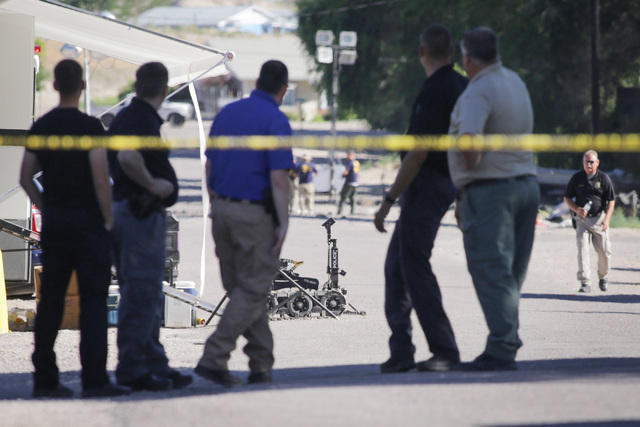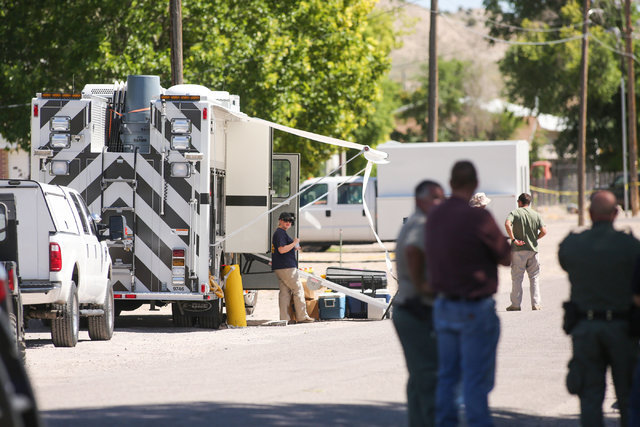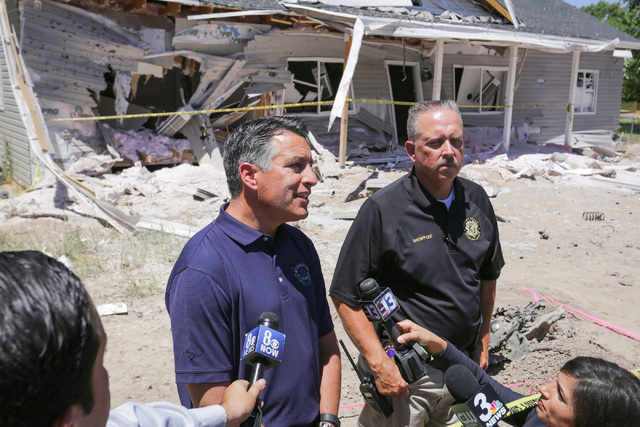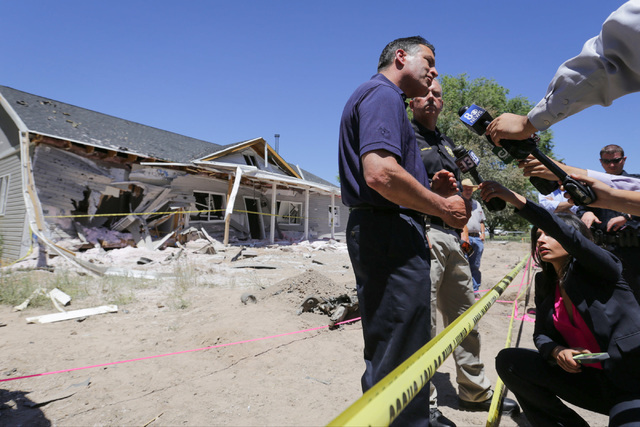 Panaca bomber Glenn Franklin Jones served 11 years in the peacetime Army and National Guard in Colorado, according to military records obtained Tuesday by the Las Vegas Review-Journal.
Colorado state military records show Jones trained as an infantry soldier and field artillery supply specialist during two military stints from 1975-86 and twice received honorable discharges.
He joined the Army less than two months after the Vietnam War ended in 1975, according to the records.
Jones, who died after detonating two powerful car bombs July 13 in the eastern Nevada community of Panaca, appears to have had some training with explosive devices, but records were unclear regarding how much knowledge he had gained from his time in the military.
He was assigned to Company B, 1st Battalion, 10th Infantry Regiment at Fort Carson, Colorado. He became a specialist fourth class in 1977 but had not been promoted beyond that rank when he received an honorable discharge on June 15, 1979.
Jones enlisted a month later in the Colorado Army National Guard and served as a supply specialist with Battery A of the 2nd Battalion, 157th Field Artillery Regiment at La Junta, Colorado, until he was honorably discharged seven years later in 1986.
Patrick O'Hara of Centennial, Colorado, said he didn't remember Jones, although O'Hara was listed in Jones' National Guard papers as his commander.
O'Hara joined the National Guard in 1986 and served in a field artillery unit that worked with 8-inch batteries, each with four guns and both conventional and nuclear options.
"If he worked on nukes, he would have been screened 12 times from Sunday and been given special training other people weren't," O'Hara said Tuesday.
Jones, 59, had an "unspectacular" military service record, according to retired Army Lt. Col. Bill Anton of North Las Vegas, a decorated Vietnam War combat soldier who reviewed copies of Jones' Army and National Guard discharge papers.
Anton, who is Nevada's first member of the Army Ranger Hall of Fame, said Jones' basic and advanced individual training as an infantryman would have focused on M-16 rifle skills. Jones received a score of 86 out of 100 on his written soldier skills test.
But it's possible, Anton said, that Jones would have had some training on Claymore mines. The mines, which can be placed to direct fire at enemy combatants, use C-4 plastic explosives, which authorities have said might have been an ingredient in the improvised devices used in Panaca.
Jones' third ex-wife, Sue Ellen Hogan, said she had never seen proof of his military service during their four years of marriage and that he was able to obtain a veterans license plate without any paperwork documenting his service.
Investigators still haven't said why they think Jones killed himself during the bomb attack at the home of his former coworker and friend in the small Lincoln County town of Panaca.
The Clark County coroner's office ruled that Jones shot himself in the head after triggering a pair of explosive devices that blew up his rented car and destroyed the home of Joshua Cluff, his wife Tiffany and their three daughters. No one else died in the explosions.
The following day, authorities in Kingman, Arizona, found more than a dozen improvised explosive devices in various stages of completion inside Jones' motor home at an RV park, where the man had lived since February.
Late last month, Joshua Cluff told the Review-Journal he had no idea why Jones targeted his home. Joshua Cluff said Jones had never said a harsh word to him, let alone threatened him or his family.
An FBI spokeswoman said late Tuesday that she had nothing new to report on the investigation.
In the six years before his death, Jones' brother and only sibling died suddenly, his third marriage ended, his elderly mother killed herself, and his Nevada nursing license was revoked amid allegations that he mishandled drugs at the hospital where he worked for Joshua Cluff in Caliente.
Review-Journal writers Wesley Juhl, Henry Brean and Jeff German contributed to this story. Contact Keith Rogers at krogers@reviewjournal.com or 702-383-0308. Find him on Twitter: @KeithRogers2
RELATED ITEMS
Panaca man has 'no idea' why his family was targeted in bomb attack
Speculation surrounds FBI investigation of Panaca bombing
Lincoln County bombing investigation leads to Kingman, Ariz.
Panaca bomber lost relatives, marriages, career in years before attack
Gov. Brian Sandoval tours site of bomb attack in Lincoln County
Panaca bomber's ex-wife says they had 'good times,' but she feared him
FBI takes lead in Lincoln County bombing investigation
FBI serves search warrants in Panaca in connection with deadly bombing
Panaca residents celebrate Pioneer Day just 10 days after bombing rocks town
Lincoln County bomber lost nursing license months before attack