7 arrested at anti-drone warfare protest northwest of Las Vegas
Updated April 26, 2017 - 6:33 pm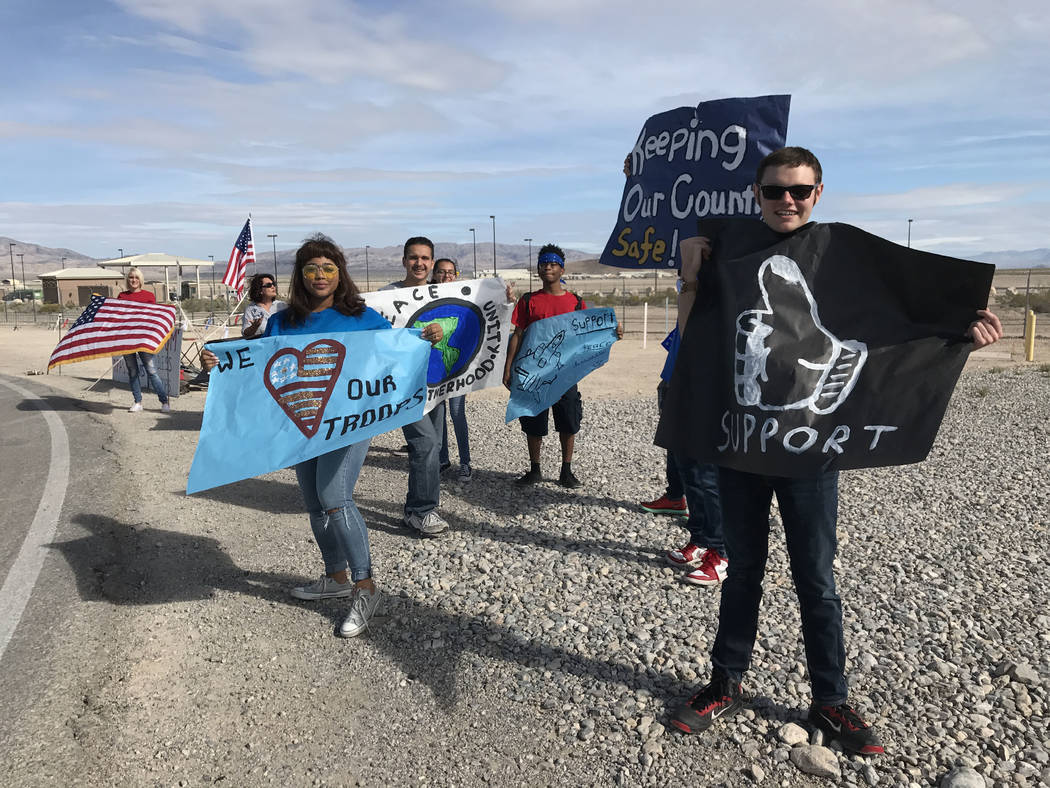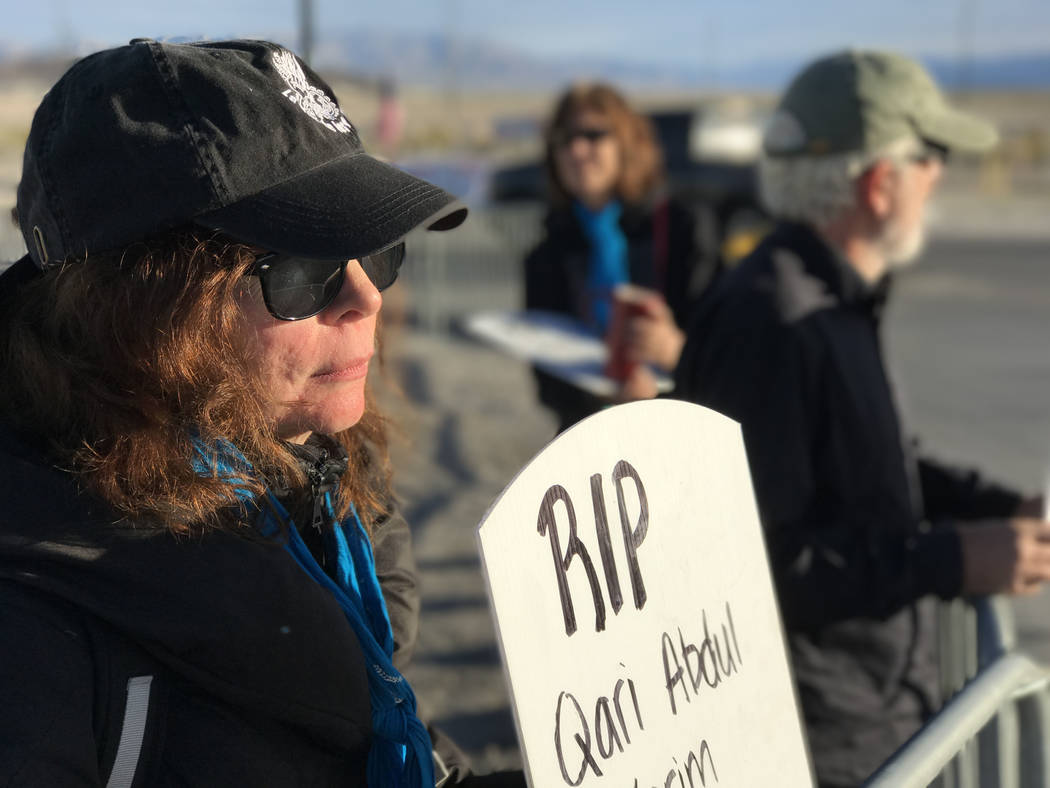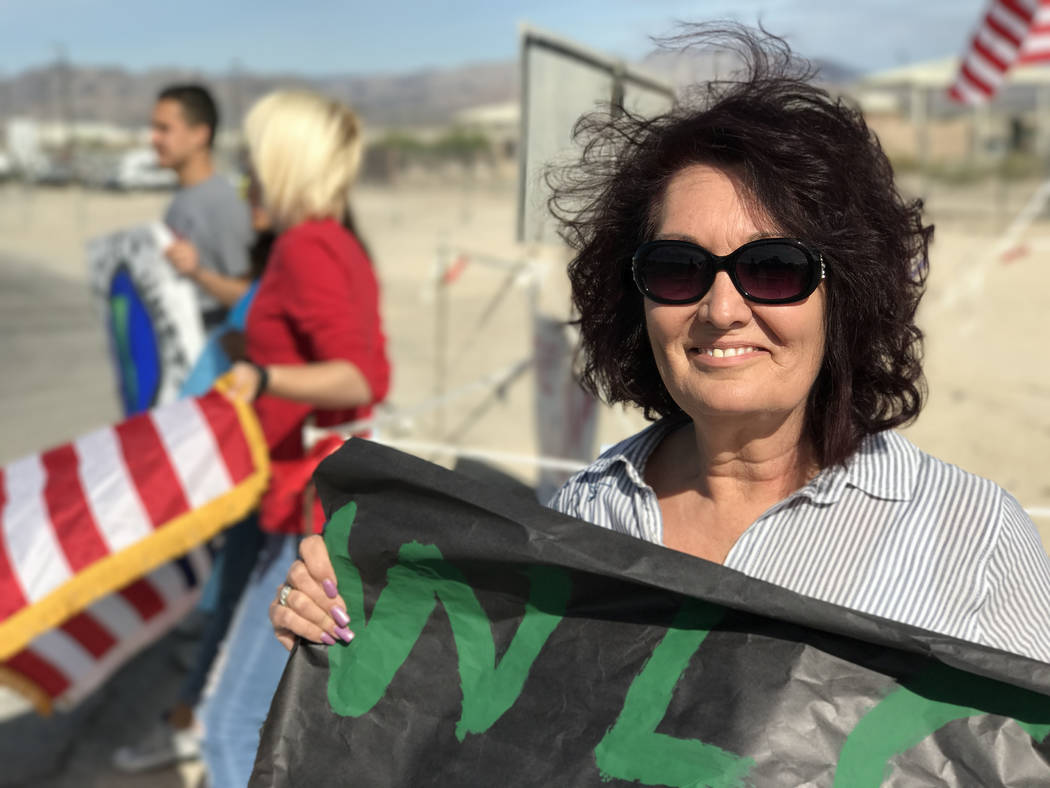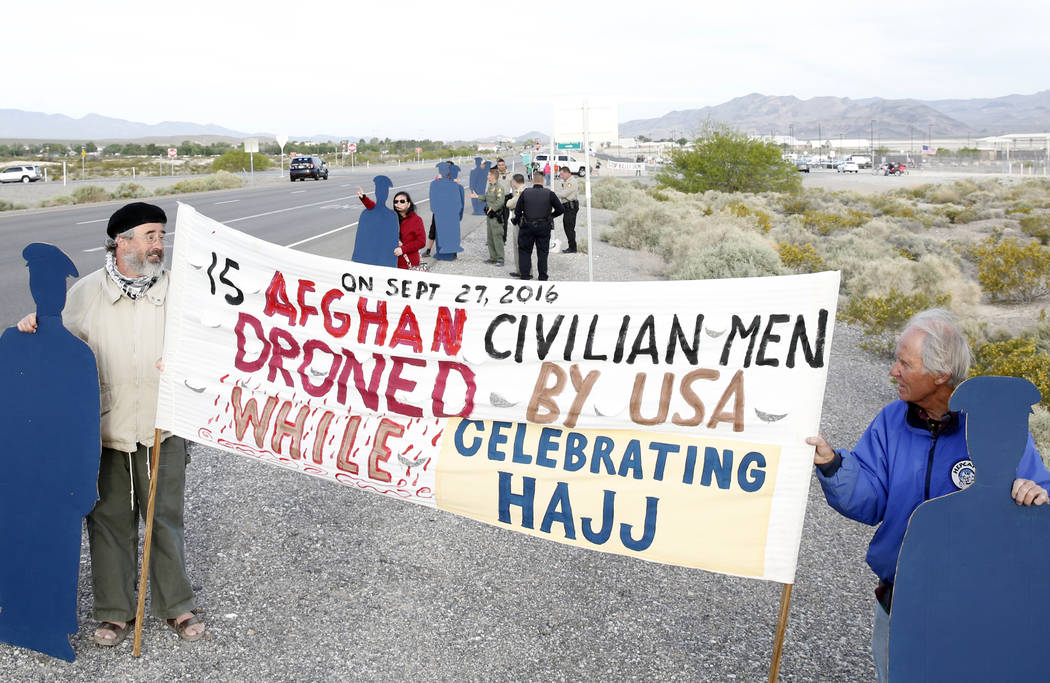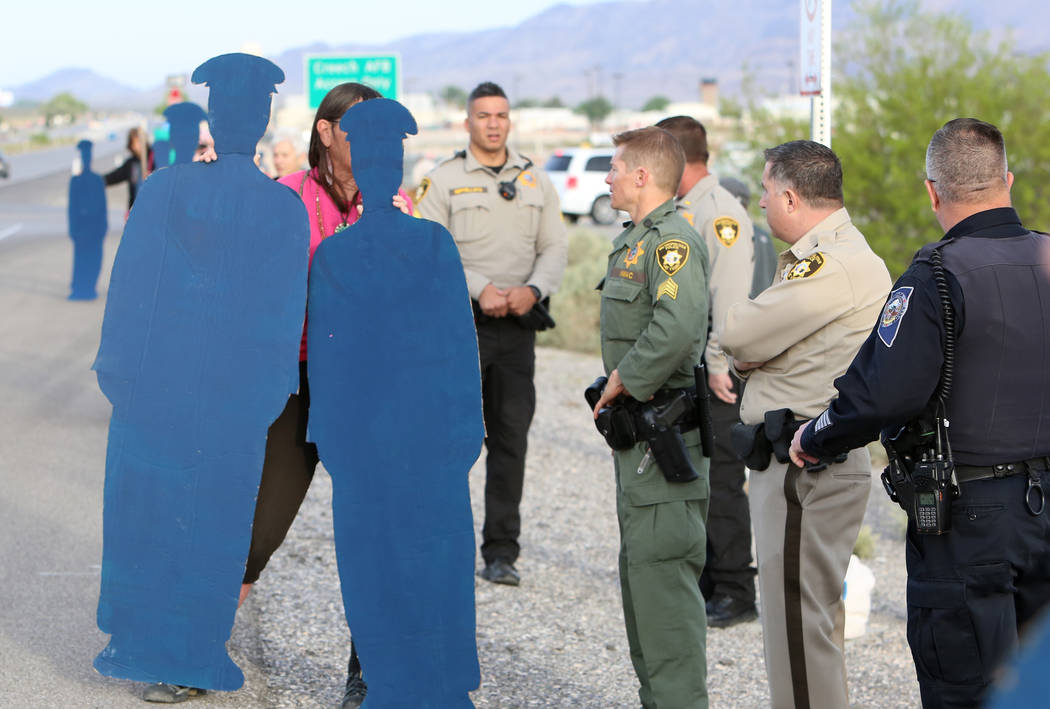 INDIAN SPRINGS — Anti-drone warfare demonstrators briefly blocked traffic as airmen and workers arrived early Wednesday at Creech Air Force Base, continuing a series of protests this week aimed at heightening awareness about deadly airstrikes the U.S. military conducts overseas in the global war on terrorism.
Metropolitan Police Department officers arrested seven protesters about 6:30 a.m. for unlawful assembly on an entrance road to the base off U.S. Highway 95. They were transported by van to the Clark County Detention Center and booked, Metro Lt. Nick Farese said.
Scattered along the highway as far as 4 miles from the base were small groups of protesters holding signs for motorists with slogans such as "Muslim Lives Matter" and "Prepare to Stop War."
"What would you say to a 3-year-old child with three limbs blown off and blind from a drone strike?" said Mary Dean, of Chicago and the World Beyond War movement who has traveled to Afghanistan to meet civilian victims of drone airstrikes.
The Creech base, 45 miles northwest of Las Vegas, is a hub for MQ-9 Reaper and MQ-1 Predator drone operations conducted in the Middle East and Afghanistan by the 432nd Expeditionary Wing. Pilots and sensor operators control surveillance and reconnaissance operations via satellite link from ground stations at Creech and other U.S. locations after the remotely piloted aircraft are launched from airfields in the combat zones.
A Nellis Air Force Base spokesman provided a statement on behalf of Creech officials in response to the protest.
"The Air Force respects the right of assembly and free speech," the statement reads. "Our members serve this country to ensure that its citizens, including those gathered today at Creech, are provided the opportunity to exercise their constitutional rights.
"We are also committed to our responsibility to safeguard lives and government property and to carry out one of the nation's most critical national security missions," according to the Air Force statement.
Protest organizers from several peace organizations — CODEPINK, Nevada Desert Program, Voices for Creative Nonviolence, KnowDrones.com and Veterans for Peace — blame a Reaper air strike for the loss of 46 lives at a mosque near Aleppo, Syria, on March 16.
Out-of-state protesters converged on the Creech base from Maine, Wyoming, Washington, Wisconsin, and North Carolina, organizers said.
"The U.S. killer drone program is (President Barack) Obama's tragic legacy, a blunt and homicidal weapon now handed down to Donald Trump, that can only perpetuate this endless cycle of violence," said protest organizer Brian Terrell.
Wednesday's protest was noticeably smaller than a March 2015 demonstration that drew 150 peace activists to the base, including 34 who were arrested for blocking Creech entrance roads during a civil disobedience action.
#AntiDroneWarfare demonstrators @Creech_AFB say war is not the answer pic.twitter.com/7egKIjGxVg

— Keith Rogers (@KeithRogers2) April 26, 2017
About dozen people, including nine high school seniors from Word of Life Christian Academy in Las Vegas, stood near the protesters to show support for the U.S. military.
Kelly Marchello, the academy's principal, said it's important to show support for the troops "because they make it possible for us to live in freedom."
Indian Springs resident and Vietnam War veteran Phil Frank came to support the troops, too, because "without them we wouldn't have the freedoms to be here or the people who are protesting them (wouldn't) have the freedom to be here to do it."
"Our military guys are our heroes and what they're doing to protect us is probably the most important thing they can do for our country," Frank said.
Contact Keith Rogers at krogers@reviewjournal.com or 702-383-0308. Follow @KeithRogers2 on Twitter.