Air Force pilot killed in crash 100 miles northwest of Nellis base
September 8, 2017 - 3:30 pm
Updated September 8, 2017 - 7:36 pm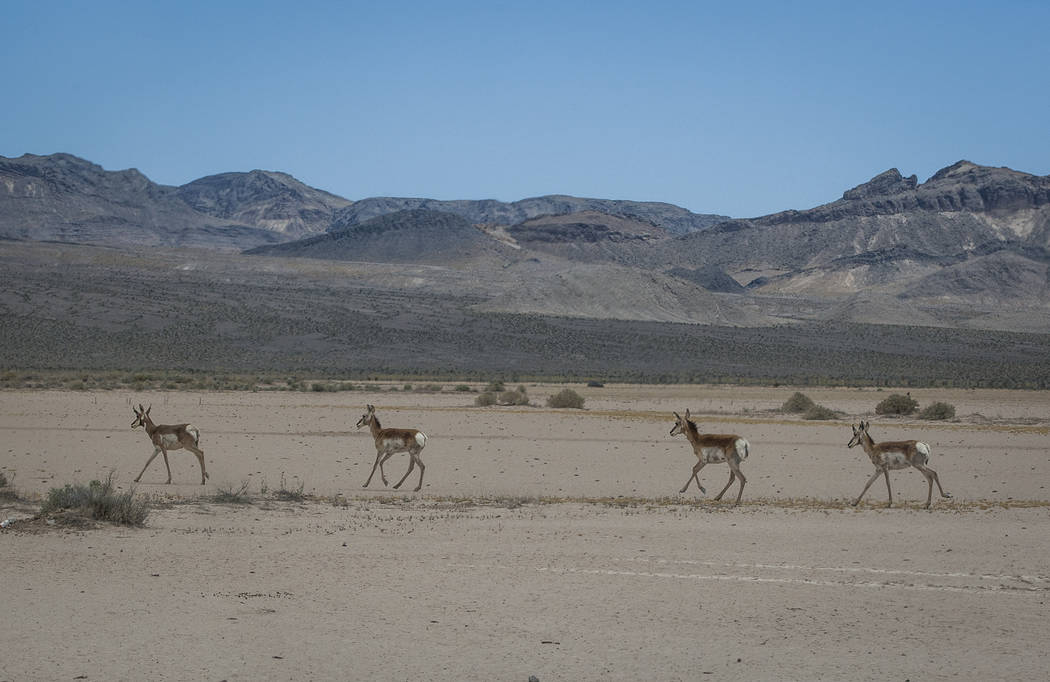 An Air Force pilot died when his plane crashed during a training mission Tuesday northwest of Nellis Air Force Base, officials confirmed Friday.
Specific information on the aircraft involved in the crash is classified and not available for release, said Maj. Christina Sukach, a Nellis spokeswoman.
The base announced that an Air Force aircraft crashed about 6 p.m. Tuesday during a training mission on the Nevada Test and Training Range, about 100 miles northwest of Nellis. The crash was the first in two consecutive days of training-related crashes at the Nellis range. On Wednesday, two fighter jets crashed during a routine training mission, the base announced.
Base spokesman Tech. Sgt. Siuta Ika said Lt. Col. Eric Schultz was piloting the aircraft when it crashed. Ika said it was unknown whether other people were on board at the time of the crash.
It was unclear whether Schultz died at the crash site, Sukach said. She said he was supporting training at the site.
The base announced the aircraft was part of the Air Force Materiel Command, which develops and tests weapons.
On Wednesday, two pilots ejected safely from A-10C Thunderbolt II jets about 8 p.m. and were evaluated by medical staff on base. They were later released with survivable injuries, spokeswoman Lt. Marie Ortiz later said.
Ortiz said the fighter jets were each worth $18.8 million.
Both crashes and their causes are under investigation. When asked why the information release from Wednesday's crash came before information from Tuesday's fatal crash, Ika said efforts after the deadly incident focused on search and recovery as well as next-of-kin notification.
It was unclear why the pilots in the fighter jet crash flew the day after Tuesday's fatal crash.
The Capital Gazette of Annapolis, Maryland, reported Schultz graduated from Annapolis High School in 1991. His mother and father traveled to Nevada on Wednesday to join his wife and other family members, the newspaper reported.
The newspaper said Schultz was a former civilian test pilot who held multiple graduate degrees. He joined the Air Force in 2001, according to the Capital Gazette, and became a flight training officer. He joined rarefied air when he qualified to fly the F-35 fighter jet in 2011, the newspaper reported.
Attempts to reach his family Friday afternoon were unsuccessful.
Contact Mike Shoro at mshoro@reviewjournal.com or 702-387-5290. Follow @mike_shoro on Twitter.