Airstrike simulators prepare airmen for real-life combat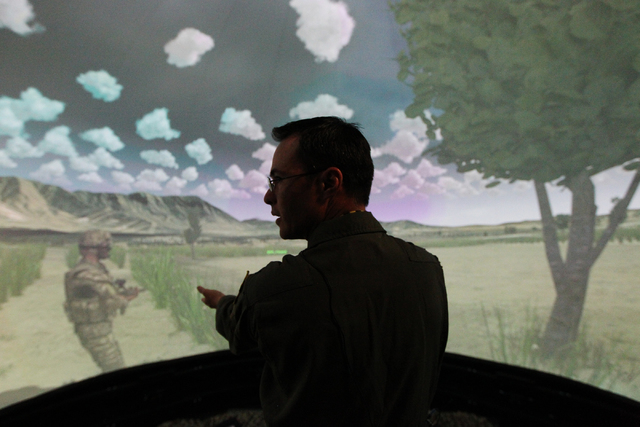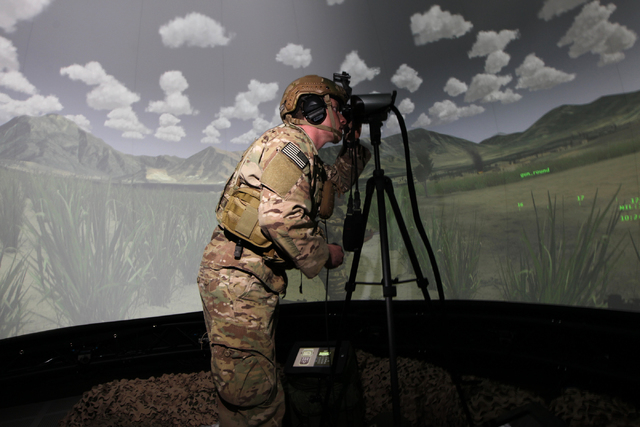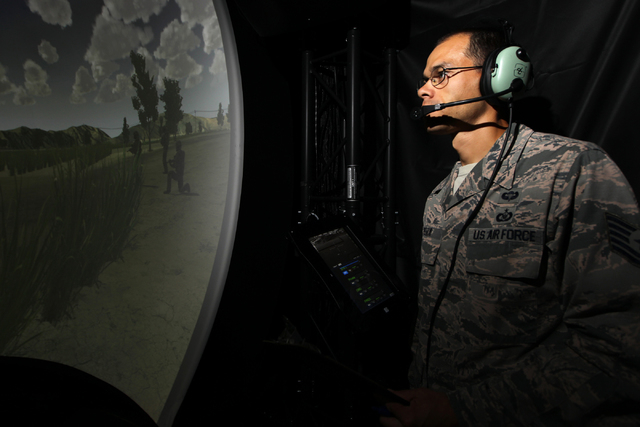 Every second counts when it comes to saving lives.
That's why a special group of airmen known as Joint Terminal Attack Controllers, or JTACs for short, practice hour after hour calling in airstrikes in a near real-world environment.
They hope to shave seconds off their reaction times by training inside a $1.2 million dome-shaped video screen that simulates what they will encounter when they go into combat with soldiers whose lives depend on their ability to quickly and accurately tell pilots where to drop bombs and fire cannons.
"A second is a long time. Seconds are everything," Capt. Ray Reeves, an air-liaison officer instructor with the 6th Combat Training Squadron said Monday at Nellis Air Force Base.
"The most important thing going through your mind is getting the weapons effects on the battlefield as soon as possible and making sure they're shooting the bad guys and not the good guys," he said.
The battlefield Monday wasn't out on the sprawling Nevada Test and Training Range, where live-fire exercises are sometimes conducted more than 100 miles to the north. Instead it was in an austere block building inside the base, at the north end of the Las Vegas Valley.
That's where Reeves demonstrated one of two high-tech, video simulators where JTACs train to save lives while at the same time saving the Air Force millions of dollars in training costs that would otherwise be burned up in fuel costs by fighter jets and bombers in live, close-air-support exercises.
"We save tens of thousands of dollars per hour per aircraft," said Lt. Col. Matt Williams, an F-16 pilot who is commander of the 6th Combat Training Squadron.
On Monday, Williams played the role of an A-10 Thunderbolt attack jet pilot, sitting at a cockpit simulator a few steps away but out of sight of Reeves, who was inside the tent-like dome. Reeves, wearing a helmet and combat attire, knelt with binoculars peering at a video screen with a 270-degree view to see enemy combatants on the horizon.
A Bradley fighting vehicle on his left flank fired rounds to keep the enemy at bay until an A-10 "Warthog" could swoop in and knock them out with anti-armor rounds from its rapid-fire cannon. With a notebook in hand, he wrote down locations as new targets appeared and proceeded to call in coordinates for the A-10 and a pair of F-16 Fighting Falcon jets that zipped across the screen above him.
"Like to do a combined attack at Bravo five, two-seven, zero three," he said over a radio.
All the time he was in communication with Williams and Staff Sgt. Rusty Welch, who played the part of an Apache helicopter pilot and was in charge of running the "sim," short for Advanced Air National Guard JTAC Training Simulator.
Williams said just about any scenario that JTACs might see in real combat can be programmed into the video's computer. "You can use whatever platforms they need," including F-35 joint strike fighters, F-22 Raptors and B-2 Spirit stealth bombers, he said.
"You can put artillery in there too. The whole point is to integrate fire," he said.
Williams said a JTAC trainee will spend about nine hours in the simulator during a three-week course that includes lectures and class work. Then they'll go to a training range for a week of live-fire rehearsal.
About 240 JTACs from the Air Force and Army Rangers train at the Nellis facility annually to get their certificates. It normally takes a couple of years of training to meet requirements to become a JTAC.
"This is where it starts," he said.
Reeves said JTACs must endure "a lot of pressure. We're trying to talk to a lot of people," he said. "We can get really stressed out."
But the beauty of having access to such a versatile video dome is that they can continually hone their skills and review their work.
"I can sit in here all day long and train," he said. "And this will make him a lot better before he goes down range."
Contact Keith Rogers at krogers@reviewjournal.com or 702-383-0308. Find him on Twitter: @KeithRogers2