Army Ranger Hall of Fame soldier honored
December 20, 2012 - 2:21 pm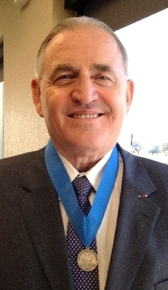 In keeping with the low-key nature of military intelligence, a small contingent of Army Special Forces and Marine Force Reconnaissance veterans with Veterans Affairs officials gathered Thursday to present Army Ranger Hall of Fame soldier Bill Anton with the prestigious Knowlton Award.
The award by the Military Intelligence Corps recognized Anton, a retired lieutenant colonel from North Las Vegas, for his "high standards of integrity, moral character, professional competency and selflessness" in leading his electronic warfare company to develop a key intelligence-gathering tool in 1979. The battle-tested, shock-resistant system continued to gather vital intelligence more than a decade later during Operation Desert Storm.
"I've been blessed with great troops. They did all the work. Just give them the freedom to be creative," Anton said in accepting the award and medal from retired Command Sgt. Maj. Louis Rothenstein of the Military Intelligence Corps.
Because of the still-classified details about the system, Anton could only say that it "collects voice and data on what the bad guys are doing."
"We did a side-by-side test with the new stuff against the old stuff," and the newer, more compact system made from modified, off-the-shelf technology components proved more effective and reliable on the battlefield.
Anton commanded the 358th Electronic Warfare Company of the 82nd Airborne Division's 313th Military Intelligence Battalion. In 2009, he became the first Nevadan inducted in the United States Army Ranger Hall of Fame for his service in the Vietnam War.
The Knowlton Award is named for Lt. Col. Thomas Knowlton, a Revolutionary War hero from the Connecticut Militia who fought in the Battle of Bunker Hill. He was later killed on Sept. 16, 1776, during a skirmish with British forces while leading a scout team in New York known as Knowlton's Rangers.
Contact reporter Keith Rogers at krogers@reviewjournal.com or 702-383-0308.