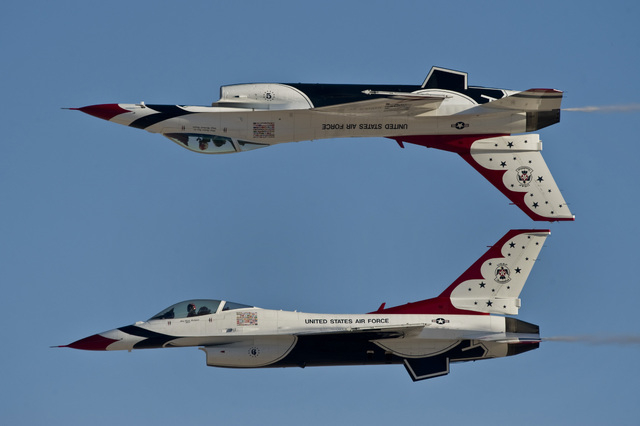 After growing up in Wisconsin near what he called the "biggest flying event in the world," Capt. John "Taboo" Cummings was no stranger to air shows.
In fact, he said that private air show inspired him to become a pilot.
Today, Cummings is team commander and pilot of the Air Force's F-22 Raptor aerial demonstration team.
Which is exactly what the Air Force wants: to inspire future generations of pilots.
It will no doubt do so again Saturday and Sunday at Aviation Nation, an air show and open house that returns to Nellis Air Force Base after missing 2013.
Las Vegas' skies will be overtaken by maneuvering military jets and their thundering roars during the base's free show that features the Thunderbirds F-16 aerial demonstration team. Cummings and his team are among some of the F-22 pilots who will be flying.
The show "allows us to inspire young men and women that come in," said Col. Richard H. Boutwell, commander of the 99th Air Base Wing. "Hopefully (they will) serve one day and take our place, take the Air Force to new heights, new challenges; we need that innovative spirit and desire to serve the community."
The air show was grounded last year during sequestration, the budget cuts ordered by Congress and President Barack Obama.
Eager for this year's return, Boutwell wants air show attendees to experience the might of their military force.
"We are very excited this year to host the air show," he said. "To be able to showcase the men and women of the United States Air Force, our civilians, our military and our contractors who support our mission in Las Vegas and surrounding communities."
That mission, Boutwell said, is to "show the taxpayers where their dollars are going for in the defense of our nation, and it holds us accountable to the authorities and responsibilities we've been given."
At least one jet will be in the air from the time the show's start time at 11 a.m. to the time it ends just before 4 p.m., said air show Director Bob Jones, noting that there also will be pyrotechnics.
It will also be a "home game" for the popular F-16 Thunderbirds, who did no aerial demonstrations during their 60th anniversary last year because of the federal budget cuts.
"To get to bring that home to the hometown crowd is something they look forward to all year long," Boutwell said.
The crowd also will be treated to demonstrations by the A-10 Warthog, A6M Zero, the AT-6 Texan and the L-39 Albatross. Food and beverages will be available, as will novelties.
Attendees will be able to meet those responsible for Air Force missions, including the pilots.
The adrenaline will be pulsing in the veins of the pilots, too.
"It gets people motivated and excited," said Cummings, who before entering the Raptor's cockpit, straps himself into a g-suit and protects his ears with multiple layers from the loud rumbling the jet's engines produce.
Cummings said the Raptor is able to maneuver differently than other aircraft. Its pilots are able to point its nose even when it descends straight down, he said, as well as make it flip over so it looks like it's doing a back flip. This is what the pilots will be doing for the crowd, among other maneuvers.
The Raptor, with its modern avionics, stealth and maneuverability, is the military's newest war-fighting aircraft, according to the Air Force. It was designed to "project air dominance" and "cannot be matched by any known or projected fighter aircraft" in the world.
With the tight turning and maneuvering, the Raptor's flight is intense. "Despite the fact that the cockpit is a comfortable 75 degrees or something like that, it's definitely work," Cummings said. "I'm sweating a little when I get out."
Organizers for the show, which usually draws more than 100,000 over two days, are expecting a 10 percent to 20 percent increase in attendance since there wasn't a show last year.
Jones said he wouldn't be surprised if 175,000 people show up over the weekend, when the weather is expected to be sunny and around 80 degrees, according to the National Weather Service.
Free parking is being provided at the nearby Las Vegas Motor Speedway. Buses will begin transporting visitors from there to the base at 10 a.m.
Visitors are urged to use sunscreen and sound protection.
Those who need some kind of incentive to attend Aviation Nation this year have one. There won't be a show next year.
That's because an inspection has been scheduled the same dates the air show is usually held, said base spokesman Master Sgt. David Miller.
For information visit www.nellis.af.mil/aviationnation/ or call the 99th Air Base Wing public affairs office, 702-652-2750.
Contact Ricardo Torres at rtorres@reviewjournal.com and 702-383-0381. Follow @rickytwrites on Twitter.