Coast Guard calls off search for Marines missing after helicopters crash in Hawaii
January 20, 2016 - 8:36 am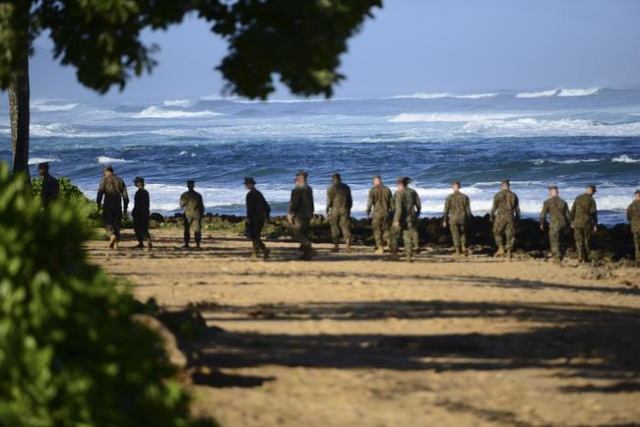 The U.S. Coast Guard said on Tuesday it had halted its search for 12 Marines who have been missing since two military helicopters collided last week off Hawaii's Oahu island.
The Coast Guard said that as of sunset on Tuesday evening, when the effort was formally called off, some 40,000 square nautical miles of ocean had been searched, along with shorelines.
"A decision to suspend searching without finding survivors is extremely difficult given the depth of its impact and I know I speak for the entire Coast Guard when I say our thoughts and prayers are with Marine Corps helicopter squadron and particularly with families and loved ones of those missing," Captain Jim Jenkins, acting commander of the Coast Guard's 14th District, said.
The Coast Guard would support any future search operations Marine Corps might want to launch, he added.
The CH-53E helicopters belonging to the 1st Marine Aircraft Wing from the Marine Corps Air Station at Kaneohe Bay were on a routine training mission when they were reported to have collided just before midnight local time, according to the Coast Guard.
The search was hampered by storms.
A Coast Guard helicopter crew spotted debris in the water off the town of Haleiwa on the north shore of Oahu but no passengers were found. The debris field spanned more than 7 miles off the coast, the Coast Guard said.
No distress call was issued by either aircraft. Authorities were notified by a man standing on the beach who saw a fireball over the ocean after seeing the helicopters flying in that area, Carr said at a news conference.