Cold War veterans honored in Las Vegas
November 1, 2014 - 8:48 pm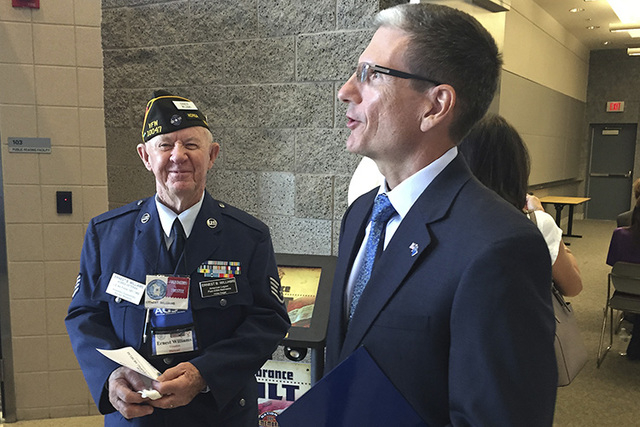 Nevada's congressional representatives who serve on House Veterans Affairs and Armed Services committees paid tribute to Cold War veterans Friday.
They told an audience of former Nevada Test Site workers that their Cold War accomplishments were made with great sacrifices and should stand on par with military veterans who served in uniform to fight the nation's wars.
Both Reps. Dina Titus, D-Nev., and Joe Heck, R-Nev., recognized former Energy Department defense chief Troy Wade, the man who engineered a peaceful nuclear explosives test and assembled the device that created the massive Sedan crater, a historical landmark at what is now the Nevada National Security Site.
For the 1962 Plowshare Program test to demonstrate that nuclear bombs could also be used to create shipping harbors and for other peaceful uses, Wade put together the Sedan device "with my own two hands," he has said.
As with all full-scale nuclear tests, he had a lot of help from scientists, engineers and technicians at the nation's nuclear weapons laboratories, in this case the one in Livermore, Calif.
The Sedan device had an explosive yield equivalent to detonating 104 kilotons of TNT, or more than five times the energetic yield of the Fat Man atomic bomb that U.S. forces dropped on Nagasaki, Japan, on Aug. 9, 1945.
"Too often your accomplishments are not as recognized as other veterans," said Titus, a member of the House Veterans Affairs Committee, after acknowledging Wade and about 80 former test site workers at the National Atomic Testing Museum in Las Vegas that Wade founded.
"Today, let's celebrate and let's remember," she said.
Heck, who sits on the House Armed Services Committee, referred to Wade as his "go-to guy," when he needed insight on U.S. and foreign nuclear weapons capabilities.
"I don't think there is anybody in Nevada as knowledgeable about nuclear weapons as Troy Wade," Heck said afterward.
Wade, 80, who has been battling an illness, sat in the front row at the ceremony and later praised the Cold War Patriots and National Day of Remembrance organizers.
"I thought it was great," he said.
"It demonstrates what all these people here have done. They've made lots of sacrifices and endured terrible physical problems related to their test site work."
A member of the Governor's Committee on Nuclear Security, Wade said recent terrorist acts with the emergence of Islamic State militants in the Middle East have heightened awareness about U.S. nuclear deterrence.
"Suddenly that's been of interest because of what's happening," he said.
Heck said Friday's ceremony was aimed at paying tribute to the men and women who worked in uranium mines and on secrete projects at facilities in the U.S. nuclear weapons complex.
"They are faceless individuals who served during the Cold War who didn't get the recognition," Heck said.
Contact Keith Rogers at krogers@reviewjournal.com or 702-383-0308. Find him on Twitter: @KeithRogers2.