Congress might extend A-10 Thunderbolts' lifespans
January 14, 2016 - 9:08 pm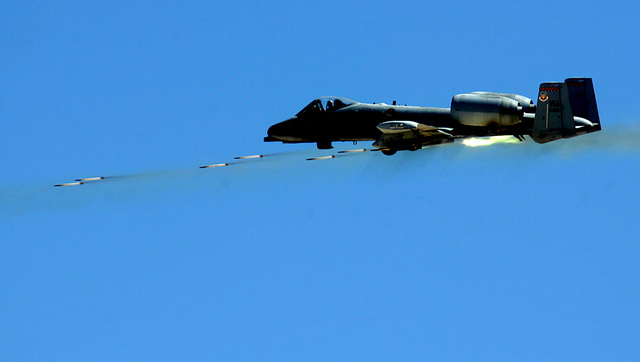 The days toward retirement of A-10 Thunderbolts in the Air Force's boneyard were numbered two years ago.
But now, because of their prowess for knocking out ISIS targets and providing close air support for friendly forces in the Middle East, the lifespan of "Warthogs," as they're known, might be extended.
That would be welcome news at Nellis Air Force Base which has been home to a unit of more than a dozen A-10s that provide close-air-support training opportunities for tactical ground controllers and special operations personnel at the Nevada Test and Training Range.
Anonymous Pentagon sources made the A-10 life-extension claim in a story this week in Defense One, a magazine that covers U.S. defense and national security issues.
"Air Force officials say they still need to retire the A-10 to make room for newer warplanes, but that the calculus for its sunsetting has been thrown off by commanders' demands for the Warthog now," reads the Defense One story, citing "Pentagon officials," who were not named because they are not authorized to discuss the White House spending plan before its release.
"Putting the A-10's retirement plans on hold is a key policy shift that will be laid out next month," wrote Defense One's Marcus Weisgerber.
An Air Force spokeswoman at the Pentagon acknowledged the A-10 funding issue Thursday in response to a Las Vegas Review-Journal query but declined comment. "This is part of the fiscal year 2017 budget and unfortunately it is too early to discuss and would be inappropriate to comment," Maj. Melissa Milner wrote in an email.
Rep. Joe Heck, R-Nev., a member of the House Armed Services Committee, said through his spokesman that "until there is a suitable alternative for close air support the A-10 should remain in the inventory. This is part of the larger theme that decisions should be based on strategy and needs, not artificially driven by budgets€Ž."
Heck supported an amendment to the National Defense Authorization Act that extends the A-10 fleet's service life. The amendment was authored by Rep. Martha McSally, R-Ariz., a retired Air Force colonel and A-10 pilot.
The nation's fleet of post-Vietnam War-era A-10s, officially known as the Thunderbolt II, was destined for the boneyard at Davis-Monthan Air Force Base near Tucson, Ariz., in 2014. That's when then-Defense Secretary Chuck Hagel announced that the Pentagon would retire the fleet by 2020 to save more than $3.5 billion to operate and maintain it.
Equipped to fire missiles, drop bombs and shoot armor-piercing rounds from its rapid-fire, seven-barrel Gatling gun, the twin-engine, jet-powered A-10 was designed during the Cold War to swoop in and kill tanks and provide close air support to U.S. ground troops.
Pentagon's plan in 2014 called for a phased approach for retiring 283 A-10s through 2019. Nellis had 14 A-10s at the time assigned to the regular Air Force, Air National Guard and Reserve.
Contact Keith Rogers at krogers@reviewjournal.com or 702-383-0308. Find him on Twitter: @KeithRogers2