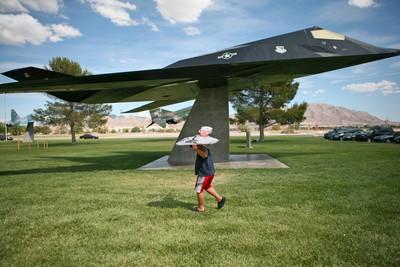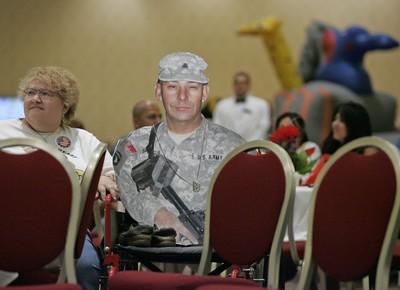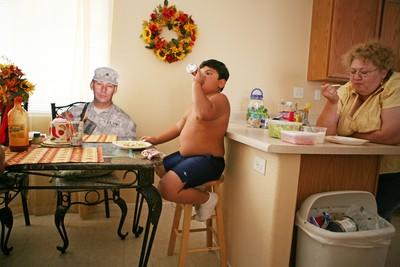 Whether the trip is to McDonald's, to see the latest Harry Potter movie, to the playground or a concert at The Venetian, Patt Sprague will tell you that her husband always accompanies her and grandsons, Joshua and Christian Lopez.
At first that doesn't seem possible, given that Richard Sprague, a security guard at Whiskey Pete's in civilian life, is currently serving in Iraq with the Nevada National Guard.
But it makes sense when you see how the Guardsman — who often gets salutes from Las Vegans — silently tags along.
The Richard Sprague now seen around Las Vegas is actually part of the "Flat Daddy" phenomenon, in which large cardboard cutouts of loved ones help connect families with a relative deployed to the Middle East.
Patt Sprague, 62, carries her 46-year-old husband in one hand and a purse in another. He joins them at the table for meals, or even on small trips to the grocery store.
"It really helps the boys to feel like they're around grandpa," Sprague said recently as she moved the cardboard replica of her husband from a mobile home near Nellis Air Force Base to a house the Spragues have purchased in North Las Vegas.
"They'll talk to him and, I know this may seem strange, but I do, too. A large photograph of someone you love that you can take with you can do a lot for you when you're lonely."
Joshua and Christian couldn't contain their excitement when Patt Sprague drove up to her new home in a Dodge Caravan emblazoned with the message "Iraqi Express … Go Guard."
"What do you think, Grandpa?" Joshua, 7, asked the Flat Daddy sitting in the living room.
"Isn't it great, Grandpa?" 11-year-old Christian chimed in.
The boys, along with their mother, Mary Lopez, Patt Sprague's former daughter-in-law, will live in the North Las Vegas home with the Spragues, who have been married 19 years. Sprague's son is now living in New York.
As she stood in her new living room, Patt Sprague hugged her husband's cutout, which now has rips in the shoulder area, and shook her head.
"We have to be more careful with you," she said. "You're falling apart."
The origin of the Flat Daddy concept is often credited to Cindy Sorenson of Bismarck, N.D., who in 2003 stuck a life-sized photo of her husband on a piece of foam board when he was in Iraq with the North Dakota National Guard. She wanted her 13-month-old daughter to recognize her father when he came home on leave.
Elaine Dumler, a Colorado author and motivational speaker, discovered what Sorenson had done when she was traveling the country doing research for her book, "I'm Already Home … Again — Keeping your family close while on assignment or deployment."
"I asked Cindy if I could include what she had done in my book, and the idea took off," Dumler said in a telephone interview.
"Cindy had studied how children of Guard members had mailed small cutouts of themselves to their daddies modeled on the chldren's book 'Flat Stanley,' where a character is flattened and can travel by envelope anywhere in the world. It just made sense to Cindy to expand on the idea."
Dumler said she got a trademark for "Flat Daddy" to ensure that no one would try to profit from the concept.
Executives with SFC Graphics, an Ohio company, heard about the concept and now offers a free Flat Daddy — or Flat Mommy for that matter — to immediate family members of a deployed soldier through a Web site, www.flatdaddies.com.
The concept has become so popular with families, however, there is a five-month wait for free images.
But for $49.50, which includes postage and handling, a customer can get an image of their loved one in about three weeks.
"We'd like to be able to get free ones out faster, but that is all our business can handle right now," SFC spokesman Eric Crockett said in a telephone interview from his company's office in Toledo, Ohio. "We're looking for more sponsors to help us out."
Crockett said the $49.50 price tag is actually lower than if someone had the work done at a printing or graphics company, where it would run $75 to $100.
"We know others will do this, and that's fine. We just want people to feel closer to their loved ones."
Nearly 4,000 flat daddies have been produced by SFC, Crockett said.
Patt Sprague said when her husband heard about the idea, he immediately sent in the $49.50.
"He just likes the idea of his grandkids feeling he's around," she said.
Sprague said that when she and the boys carry the Flat Daddy around, it does draw stares. But in the six months she's had the cutout, she said, nobody has commented that it might be a bit off-the-wall.
When she drives onto Nellis Air Force Base to shop at the commissary, military police salute the cutout of her husband, which sits in the passenger seat. The same thing happened when she took her grandchildren and the Flat Daddy to a concert at The Venetian, where Rep. Jon Porter and his band, the Second Amendments, played for military families.
"People seem to care about our men in Iraq," she said.
Capt. April Conway, a spokeswoman for the Nevada National Guard, said she wouldn't be surprised if the Flat Daddy concept continues to spread.
"It's just a fun way to keep families closer together," Conway said.
Richard Sprague, who left in July 2006 and is scheduled to return home in early September, recently lost much of his hearing when a truck he was driving ran over an explosive device. He also re-injured his neck.
"We're hugging him more than ever right now," Patt Sprague said as she and her grandchildren gathered around the Flat Daddy at the family's new home.
"We want him home. I just hope we don't break him apart in the process."
Operation Iraqi FreedomA special package of news updates, local coverage, multimedia and more.
VIDEO
Watch the video