Creech Air Force Base 'hunters' welcome new commander
Updated July 6, 2017 - 9:34 pm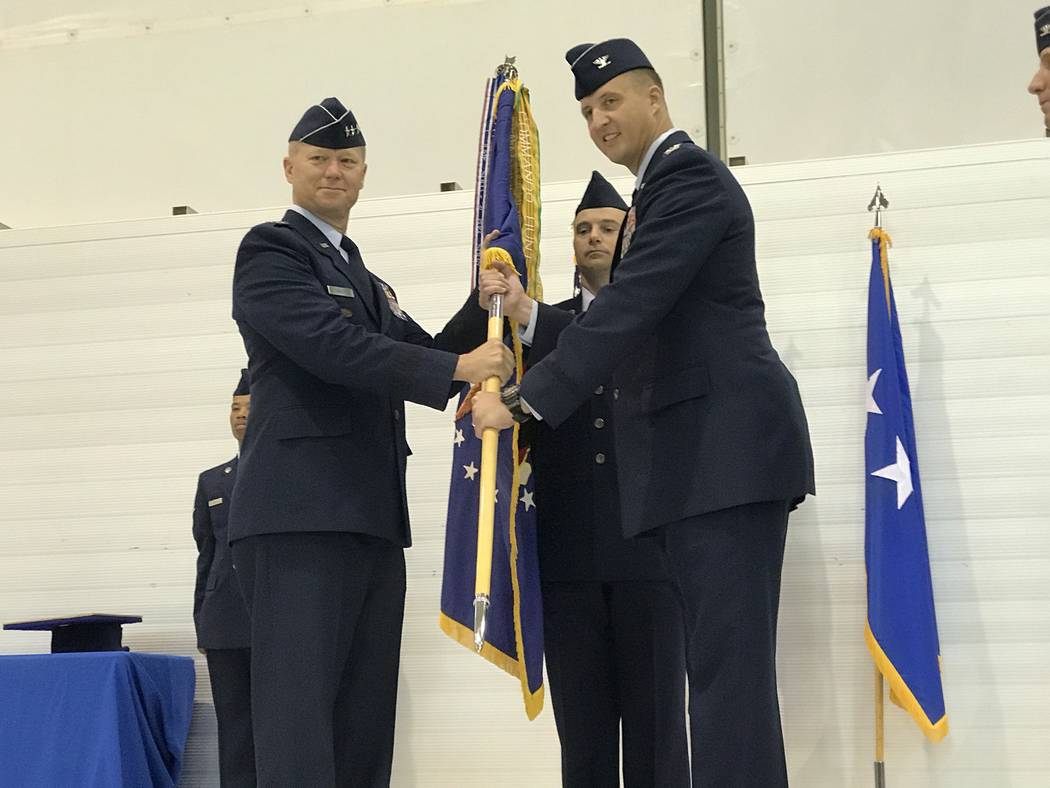 INDIAN SPRINGS — Hundreds of "hunters" as they're know in the drone warfare world welcomed a new leader, Col. Julian "Ghost" Cheater, during a change-of-command ceremony Thursday at Creech Air Force Base.
They also bade goodbye to Case Cunningham, a former Thunderbirds commander-leader who guided the 432nd Expeditionary Wing for two years in combat operations from this Southern Nevada base, 45 miles northwest of Las Vegas.
"This day is an incredibly tough one for me," said Cunningham, recently promoted to brigadier general — said of his time at the tip of the spear in the nation's overseas war on terrorism.
"It's not every day that you have to leave the premier combat organization in the United States Air Force," he said. "And for that matter, by scale of impact on our national security, the premier combat organization for the entire joint force."
His farewell came a month after he told the Review-Journal in an exclusive interview about the leaps the wing has made in remotely piloted aircraft operations in the Middle East to curb Islamic State militants. "The amount of territory that's been taken back overseas from terrorist organizations is absolutely remarkable," he said then.
Like Cunningham, his successor is a U.S. Air Force Academy graduate, who also has logged 2,600 hours flying Predators, Reapers, F-16 Fighting Falcons and other aircraft.
Cheater, now commander of the 432 Wing and its sister expeditionary wing, previously served as an MQ-9 Reaper instructor pilot and combat operations director for the 42nd Attack Squadron at Creech. He also commanded the 432nd Expeditionary Operations Group.
"(To) the men and women at this ceremony, those deployed down-range in harm's way and those actively flying combat missions this very moment … the stakes are high and there is no trophy for second place," he told the uniformed airmen who packed the bleachers inside the Reaper hangar where the handover ceremony was held.
Cheater reminded the airmen and their families that they often go as unsung heroes due to the nature of their jobs and security involved.
"The character of warfare has changed." he said. "We now use satellites. We now fly remotely piloted aircraft to find those who seek to do us harm. But the nature of warfare has not changed at all. We will continue to promote that warrior mentality to focus on our … priorities."
Contact Keith Rogers at krogers@reviewjournal.com or 702-383-0308. Follow @KeithRogers2 on Twitter.