F-35 fighter jets, including 1 based at Nellis Air Force Base, grounded
September 16, 2016 - 9:11 pm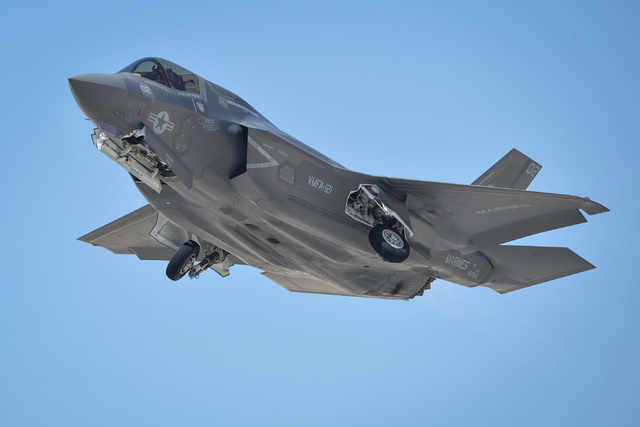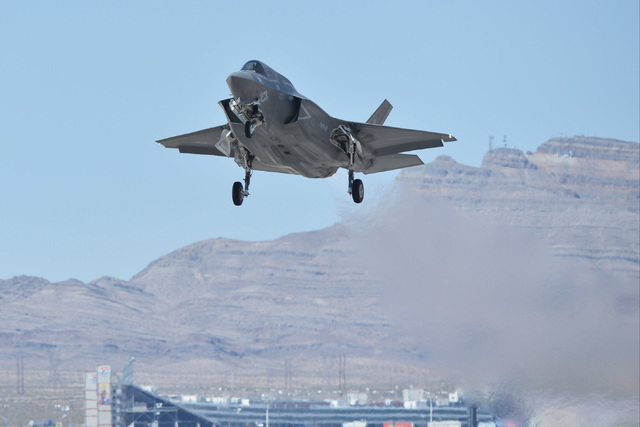 One of the stealthy F-35 joint strike fighter jets at Nellis Air Force Base is among 15 in the nation's fleet that were grounded Friday because of "peeling and crumbling" cooling line insulation inside their fuel tanks, Nellis officials confirmed.
"The U.S. Air Force has ordered a temporary pause in flight operations for 15 F-35A Lightning II aircraft due to the discovery," according to an Air Force statement released Friday night by Nellis officials.
The problem described as "peeling and crumbling insulation in avionics cooling lines" surfaced less than two months after the F-35 was declared ready for combat. At a projected cost of $400 billion the eventual full-force fleet will be the Pentagon's most expensive weapon system ever.
In all, 57 aircraft are affected by the problem, but only 15 had been flying. Those include one at Nellis; four at Luke Air Force Base, Arizona; and 10 at Hill Air Force Base, Utah.
The other 42 are in production. Of those, 28 belong to U.S. and partner nations while the remaining 14 were being produced for foreign military sales.
Nellis officials did not identify which unit the affected F-35 is assigned, nor would they say how many are currently stationed at the base in the north Las Vegas Valley. Saying the program isn't "owned" by Nellis, they deferred that question to the Joint Program Office. A spokesman at the office in Virginia didn't immediately return a call late Friday.
Nellis received its first F-35 Lightning II joint strike fighter in January 2015. It has been used by a cadre of experienced pilots for doctorate-level training to develop and validate the combat tactics playbook for the high-tech fighter.
At least four F-35 Lightning IIs are assigned to the 422nd Test and Evaluation Squadron, a tenant squadron at Nellis that is part of the 53rd Wing in Florida. Nellis is expected to have 36 for testing and training by 2020.
The F-35A can fly at 1½ times the speed of sound, fire air-to-air missiles, drop GPS- and laser-guided bombs, and has a 25 mm cannon. Cameras on the aircraft give pilots a 360-degree view on their helmet visors.
In July, the Marine Corps model, the F-35B, made history when six from Marine Fighter Attack Squadron 121 based in Yuma, Arizona, became the first joint strike fighters to participate in a Red Flag air combat exercise at Nellis.
When asked how long the Air Force F-35s would be grounded, Nellis spokeswoman Lea Greene said leaders in the major commands, units and contractor Lockheed Martin "are working to determine an appropriate mitigation strategy."
"Aircraft will be cleared to resume normal operations once we are confident the issue has been appropriately addressed based on inspection results and a comprehensive risk assessment," she said in a statement.
"Our primary concern is the safety of our pilots. Although we have no initial indications that this issue has or will have any enduring or long-term impact to the affected aircrafts' ability to operate, this is the right decision and a prudent precaution," she said.
Contact Keith Rogers at krogers@reviewjournal.com or 702-383-0308. Find him on Twitter: @KeithRogers2
RELATED
F-35B stealth jets join Red Flag combat exercise at Nellis for first time
Nellis-based F-35 fighters debut in simulated combat