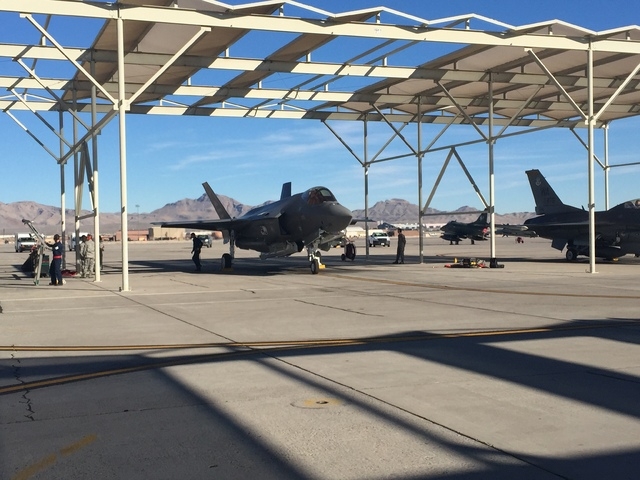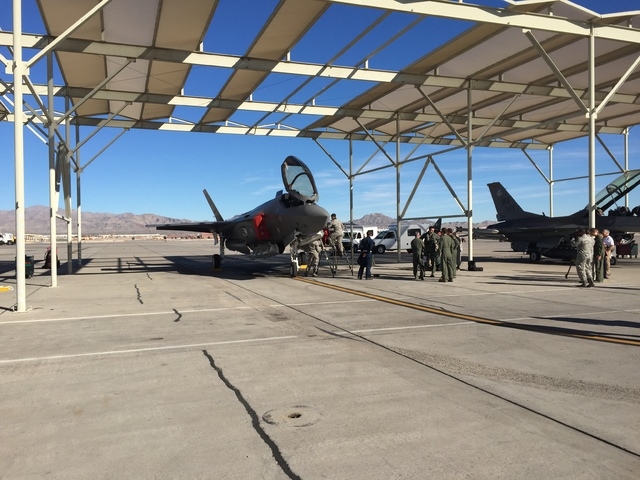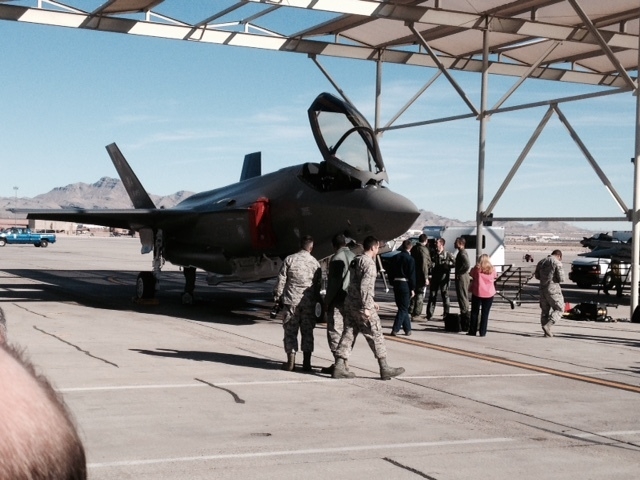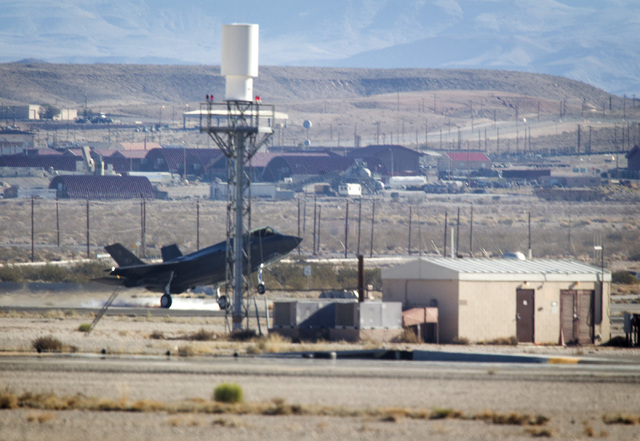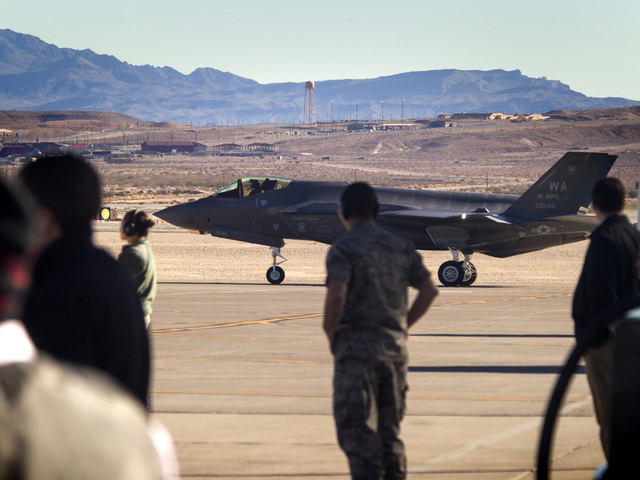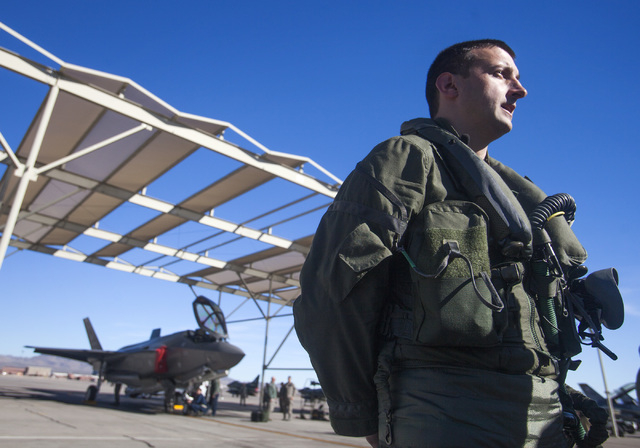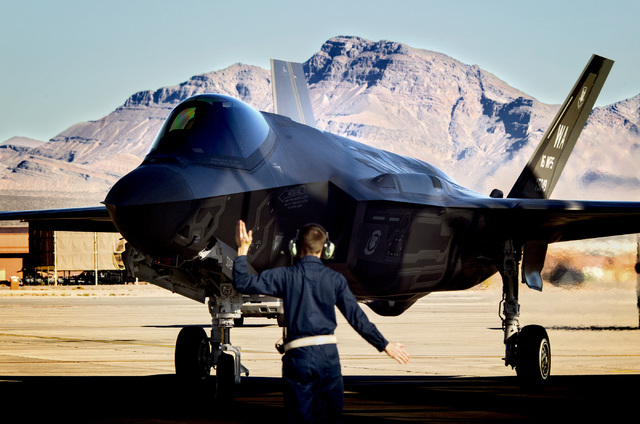 The Lightning has landed.
Nellis Air Force Base received its first F-35 Lightning II joint strike fighter jet Thursday for the U.S. Air Force Weapons School, part of the 57th Wing at Nellis.
The stealthy gray jet, which arrived at 9:38 a.m. from Lockheed Martin's production plant in Fort Worth, Texas, was escorted by two F-16s from the 57th Wing. The new jet will be used by a cadre of experienced pilots for doctorate-level training to develop and validate the combat tactics playbook for the high-tech F-35.
Capt. Brent Golden said after flying more than 900 miles in about two hours — cruising about 8 miles per minute — that he was awestruck when he looked down and saw the Las Vegas Valley.
"It was a pretty amazing feeling," the 32-year-old pilot said, standing in front of the F-35 after he parked it under a shade structure on the Nellis ramp.
"It was a pretty impressive sight to see the entire Vegas Strip there in front of me," he said. "It was a very special feeling. I was very proud, and it was very humbling."
Golden, a native of Philadelphia who has flown F-15 Strike Eagles on combat missions, said the F-35 is a smooth-flying jet. It has multifaceted capability to fuse many streams of flight information simultaneously that "reduces the pilot workload significantly."
"It really allows us to concentrate on the flying piece, the employment piece for the aircraft, and make decisions a lot faster because you have information like that much more readily available to you," he said.
The F-35A can fly at 1½ times the speed of sound, fire air-to-air missiles, drop GPS and laser-guided bombs, and has a 25 mm cannon for attacking enemy aircraft and armored vehicles. Pilots wear helmets with bubble-shaped visors that with the aid of cameras on the aircraft give them a 360-degree view.
Nellis officials said this and forthcoming F-35s will serve as tools to train U.S. Air Force Weapons School cadre as they create an instructor course for the aircraft, which is replacing the aging fleet of F-16 and A-10 warplanes. Together with F-22 Raptors, the F-35 will provide unmatched air superiority for the Air Force. The stealthy fighter jets are the most potent arrows in the Air Force's quiver along with a squadron of radar-evading B-2 Spirit bombers.
Maj. Gen. Jay "Tonto" Silveria, commander of the United States Air Force Warfare Center, described the F-35's arrival as "a glimpse into the future."
"That's what's going here at Nellis. This is a glimpse into the future. This is the first one, and we're going to continue to build this up," he said.
Silveria, 51, is an F-15 pilot who has also flown the F-35 so that he has a unique perspective "to connect those dots" as a commander and understand the task for pilots as they complete the program's elements while ironing out tactical problems that arise.
"This airplane is a dream to fly," he said. "It's easy to fly. … But we're going to wring it out on the range and find out its true capability."
Four F-35 Lightning IIs are currently assigned to the 422nd Test and Evaluation Squadron, a tenant squadron at Nellis that is part of the 53rd Wing in Florida. Nellis is expected to have 36 for testing and training by 2020. The U.S. fleet of F-35s has about 100 planes among the Air Force, Navy and Marines.
The 16th Weapons Squadron will fly the F-35s in concert with the 422nd Test and Evaluation Squadron to support the operational test and evaluation program, base officials said.
Brig. Gen. Chris Short, commander of the 57th Wing, said the addition of this F-35 and eventually four more portrays the "continuing evolution" to bring top-end capabilities into the Air Force for integrating with other assets.
Short said he doesn't know if delivery of the F-35 will help make a case in Congress for continued investment in the F-35 amid another round of defense cuts.
"But when you see iron on the ramp. You see that these things are coming off those production lines and …. we're going to start employing this aircraft and start getting them into exercises and using them as a combat asset I think (it) will speak for itself," Short said.
The F-35 aircraft program is the Pentagon's most expensive, costing an estimated $400 billion.
Contact Keith Rogers at krogers@reviewjournal.com or 702-383-0308. Find him on Twitter: @KeithRogers2