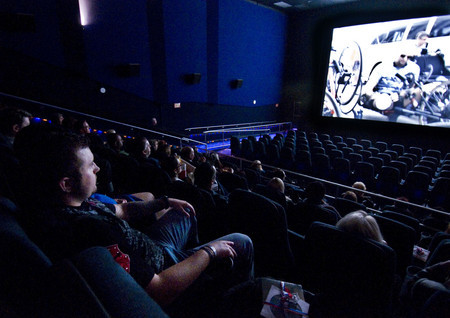 When Ron Portillo is ready to sleep at night, he doesn't just go to bed, as he once did.
He first makes a stop at the medicine cabinet, where he pops sleeping and pain pills, a necessary evil since his return from Iraq in 2007.
If he doesn't take the pills, he doesn't sleep. It's that simple, he says.
But even when he sleeps, there's no real escape.
"I still get nightmares," said Portillo, 41, an Army Special Forces veteran from Henderson who fought in the Gulf War, Somalia, Haiti and Iraq.
"I see everything out there," he said. "The smells, the death that's there. It's different than you see on TV."
An amputee battling post-traumatic stress disorder, or PTSD, Portillo was one of dozens of veterans interviewed for a local filmmaker's documentary, "Who Will Stand," about the struggles facing troops after their return from combat.
The film was privately screened Monday at the Cannery's Galaxy Theatres in front of veterans of all ages and wars, including Portillo, as well as families and friends of the filmmakers.
Director Phil Valentine told the crowd of about 80 that he filmed the 108-minute documentary, the "most important project" of his career, over a two-year period.
Las Vegas attorney Gerald Gillock had approached him about doing a film on the lives of amputee troops after their return from the wars in Iraq and Afghanistan, Valentine said. It was a topic that he found extremely interesting.
But early into his research, he discovered some startling statistics that inspired him to broaden the scope of the film: A significant number of new veterans, not just those with physical injuries, were suffering from PTSD.
"The suicide rate was four times the national average, the number of veterans abusing drugs and alcohol was four times the rate, the divorce rate was triple," Valentine said.
"What we found was, although we have the greatest fighting force in the world, there's no real reintegration process," he said.
Portillo agreed. He called the adjustment periods after his tours of duty some of the most difficult struggles he has faced. When he came home in 2007, he was a wreck, he said. A constant rage was simmering inside him, something friends and family noticed immediately.
"You go to fight, then come right home, you're still in a different mode," he said.
In the film, narrated by Valentine, the filmmakers discovered that PTSD is more prevalent in today's veterans than in those who fought in past conflicts.
One of the reasons might be the "decompressing" period that existed in World War II, when returning troops spent several weeks on a ship home before reuniting with their families.
Today, cross-continental travel is much faster, and troops are thrust back into their "normal" lives only days removed from combat, according to the filmmakers.
Valentine said that according to his research, which consisted of collecting data from every state's Veterans Affairs office, an average of 18 members of the military commit suicide each day. Many of those cases are related to possible undiagnosed cases of PTSD.
The reason there are so many undiagnosed cases is that veterans are wary about undergoing psychological treatment, fearing leakage of their medical history would prevent them from getting work back home, troops in the film said.
There is also a sense of bravado, where receiving treatment is seen as a weakness, veterans said.
"If you're a warrior, you never tell," one veteran told the filmmakers.
The film, which will be screened publicly at 1 p.m. and 4 p.m. today at the Cannery's Galaxy Theatres for no charge, is being released at a particularly relevant time, said Gillock, the attorney, who is the film's executive producer.
Gillock said the shooting at the Fort Hood Army base in Texas last week, in which a psychiatrist who treated patients with PTSD is accused of killing 13 people, did not surprise him.
"That shows the extreme mental issues to be dealt with," Gillock said. "There are significant inadequacies in military medicine, from a psychiatric standpoint."
Portillo said he hoped the film would have been more shocking, because the public has become desensitized to war over the past eight years, making it harder for veterans to relate to people.
"We've gone from headlines to not even being (TV) ticker worthy," he said.
Contact reporter Mike Blasky at mblasky@reviewjournal.com or 702-383-0283.
"Who will stand" Web site