First female Thunderbird pilot helping to showcase women veterans' stories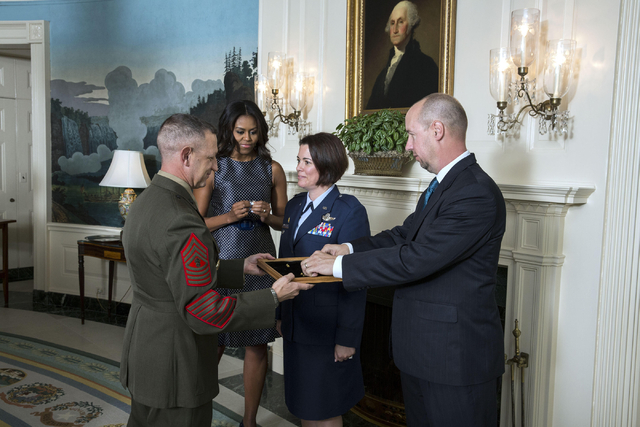 She blazed the trail for future female fighter pilots who dream of flying for the Air Force's elite Thunderbirds air demonstration team at Nellis Air Force Base.
Now Col. Nicole Malachowski is helping first lady Michelle Obama and Dr. Jill Biden, founders of the Joining Forces Initiative, promote a social media campaign, #WomenVets, to showcase stories of women veterans.
Their goal is to lift the image of women veterans and encourage the 200,000 women now serving in the military to use benefits they'll have when they become veterans.
Obama noted that only one in 10 women veterans take advantage of GI Bill benefits, and 75 percent of women veterans don't use the Veterans Affairs health care system.
"One striking reality is that many women veterans don't self-identify as veterans," she said.
The first lady recognized Malachowski, a 1992 Western High School graduate, Wednesday at a Capitol Hill event to mark Women's History Month.
Malachowski, executive director of the Joining Forces Initiative, flew "more than two dozen" combat missions, Obama said.
"When she would tell people that she was a fighter pilot, they often wouldn't believe her," Obama said. "She'd get into this back-and-forth thing. She'd say, 'Yes, I am.' 'No, you're not.' 'Yes, I am.' 'No, you're not.' And finally, Nicole would just say, 'Well, Google me.'"
After high school, Malachowski attended the Air Force Academy and became an F-15E Strike Eagle pilot, notching the first of her 200 hours of combat missions in action over Kosovo during Operation Deliberate Forge in the late 1990s. She later flew in Operation Iraqi Freedom, and before that flew homeland defense missions in support of Operation Noble Eagle in response to the Sept. 11, 2001, terrorist attacks.
She became the first female Thunderbirds pilot, flying with the team during the 2006-07 season.
Wednesday's event, hosted by House Minority Leader Nancy Pelosi, D-Calif., featured retired Air Force Brig. Gen. Wilma Vaught's work for the Women in Military Service for America Memorial, a living memorial where women veterans can register their service memories and stories.
Contact Keith Rogers at krogers@reviewjournal.com or 702-383-0308. Find him on Twitter: @KeithRogers2