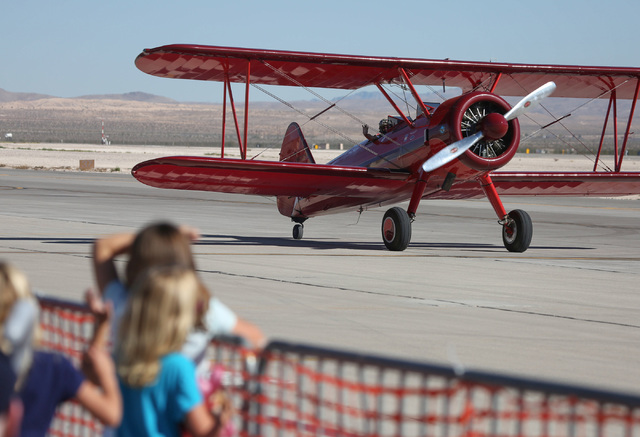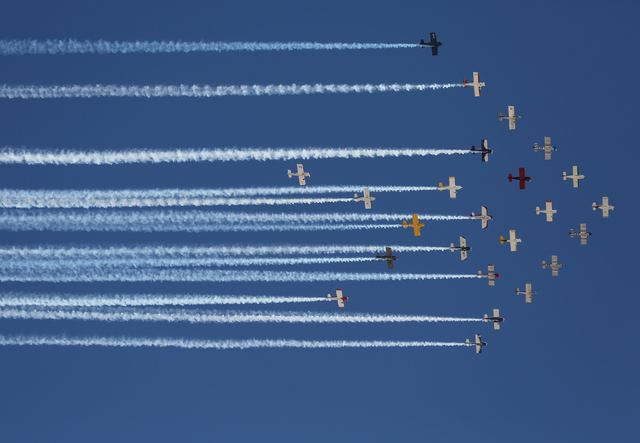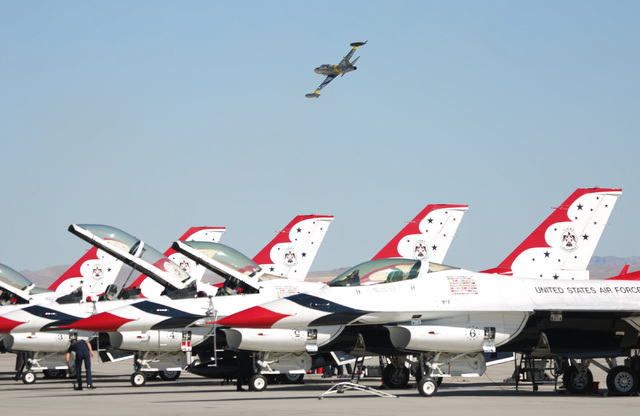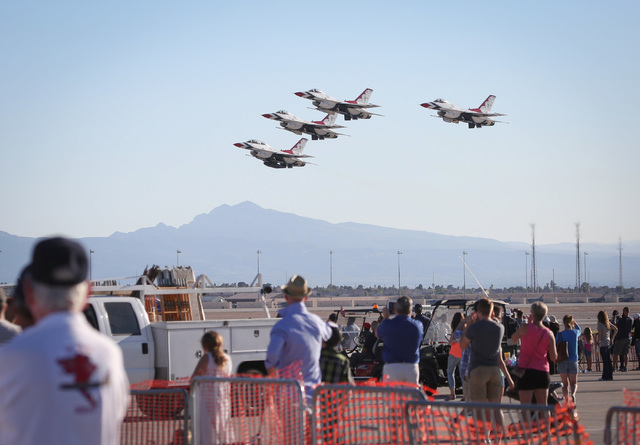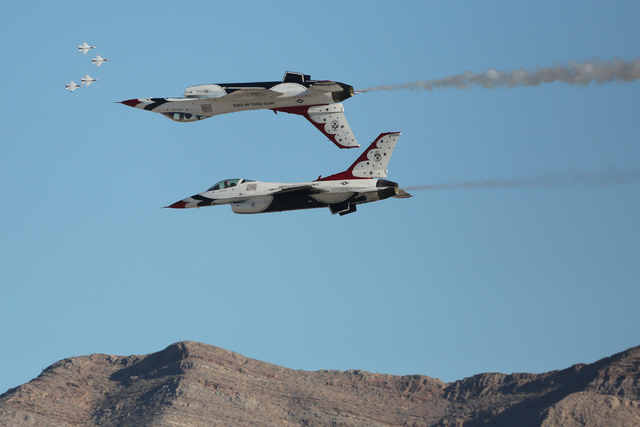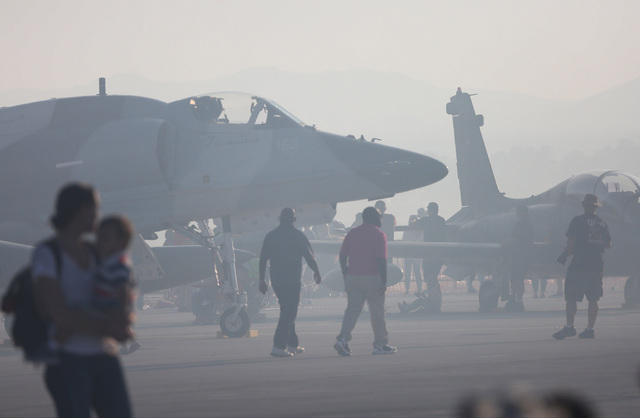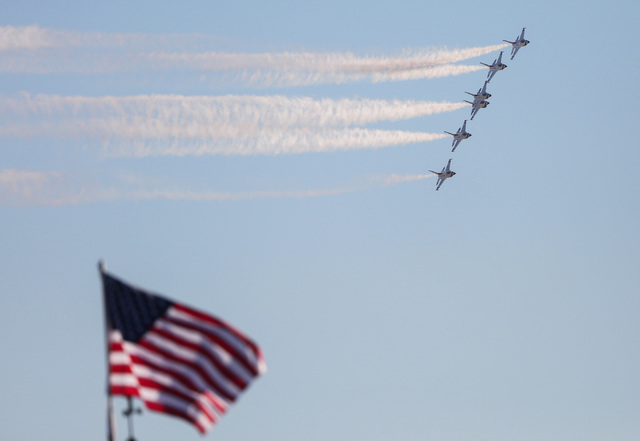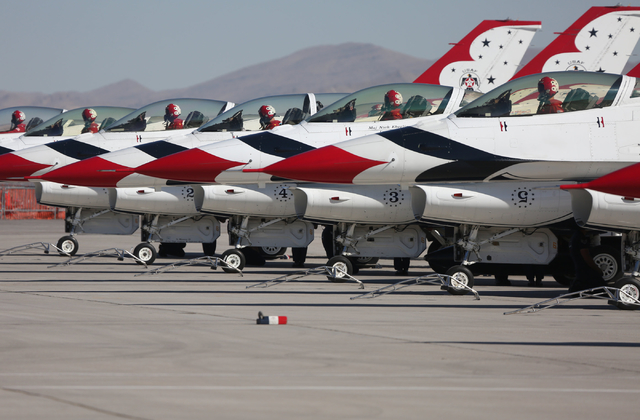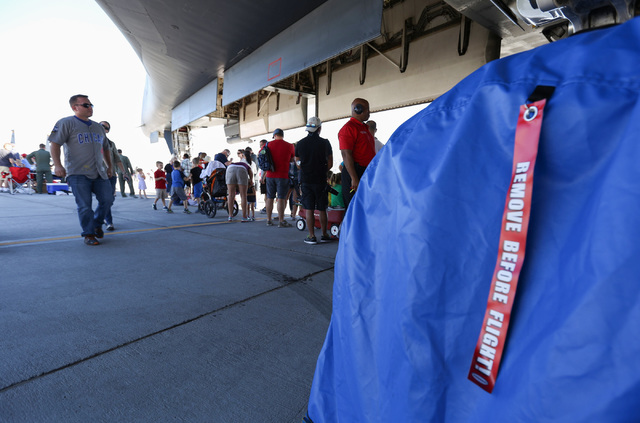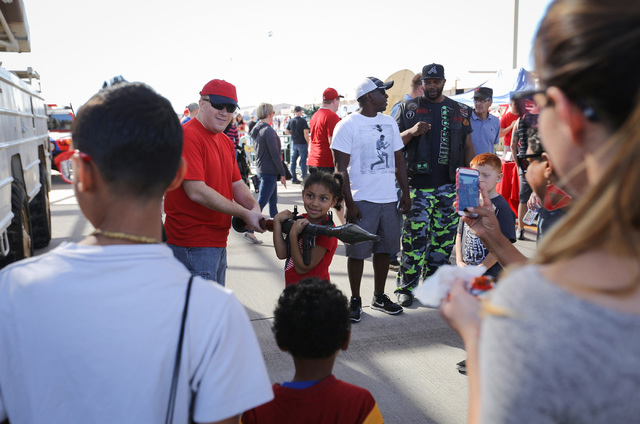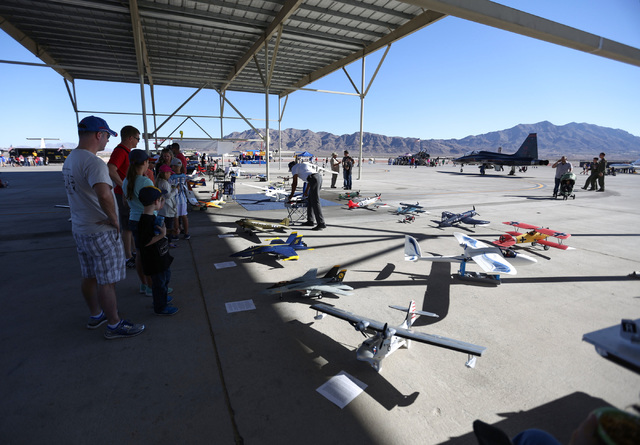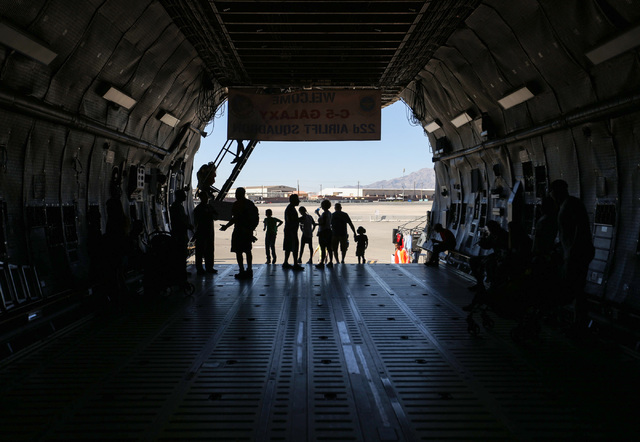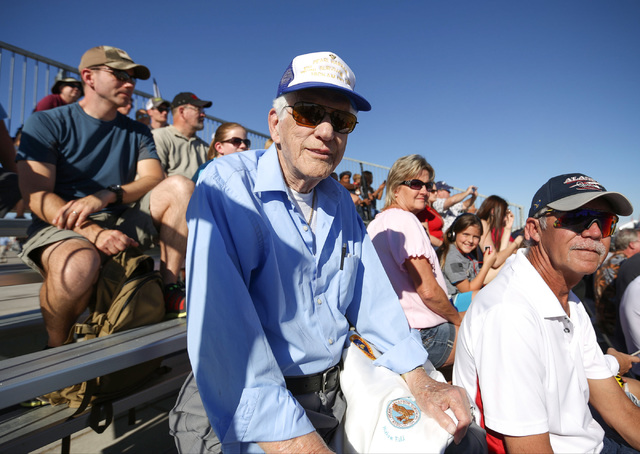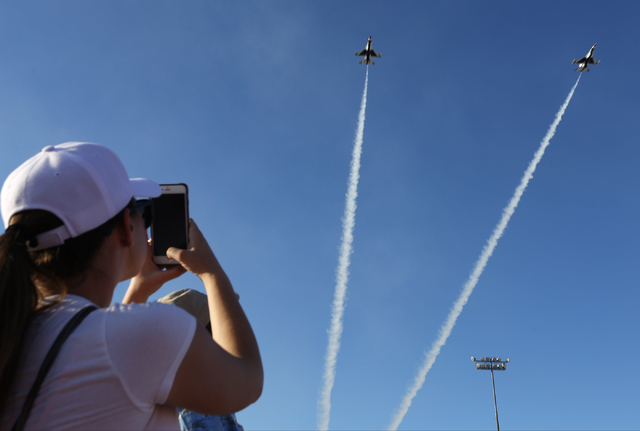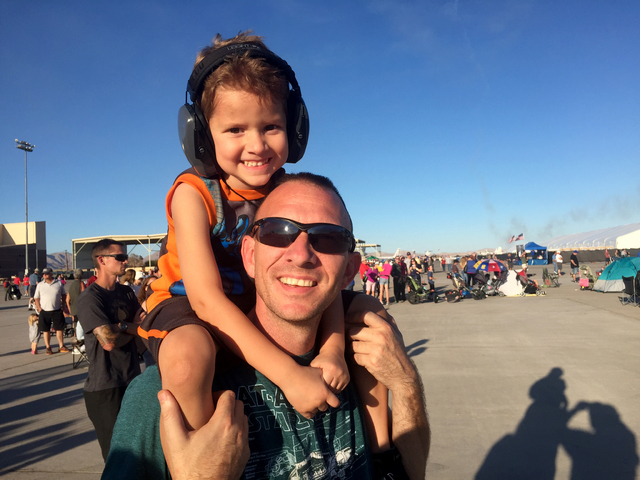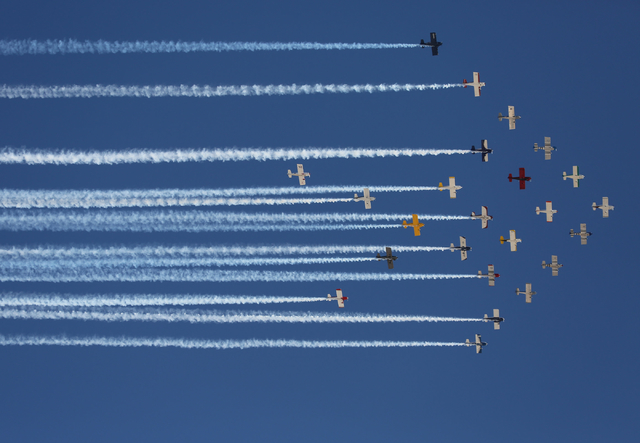 The air show gods couldn't have provided a better day for veterans and military families to preview the Aviation Nation exhibition at Nellis Air Force Base on Friday.
It was a warm, 75 degrees. Winds were light, perfect for flying and parachuting and aerial acrobatics.
And, hey, it was Veterans Day.
The shows for the general public on Saturday and Sunday promise more of the same, according to the National Weather Service.
Nellis officials are expecting about 150,000 spectators to attend over the two days, based on 75,000 per day that packed the 2-mile-long tarmac during the 2014 event. Last year's air show and open house was canceled due to budget cuts under the deficit-reduction sequester law.
In addition, more than 50 aircraft will be on display — "some you can touch, some you can't," said Col. Paul Murray, installation commander for Nellis, Creech Air Force Base and the 2.9 million-acre Nevada Test and Training Range.
"It's our opportunity to say 'thank you,' to the Las Vegas community, and really the entire (state of) Nevada," said Murray, the 99th Air Base Wing commander.
Murray spoke minutes after the Air Force demonstration team, the Thunderbirds, concluded a neck-craning, breathtaking, ear-splitting performance — their first for the hometown crowd since 2014.
"We've been preparing all year. We spent all last year hoping we would have one, and now we actually get to do one this year," Murray said. "We have F-15s, F-22s, F-35s, the latest and greatest airplanes all going out at the same time."
On a personal level, Murray said he grew up going to air shows and "it's what made me want to serve my country and be a pilot."
As a commander, "To set all this up, do all this work for our partners across the valley, it really means a lot to be able to give a little bit something back for what they do for us every day," he said.
Among the veterans in the crowd Friday was Ed Hall, who survived the Dec. 7, 1941, attack on Pearl Harbor, ducking bullets from a Japanese Zero plane at Hickam Field.
Seeing today's high-tech stealth jets and other modern aircraft in action set his heart aflutter.
"I love it," Hall, 93, said. "To see all of the new equipment, as opposed to what I saw in World War II, this is fantastic."
"If we would have had this stuff in the 1940s, the war would have been over shortly," he added.
Air Force veteran David Phipps, who served 20 years as a munitions specialist, watched the show with his 4-year-old son, Talon, perched on his shoulders, and wife, Rachel, by his side.
"It's amazing that it's on Veterans Day," he said. "I think it's great, especially right now after the election. With the division we've had, it helps bring people together."
Julie Swan, who served at Nellis in the early 1990s, said being back at the base was "like coming home."
"It's a huge gift to the veterans and the people of Las Vegas," she said.
Contact Keith Rogers at krogers@reviewjournal.com or 702-383-0308. Follow @KeithRogers2 on Twitter.
Aviation Nation air show: "75 Years of Airpower"
Dates: Saturday and Sunday at Nellis Air Force Base.
Time: Shuttle buses, including handicapped-accessible vehicles, will run to the base from the parking lot at the Las Vegas Motor Speedway, 7000 Las Vegas Blvd N., Las Vegas, begining at 9 a.m. Aerial demonstrations begin at 10:30 a.m. Show concludes at 5 p.m.
Cost: Parking and general admission for the show are free. Upgraded seating is available at www.eventsprout.com/register/2016nellisairshow
Order of appearance: Wings of Blue; Vicky Benzing Stearman Act; West Coast Ravens; Chuck Coleman; Nellis Heritage Parade (Various former Nellis aircraft); T-33 AceMaker; Smoke-n-Thunder JetCar; C-17 PACAF Demonstration Team; Nellis Capabilities Demonstration (Air-to-Air and Air-to-Ground Demos); DC-10 Water Drop; F-18 TAC Demo; F-22 Demo; Heritage Flight (F-22, F-35, F-86); U.S. Air Force Thunderbirds.