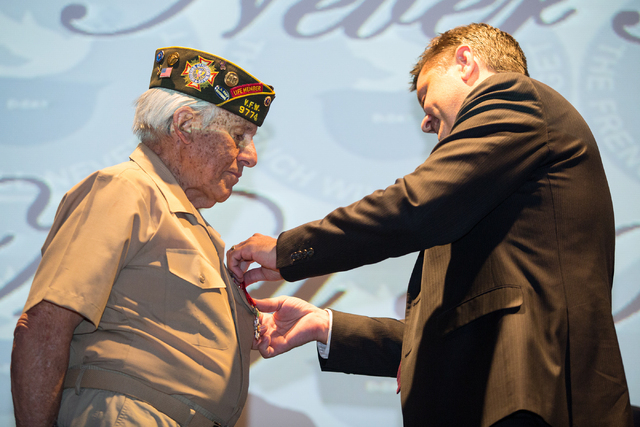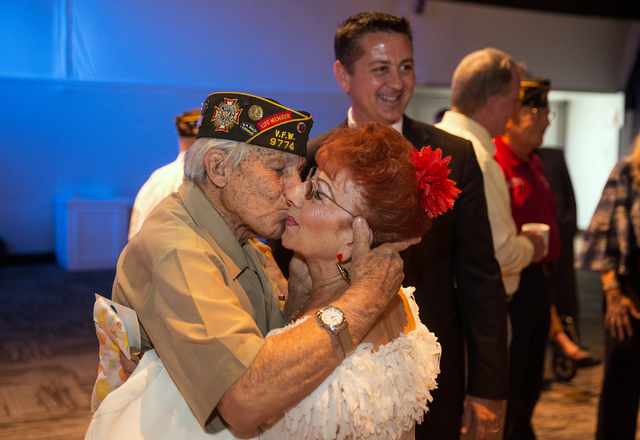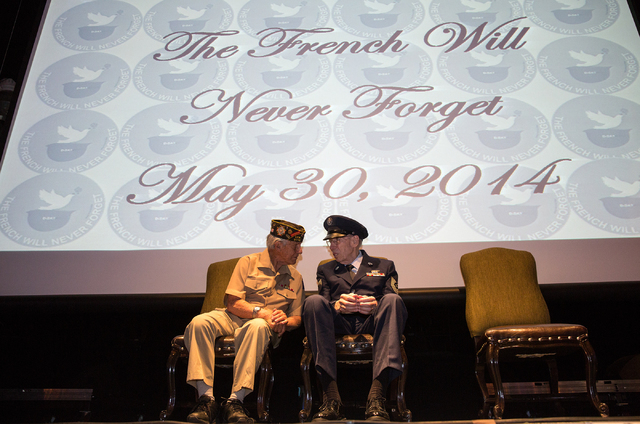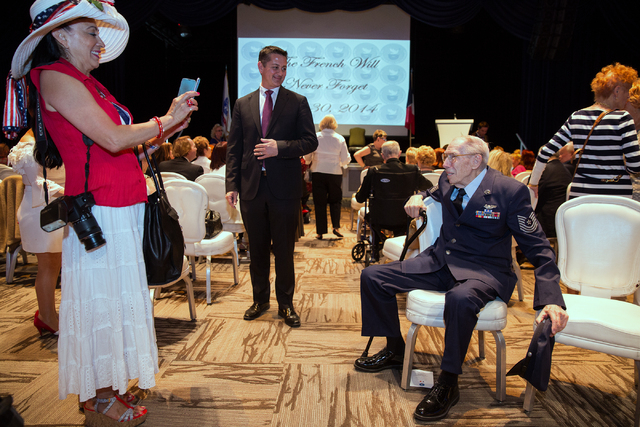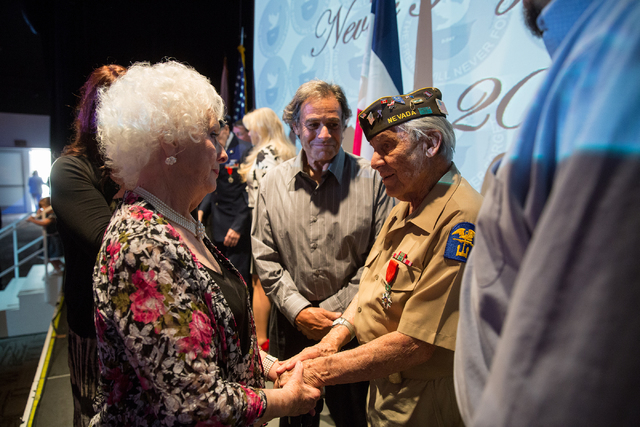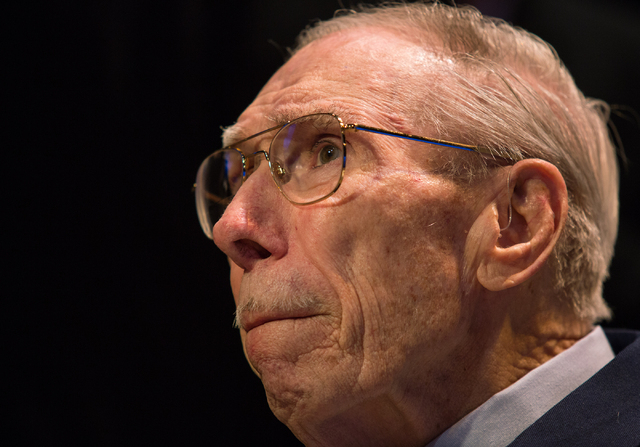 With the 70th anniversary of the U.S.-led D-Day invasion of Normandy, France approaching, the French government awarded two local World War II veterans with Legion of Honor medals Friday in appreciation of their gallant actions that helped free France from the grip of Nazi Germany's occupation.
One of the men, Gaetano "Guy" R. Benza, 89, who still works part time as a barber, was an Army private on an amphibious craft that shuttled supplies and ammunition to soldiers on Omaha Beach during the invasion code-named Operation Overlord. He spent four months in the vicinity of Omaha Beach where he was often exposed to heavy fire.
He wore his World War II khaki uniform as he sat alongside Air Force veteran Davis "Dave" B. Leonard at Friday afternoon's ceremony at the Silverton. Projected on a screen behind them was a message: "The French Will Never Forget."
Before the ceremony, Benza said he won't forget either what was going through his mind on "D-Day plus one," June 7, 1944.
He said he was wondering "whether I was going to come out of there alive."
An Army draftee from New York City, Benza was assigned as a longshoreman to Port Battalion, 297th Port Company.
After his stint running supplies and ammo at Omaha Beach, he relocated with his unit at Le Havre, France, where he continued to support Army combat operations until the end of the war.
Benza leaves Sunday to attend the 70th anniversary D-Day celebration in Normandy.
Leonard, 91, of Henderson, flew 64 combat missions as an Army 8th Air Force bombardier-navigator in B-26 Martin Marauders.
Honorably discharged as a master sergeant in 1953, he bombed enemy ammunition dumps, bridges, troops and other targets in the battles of northern France from September 1944 to April 1945. He is also a Distinguished Flying Cross recipient.
Leonard recognized his family and many friends, especially "one of our true heroes," retired Navy Capt. Don Williams, a former space shuttle mission commander.
Leonard, a native of Pasco, Wash., participated in the Battle of the Bulge that turned the tide on the German occupation. He also flew in battles in northern France, Rhineland and Central Europe. He flew his last two missions in early April 1945 before returning to the United States.
The medals were presented to the World War II vets by Eric Auger, the honorary consul of France in Southern Nevada. The National Order of the Legion of Honor award gives the men the rank of "chevalier" or knight. It is the highest honor France bestows on its citizens and foreign nationals.
Before he pinned the medal with red ribbon above each of their left shirt pockets, Auger spoke about the young men from the United States who left their homes to fight for France's freedom.
Benza and and Leonard are "vibrant reminders of the deep friendship of the United States and France.
"The French will never forget you have restored their freedom," Auger told the more than 150 friends, family members and elected representatives who attended the ceremony.
"Long live the American friendship. Vive la France," Auger said.
Contact Keith Rogers at krogers@reviewjournal.com or 702-383-0308. Find him on Twitter: @KeithRogers2.